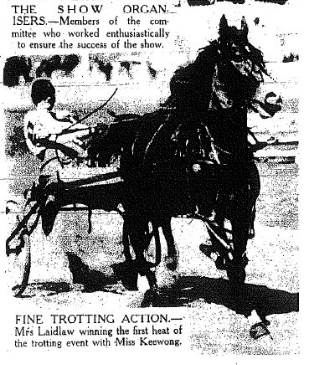 Alice McCulloch was born in 1894 at Deniliquin, NSW, and grew up on a huge 56,000 acre property at Navarre, "North Woodlands", where she learnt to ride at a young age. She soon learnt to jump and would jump the farm fences and only went through gates if she was shifting stock.
In 1915 Alice travelled to Egypt as a Red Cross volunteer to nurse soldiers injured in the Gallipoli campaign.
The young Alice met and married Adam Alexander (Sandy) Laidlaw of Hamilton and lived at "The Hill: in Ararat. Their son Colin, a successful Ararat trainer /driver, was born on 31st March 1923.
One of Australia's most respected and accomplished female riders, Alice excelled at educating, training, riding, driving, hunting and jumping. Alice rode in the Melbourne, Sydney, Brisbane, Adelaide and Tasmania Royal Shows as well as almost every country show in between. She would win the Champion Hack with a horse and then turn around and win the High Jump with the very same horse. Her horse Look Out held the Australian record for a high jump of 7 ft 10 ¼ in at Tenterfield, NSW. She also rode in England.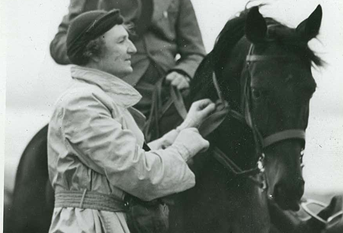 Alice also trained and rode/drove trotters, ridden or in a sulky. She competed and won against the men. In 1929 she won several races with Bazil Bells at country tracks, but authorities refused to grant women licences to drive at the metropolitan track at Richmond so she had to engage men drivers. She won rces against the men at Stawell and Ballarat tracks.
Among harness horses that she owned, trained and rode or drove were Mountain Derby, Dane Grey, Wonga Grattan, Plain Grattan, Miss Keewong, and Wong Derby the dam of the Ararat and Mildura Cup winner and later sire, Efficiency.
BENDIGO SHOW (NON-BETTING) 14-10-1936 VICKERS GIN TROT – 17 pounds + 5g trophy – One mile First heat Mrs Laidlaws MISS KEEWONG, scr (Mrs Laidlaw) 1 T Allens Smiling Derby, 24yds (T Allen) 2 T Hughes Lillian Direct, scr (C Hughes) 3 Margins: Won by half lgth Time: 2m 30s
She also trained gallopers, and rode them in races against the men, with a lot of success. Her father owned the 1917 Caulfield Cup winner Lieutenant Bill.
Alice Laidlaw died of a heart attack in Ararat in 1947 several weeks after an accident with one of her horses at the Korumburra Show. Her 54 horses were then sold.
After she died, the Alice Laidlaw Memorial Trophy for lady riders over 18 at the Royal Melbourne Show was commenced in her honour. This continues.
In 1965 the Stawell Trotting Club commemorated the Laidlaws with the A.A. Laidlaw Cup, a FFA event. The cup lasted until 1996.