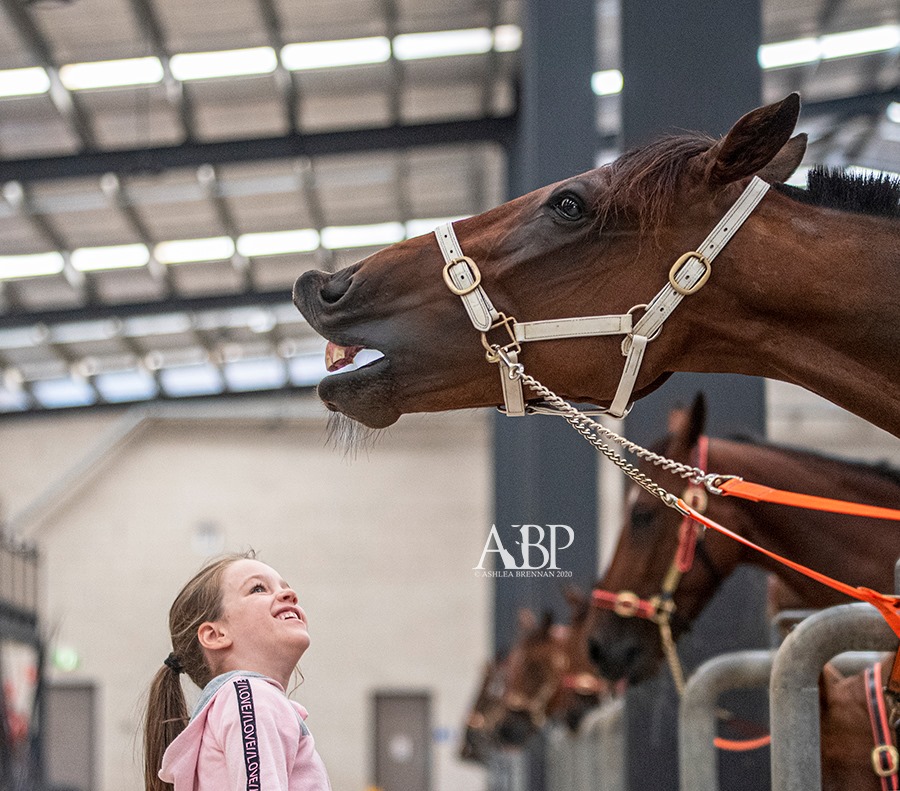 Australasian Premier Trotting Sale 2013 graduate Agent Maori will line up for start No.148 at Menangle today.
The eight-year-old gelding by Federal Flex out of Windsongs Maori has enjoyed a terrific career, which kicked off as a two-year-old. He is now ninth on the all-time list of APTS graduate earners.
The juvenile quickly made an impact for trainer Ross Graham, winning his first two starts in 2014 before taking out a heat of the Foundation series at Menangle as a three-year-old, going on to run second in the $16,000 Final behind Fiery Mountain Girl.
Agent Maori (pictured right with Charli Williams, by Ashlea Brennan Photography) finished in the top-five money at 11 of his first 12 starts, winning five of those races and finishing fifth in the Group 1 New South Wales Trotters Derby.
From July 31 to September 11 in 2018, Agent Maori won five races from seven starts – including a career-best 1:55.8 victory over The Male Model.
In more recent times Agent Maori has placed at eight of his last 10 starts and is knocking on the door after a last-start second behind Major Thomas on Saturday night.
Agent Maori's record stands at 147 starts for 13 wins and 36 minor placings – for prizemoney of over $121,000.
One of the secrets of trots ownership is the durability of the standardbred. You simply get more fun for your buck as most trotters when fit and in work can back up far more often than thoroughbreds.
The best example of this in the business is mighty mare Fear Not – the fifth highest-earning APTS graduate.
Fear Not (pictured below by Stuart McCormick) was purchased early at APTS 2014 – Lot 1 in fact – and she went for a song to Glenn Conroy for just $4000.
The daughter of Skyvalley-Aldebaran Maori has gone on to earn $161,935 from 192 starts. On Thursday she lines up at Ballarat in Race 6.
Fear Not is the queen of consistency. She has won seven races, placed second or third on 60 occasions and placed either fourth or fifth a further 73 times.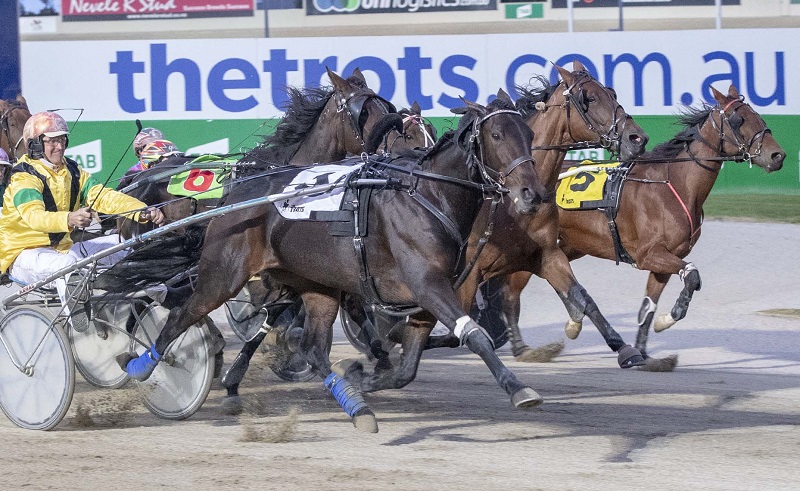 So, 140 times out of 192 Fear Not has finished top-five.
Bonny as.
All the best to this week's APTS graduates, a list of which you can view below this article.
Note, this list updates daily and will continue to update as more fields are drawn.
APTS graduates in action in coming days are:
Monday August 08
Tuesday August 09
Wednesday August 10
Thursday August 11
Saturday August 13
Visit the new-look APTS website for more information on the annual APTS sale, including Harness Racing Victoria's special 'sales day special', which sees yearlings purchased eligible for the industry leading Vicbred program, the Need for Speed series and the Breeders Crown for just $1000 – a saving of over $500.
Earlier this year the Victorian Harness Racing Club announced it had signed a partnership with the APTS and Australian Pacing Gold which will deliver up to $900,000 in financial benefits shared between owners and trainers of APTS purchases.