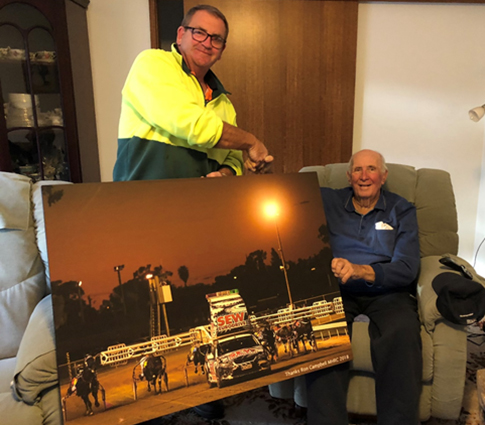 Ron Campbell retired last week from his job of driving the mobile at Mildura Harness Racing Club after a 15-year involvement.
Ron began his career as a miner in Broken Hill, where he spent 33 years. He began his mobile driving career in Broken Hill and got involved in Mildura when he shifted here in the 1990s.
He has decided to hand over the keys after a period of ill health.
The Mildura Harness Racing Club committee and staff and volunteers wish to thank Ron for his contribution over those 15 years and wish him all the best for the future.
Ron was presented a memento of his work by the Mildura Harness Racing Club and it was delivered by local steward and friend Wayne Smith. Pictured is Wayne Smith handing Ron his picture canvas of his car taken at the Mildura Cup in 2017.
Footballers flying
Last Friday at Mildura two of the winners were part-owned by past footballers who are very much still in the game.
Collingwood coach Nathan Buckley and his assistant coach Brenton Sanderson part own All I Can Be, now trained locally by Sandra O'Connor who won the fast class race The Zilzie Wines pace in his 16th win of his career.
Not to be outdone former Geelong hi-flyer and now media man Billy Brownless part owns Arden Castle, the winner of the last race on the card the Park Douglas Printing Pace. The seven-year-old is trained by Nichols Point trainer David Vozlic and also part-owned by Geoff Lucas, a smaller flyer and less well-known former footballer.
Freeze MND
Mildura Harness racing Club is supporting the Fight MND cause, raising money to find a cure for motor neurone disease. Neale Daniher has made this cause his mission in life and has raised in excess of $20 million over the last three years.
Mildura Harness Racing Club is selling beanies at $20 per head to help raise funds as well as entering our mobile start vehicle in Danihers Drive, an annual rally around country Victoria for 150 cars and almost 500 participants. The club will be raising money through sponsorship and advertising on the vehicle. This event is on October 11 TO 14, some six weeks before Ballarat's Inter Dominion Heat, so a good chance to advertise in Western Victoria.
The rally this year leaves Melbourne and heads through Ballarat to Horsham for the first night. Neale Daniher, his brothers and sisters and the FightMND community, will
Weave through the Wimmera region in NW Victoria
Breach the South Australian border into the Coonawarra wine region
Pass through Mt Gambier
Head through Victoria's Western District
Through Geelong and back to Melbourne
Beanies can be purchased off the club by phoning Tim Scala on 0411 044 021.