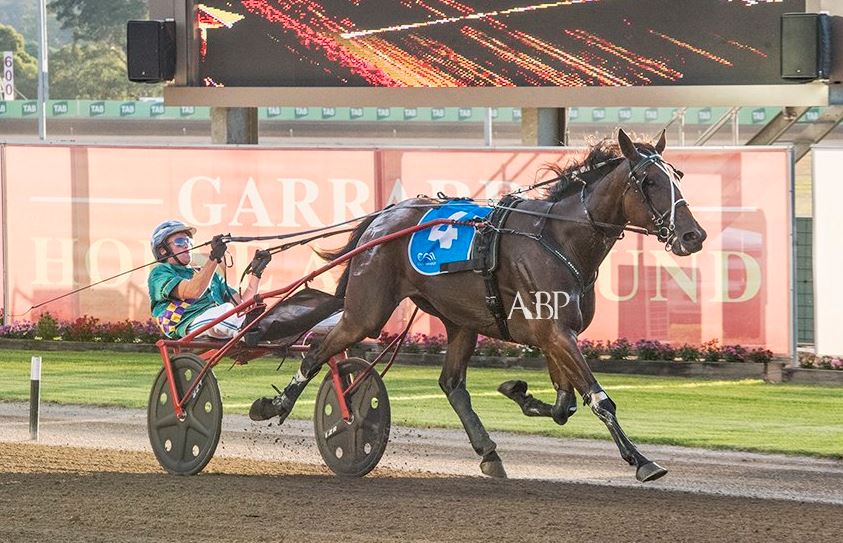 Todd McCarthy is only 25 years old and has already had some big highlights in his career, but Sunday will be right up there with the best, win lose or draw when he pilots Australian mare Maori Time (pictured right, photo courtesy of Ashlea Brennan Photography) in the Elitloppet series in Sweden.
As stated earlier in the week, it was always going to be interesting to see who got the nod to drive the Australian representative at Solvalla.
In the end it was the young Sydney reinsmen, who drove the Brent Lilley-trained mare to arguably her career-best performance when winning the Group 1 New South Wales Trotters Mile at Menangle, who got the call-up. And he is very grateful for the opportunity.
"I have to give a shout out to Fred (Crews, owner) and Brent (Lilley, trainer) for giving me the opportunity, it's something I'm really humbled by and it's going to be the experience of a lifetime," McCarthy said.
"I probably didn't find out until it was advertised the same time around it came out in the media (that the horse was going). Fred rang me that day and it was maybe a couple of hours later that it was on Twitter and stuff like that on a Sunday.
"I didn't expect the drive at all, having only driven her once. When you have any sort of association with a horse like this, and they get invited for a race, you always go 'I suppose it would be nice if they think of me again'. But then to get the call-up, that was pretty awesome for sure."
McCarthy hasn't been able to pick up any catch drives for the three-day meeting, but his drive on Maori Time in Round 1 will be his first drive outside of Australasia.
"I've driven in New Zealand before, that's obviously within Australasia, but I haven't driven overseas before otherwise," he said.
"I had Seel N Print and that was the first time I drove overseas (in the New Zealand Cup) in 2014, and then had Tiger Tara just recently in the last Cup at the end of last year."
McCarthy's first drive was just over eight years ago, on March 2, 2010, when he finished second in a race at Albion Park.
Since then he feels the horse that put him on the map was his stable star Seel N Print, who got on the inside to finish second to Beautide in the 2014 Inter Dominion.
"He was probably a little a bit of the turning point to my career. I never probably took driving too seriously or to a professional level up until I came across him," he said.
"And then I found myself in a few bigger races, and then I started taking it a lot more seriously.
"Since then he really put me on the map that horse and opened up a few more opportunities for me."
Seel N Print was bred in New Zealand before joining Greg and Skye Bond in Western Australia and won the WA Derby in 2011. The Bonds and McCarthy go back a while, and the WA stable decided to send the horse across to the young reinsman.
"Greg Bond has been a good family friend of ours and he used to come and stay at our place in Queensland actually when he came up there to race. I was only young then and I actually didn't have a lot to do with the horses but I used to get along quite good with 'Bondy' as a kid. And when I did start getting into the horses, we we're still living in Queensland at this stage, he called Dad (John) up one day and there was a junior driver's race at Gloucester Park.
"Hilarious Life was the name of the horse (for me to drive) and it was a horse that he had bought from New Zealand. He was more doing it just as a bit favour for me to fly me interstate. So he flew me over to Perth for this race, because you needed to have a junior driver. Anyway I came out and I won on this thing, and that was sort of the start to something else"
Todd puts his driving first nowadays.
"I had a couple of others probably about four years ago but at the moment I don't train any, I just solely focus on the driving side of things," he said.
This week is Todd's first visit to Europe but he has attended some of the big events in the US, where of course his two brothers, Luke and Andy, have enjoyed success on the trots track.
"I haven't been to Europe but in America I've been to The Meadowlands. We went over for The Little Brown Jug, and have been to a few racetracks around there," he said.
"And then back in August last year I got around Canada (being the emergency Australian driver for the World Driving Championships) a bit and got to see all the tracks there so that was really cool and pretty much anywhere you go the racing does change a little bit. But they're still horses and you're sitting behind them and you're going as fast as you can."
Dreammoko (gate one) and Rajesh Face (gate two) are the horses along with Maori Time (gate six) that have the blistering gate speed off the mobile in the first of the Elitloppet heats, but after drawing two from the outside, tactics won't be sorted out until later in the week.
Lionel (gate three) is highly unlikely to go for the lead, while Volstead (gate four) should be in the first half of the field, but probably not the lead. Rajesh Face however knows how to gallop.
"It's a tough draw where we are but so far I've found with trying to do form do against some of these horses that's there a couple inside us that mostly race over the long trip and you don't get see them get used a lot early," McCarthy said.
"It's hard to sort of get a gauge on how quick you think they are. I know how fast she is … on Tuesday night I did quite a bit of form on all the horses in both heats, I'm going to have to have a chat with Brent and Fred and see what they want to do and go from there.
"But I'm tipping that they'll want to see her buzz off the arm and try and find a pretty handy spot early, that's her racing style and that's probably how she got invited to that race, racing that way, so I'm pretty sure they'd wanna keep consistent in that matter and make sure we're not going home wondering."
McCarthy said the favourite, champion Bold Eagle, looked the hardest to beat.
"Bold Eagle for sure is the one to beat in our heat. Last year he parked out in 1:50 and he was massive in his heat last year. I think in the final he was one-out, one-back and he got a good track into it but when it came crunch time the last 400m he looked a bit tired and his heat run may have told on him.
"I know there's some good ones there like he's obviously the standout but at the same time I think this year that they probably be more focused on just qualifying him without emptying him out and it probably gives us an opportunity to maybe take advantage of that and try and get a handy spot to get into the final …hopefully she's on her A-Game and we'll be having a bit of fun anyway."
See below for Luke Humphreys' (@WorldRacingLuke) view of the Elitloppet heats, along with video links and Luke's thoughts on the Group 1 Final.
Overall seven countries are represented in the 2018 Elitloppet, France, Sweden, Norway, Denmark, Germany, Australia and Switzerland.
Local champion Readly Express, in my opinion the best horse in the world, was ruled out of the series last Wednesday after suffering setbacks since his magnificent Prix d'Amérique victory over Bold Eagle.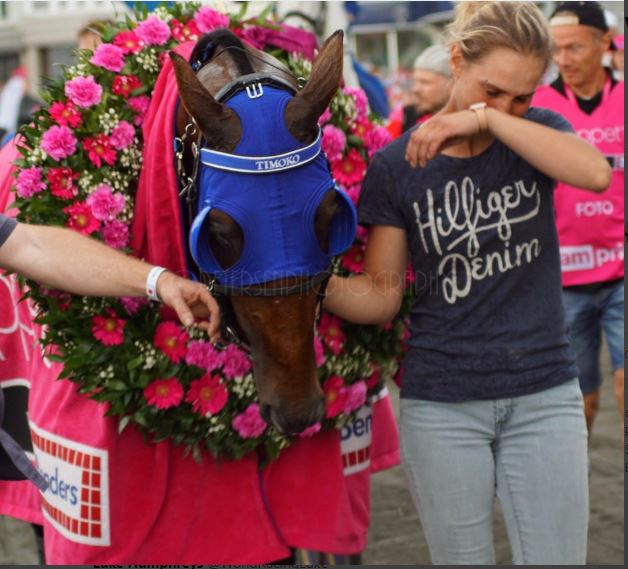 PHOTO: Dual Elitloppet champ Timoko after last year's epic final (Kirsten Petersen Photography)
Race 9 - 11:22pm (AEST)
Elitloppet, Heat 1
1609m – Mobile
4yr old+
1: DREAMMOKO: French raider, son of dual winner and champion Timoko, prepared by his trainer, Richard Westerink, and driven by his driver, Björn Goop. Yet to win this season from five starts, he was very disappointing earlier in the year, however bounced back to form to finish second in both his heat and final of the Gran Premio della Lotteria (Italy's equivalent of this series) behind Urlo dei Venti. One of the pace angles and from a perfect draw should qualify. Third in the 4YO G2 on this card 12 months ago.
2: RAJESH FACE: Local, was very disappointing at the end of last year when disqualified as favourite for the G1 Swedish Breeders Crown Final for the 4YO C&G back in November. He then failed badly in two runs down in France at Vincennes during the big winter program, when weakning for fifth in a race one level off Group racing and then ninth in France's premier G1 race for 4YOs, when doing too much work early. First-up he was able to score comfortably in a race two levels off Group racing in Sweden after working hard but trotting very awkwardly. He then went off favourite in a G2 race and after having an easy lead for some unknown reason the driver/trainer Lutfi Kolgjini (as he sometimes can) just took off at full speed with a lap to go and got caught late in third. Obviously very good, but temperamental and you can't afford to be trotting roughly etc in races like this.
3: LIONEL: Local, who actually denied Bold Eagle the Vincennes Winter Triple Crown in 2016 in the final leg. He has decided to miss this series the last two years, with connections thinking he is a stayer. He disappointed throughout the winter in France and then in two runs this season in Sweden he dead-heated for first in a strong conditions race at Solvalla before finishing third in the G1 Olympic Trot (one of the main lead-up races for this race) a race he won 12 months earlier. Probably not racing as well as he can and has only run over the 1609m once when disqualified in Norway way back in July 2014.
4: VOLSTEAD: Local, magnificent trotter at his best but can mix his form. Finished fifth in this first heat two years ago, and last year he went for the easier race on the Saturday program, the Swedish Cup, and was able to brilliantly win both the heat and G2 Final. In true Volstead style, he has mixed his form since. However after two below-par runs this season, including a disqualification/gallop, he won brilliantly in a Gold Division race (effectively the equivalent of a $20,000 Free For All) contest in Sweden in 1:52.6. Comes into this race in good form and won both the heat and Final of the Swedish Cup last year so he can back up in the final, but he has to put his best foot forward in this particular race, I think you'll see the good Volstead.
5: BOLD EAGLE: French champion who has been one of the best horses we've seen in any code of racing in the last couple of years. A two-time winner of the Prix d'Amérique at Vincennes, and Vincennes Triple Crown winner, and has won at G1 level in the best style from 1609m right up to 4150m. A veteran of 51 starts, winning 39 of those, and 3,411,620 € in prizemoney. He has won 30 races at either G3, G2 or G1 level and his 17 G1 victories include just about all of the big races in France. He ran a staggering 1:50.1 in quarters of approximately 28.5, 27.2, 27.4 and 26.8 to win his heat by around 15m. Hindsight is a great thing, but in the end his regular partner Franck Nivard made a bad decision to go as hard as he did in the heat. As extraordinary as that performance was, the question going into the final, where he was 100/1 on with some bookmakers, was could he back-up? More so because of how fast he went in the heat. The answer in the end was a very simple no. For the first time since he joined trainer Sébastien Guarato in late 2014, he missed the first two, excluding one race where he was injured and effectively pulled up. It was the only time in eight encounters between him and Timoko that the old champ would beat him, he finished only fourth. Since 12 months ago, he won on Champions Day at Vincennes in late June in a G1 race, for the second year running, and then followed up easily in Belgium's premier trotting race. He was then denied, in extraordinary rain that only lasted for 10 minutes, in the European Championship by Aubrion du Gers, the best gelding in Europe. He then went for a spell and came back for the trial races in a bid to land a third consecutive Prix d'Amérique, something that sire Ready Cash failed to do in 2013. He was a late scratching 30 minutes before the first trial race on November 20 after being lame in the warm-up earlier in the day. He was then run down in the second trial race three weeks later by Bird Parker when it seemed he may have run out of fitness. Then in the sprint trial over 2100m on New Year's Eve, Propulsion got first run on him and he stormed home for second, far from disgraced. But it was in the main trial race on January 14 when it seemed as if the wheels we're falling off. He had the perfect run throughout and after looking the winner down the straight, he failed to peg back Bird Parker. Connections we're then very worried leading into the big one a fortnight later. He came very close to going into the history books of three consecutive wins of the Prix d'Amérique but failed by a neck or so to peg back Readly Express. He had every chance to beat him but it was an absolute cracker of a race. Then in the feature sprint race over 2100m, the Grand Prix de France, two weeks later he led and looked the winner in the straight but was run down by Bélina Josselyn, one of the best fillies/mares in Europe. I am one of the horse's biggest fans and I am more than happy to say I wrote him off after that; I thought he was no longer the horse he once was at all. In saying that he went down to Cagnes-Sur-Mer, on the Riviera, for the annual G1 of the season over 1609m, went straight to the front, bolted in unextended, and on a wet track went a time of 1:50.8. That proved he had obviously had problems during the winter that prevented him from being at his best, so makes his Prix d'Amérique second even bigger. He then came out and won the big G1 of the year at Enghien, second metropolitan track in Paris behind Vincennes, for the second year running but was given a scare by Bélina Josselyn after having a very easy lead. But Franck Nivard only let him win by a small margin and he had plenty left. He selects himself in this race on his last two runs over the sprint trips. One thing that is for certain though is that he will not be going 1:50.1 in the heat this year! His task in the series is made easier with Prix d'Amérique conqueror Readly Express missing the series.
6: MAORI TIME: The Victorian/Australian representative. I spoke with owner Fred Crews about the mare on Monday night (AEST) and you can see that interview here, https://www.thetrots.com.au/news/articles/elitloppet-2018-luke-humphreys-sets-scene/. Taking away any bias with her being an Australian, I personally think if she qualifies for the final she is up there with one of the best trotters we've ever seen here in Australia, and the barrier draw hasn't made life any easier. Sundons Gift, who was probably a better stayer but did have G1 victories over the minimum trip, couldn't keep up in an Elitloppet. As far as I'm concerned Sundons Gift is a much better horse, and he was an absolute champion. I think she'll be struggling but it's great to see connections having a crack. She's only put in one good run really in her last seven starts, in saying that, that was a very good performance! And to be fair she never had a chance last time in the G1 Australian Trotting Grand Prix so that is a complete forgive run.
7: TAKETHEM: Raider from Denmark, who raced consistently throughout the winter in France, including a slashing fourth in the primary trial race for the Prix d'Amérique. Was second in Denmark's premier race last time, the Copenhagen Cup, and before that he worked way too hard in the Olympic Trot Final. Drawn poorly, fifth in this heat 12 months ago, won a qualifying final race just below black type level at this meeting two years ago.
8: UP AND QUICK: French raider that was the winner of a weak Prix d'Amérique in 2015, hasn't been at that level of form for a long time however. Second past the post in a G2 at a country track in France over this trip two starts ago, but was rewarded the race after the winner was disqualified, hence winning the race for the second straight year. He used that race 12 months ago as a lead-up to this but flopped when last in the second heat last year from gate one. This year he has drawn the other side of the mobile gate which gives him little to no chance at all. Didn't have much luck last time up at Caen in a G2 contest over 2450m; did finish second in the 2013 Swedish Cup Final.
Summary
(5) BOLD EAGLE selects himself. He definitely will be driven completely differently this year in the heat. But he should win. Taking a chance putting (4) VOLSTEAD in but his best form is good enough to run a place in the final and it was very good win last time. (1) DREAMMOKO after disappointing earlier in the year is now right back to his best after running very well in Italy. (3) LIONEL is a query over the distance but looks best of the rest. (2) RAJESH FACE is very good but quirky. I doubt (6) MAORI TIME has the class, (7) TAKETHEM is in career best form but has drawn poorly. (8) UP AND QUICK has absolutely no chance from that gate, and disappointed here 12 months ago.
Selections
(5) BOLD EAGLE - (4) VOLSTEAD - (1) DREAMMOKO – (3) LIONEL
Speed Map with a Lap to go
Note: If (2) RAJESH FACE stays in stride he will be right up there with the leaders but going on previous form I think the pressure will get to him and he'll gallop, hence why he is last. If he trots he will be first or second with a lap to go.
Race 10 - 11:49pm
Elitloppet, Heat 2
1609m – Mobile
4yr old+
1: RINGOSTARR TREB: Former Swedish Cup winner and has competed in that series multiple times. But after racing consistently in the big races throughout the winter in France and a magnificent G1 Olympic Trot win last time out, effectively the main trial race, he has gone for the big one. His performance last time out, as favourite, was absolutely brilliant and a lot more than what I thought he good do – a career-best performance clearly. Comes into the series at the peak of his powers and should get every chance in this heat. Ran 1:49.7 when second to Propulsion last year but had every chance to run him down. Won the 2015 Swedish Cup followed by an unlucky fourth in the final in 2016 and third to Volstead in 2017. Trained in Italy for all of his career but for the last 12 months has been with American-born local-based Jerry Riordan
2: COKSTILE: Norwegian raider that won his country's feature classic, the Norwegian Derby, last year (for some reason the Derbies run in European Trotting are for 4YOs). He then failed against better horses in the European 4YO Championship and another feature 4YO G1 at Vincennes on Christmas Eve, in saying the French run was a complete forgive effort; resumed with a victory at Bjerke, the home of Norwegian trotting, last time in a conditions race.
3: ORLANDO JET: German raider, smart winner of a European 4YO G3 race at Vincennes last year. Followed it up with a win in the German 4YO Trotting Derby and German Breeders Crown before outclassed by some raiders in the feature German 4YO G1 of the season. Won first-up in a conditions race in Germany; Outclassed by a couple.
4: PROPULSION: Fastest trotter ever to race in Europe after winning a G1 here in Sweden last year beating Ringostarr Treb, who sat behind him while Propulsion sat parked after quarters of approximately 27, 27.9, 26.8 and 27.8 to win in 1:49.5 and subsequently become the first European based trotter to break 1:50. Raced well in France, including another unlucky top-four performance in the Prix d'Amérique. He has returned to Sweden this season with two smooth wins in conditions races and knows all about this series and gets his best chance to win it. Third in the first heat then fifth in the Final in 2016 followed by a second place in this heat and the final 12 months ago.
5: NADAL BROLINE: Should've won a G2 race here on Boxing Day last year. Brilliant win first-up two weeks ago in a confirmed trial race for this in fast time, primed for this.
6: PASTORE BOB: Already making start eight this season and won Finland's feature open class G1 last time, effectively a trial race for this, in a bit of a surprise but had it gifted it to him and was lucky to win when the horse outside him galloped. But has drawn awkwardly and outside of that win his form isn't strong enough for this.
7: UZA JOSSELYN: Swiss challenger that raced consistently through the winter in France with two smart victories in a race one below G3 level and then at G3 level. Needs a bit of luck but can qualify, stormed home in the Finnish trial/G1 last time
8: AMIRAL SACHA: French challenger who draws horribly. Been a good horse for connections over the seasons, wasn't going that good this campaign but improved when just nabbed for second in a G2 last time out in France.
Summary
(1) RINGOSTARR TREB comes off a career-best performance and after drawing the inside he should be beating (4) PROPULSION in this particular race. I think connections would be very disappointed if he got beat, primarily if he leads from this gate. (4) PROPULSION will use this as a pipe opener for the final I assume. I would be personally surprised if he won this particular race. (5) NADAL BROLINE comes off a very good trial win. (7) UZA JOSSELYN is best of the rest, (2) COKSTILE is outclassed as is (3) ORLANDO JET whilst (6) PASTORE BOB was lucky to win last time. (8) AMIRAL SACHA came back to form last time but draws poorly
Selections
(1) RINGOSTARR TREB – (4) PROPULSION – (5) NADAL BROLINE – (7) UZA JOSSELYN
Speed Map with a Lap to go
Race 14 - 1:38am (Monday morning)
Elitloppet Final
1609m – Mobile
4yr old+ - Group One
Summary of overall Final Provisional Tips (Final tips can be found on Twitter after the draw for the Final)
It all depends on what happens in the heats but at this stage I think BOLD EAGLE and Franck Nivard can get their revenge after what happened 12 months ago. I think he and PROPULSION will have a great battle and it will all come down to who gets first run. RINGOSTARR TREB is in career best form and should give it a real shake as will VOLSTEAD, depending on which one turns up.