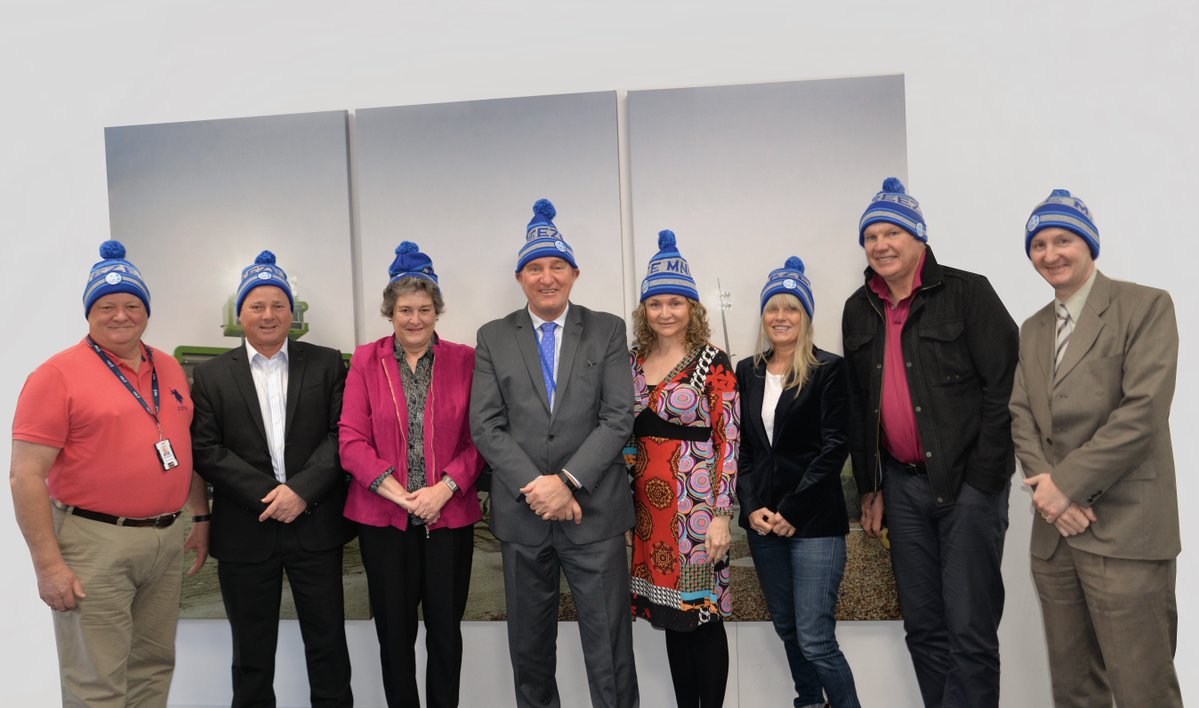 Today's racing at the Mildura club again boasts big fields and 10 races with the first at 12.58pm.
The meeting supports Neale Daniher's Big Freeze event taking place at the Collingwood versus Melbourne game at the MCG on Monday's Queens Birthday holiday.
Patrons can buy a beanie at the track today for $20 and gain entry to win two tickets to the AFL Grand Final by taking a selfie with their beanie on and posting it on Face Book by tagging @FightMND and using the hashtag #BigFreeze4 to enter (pictured above are members of the Harness Racing Victoria Board and HRV CEO David Martin donning their Fight MND beanies).
Today's card is full of competitive fields and no harder way to start in race one the DNR Logistics Pace for to-year-olds, with two untried runners coupled with another five runners with two starts or less. I will stick with three runners who should run well. ASHFORD BLACK is a first-starter for Ellen Tormey and should run well after recent trials and the Joe Costs trained BETTOR STAR should have won at Ouyen last start but just missed by 1.2m.
The Barry Dunn-trained AZZGOODAZZ only finished 2.8m form the winner despite coming from the back of the field and racing roughly on occasions. Any three of these should get the chocolates.
In Race 2, the Mildura Holden Pace, SIRBENJAMINBUTTON has a great chance after having two good runs back from a short spell. He made up a lot of ground at Swan Hill recently and is drawn to get cover from the back row. Should win this.
SWEARENGEN competes in Race 3, the Intersport Mildura Pace, and is drawn to get a good trail and could be too strong in a tough race to pick the winner. It would be a welcomed victory for trainer Kate Attard from Red Cliffs after a bittersweet meeting last week when she lost a horse after training a winner all on the one day. Sentiment will be with Kate to get a winner today!
Race 4 is the Neale Daniher Fight MND 3YO Pace and omen bets seem to be winning lately so I will go with Neale's Essendon football jersey number in six and the South Australian-trained BULLETPROOFBOY to win. Given Neale's ongoing fight with MND it is appropriately numbered and named to win.
In Race 5, the Park Douglas Printing Pace, the well-drawn and Glen Douglas (Strathfieldsaye) trained FLIGHT OFFICER looks well place in the draw and certainly has been racing against better company. Combined with driver Monique Burnett, this stable pair cleaned up at the recent Mildura Carnival with both winning their respective driver's challenges. Should be a good trip home!
In Race 8, sponsored by the Mildura Rural City Council, again a great field to compete in the fast class race of the night. The Andy Gath (Long Forest) trained BURNAHOLEINMYPOCKET again is the class horse of the race and aptly named to win this event, but locally trained MURRANJI TRACK has been burning up the track in its last two start at Melton and expect to see a mid-race move to put pressure on the leaders. Stick with BURNAHOLEINMYPOCKET to win after a good trail behind the leaders although last week's omen bet and winner All I CAN BE part owned by Nathan Buckley from the Pies could stretch the coaches winning streak with a good run.
Race 10, The BIG FREEZE BEANIES FOR SALE PACE, is a final of heat runners last week but important changes from the random barrier draw have evened up this field making it the hardest of the night to pick a winner. The get out stakes winner will depend on the battle for the lead between the top two and how hard they go to win that battle. I'm tipping that will happen and set up the race for a fast finishing back marker who gets a good trail behind that battle.
CALEDONIAN ROBERT fits the mould and should be well driven by Mildura's leading driver Wayne Hill at good odds to end a great day's racing.
Can't get to the races today? Support Fight MND