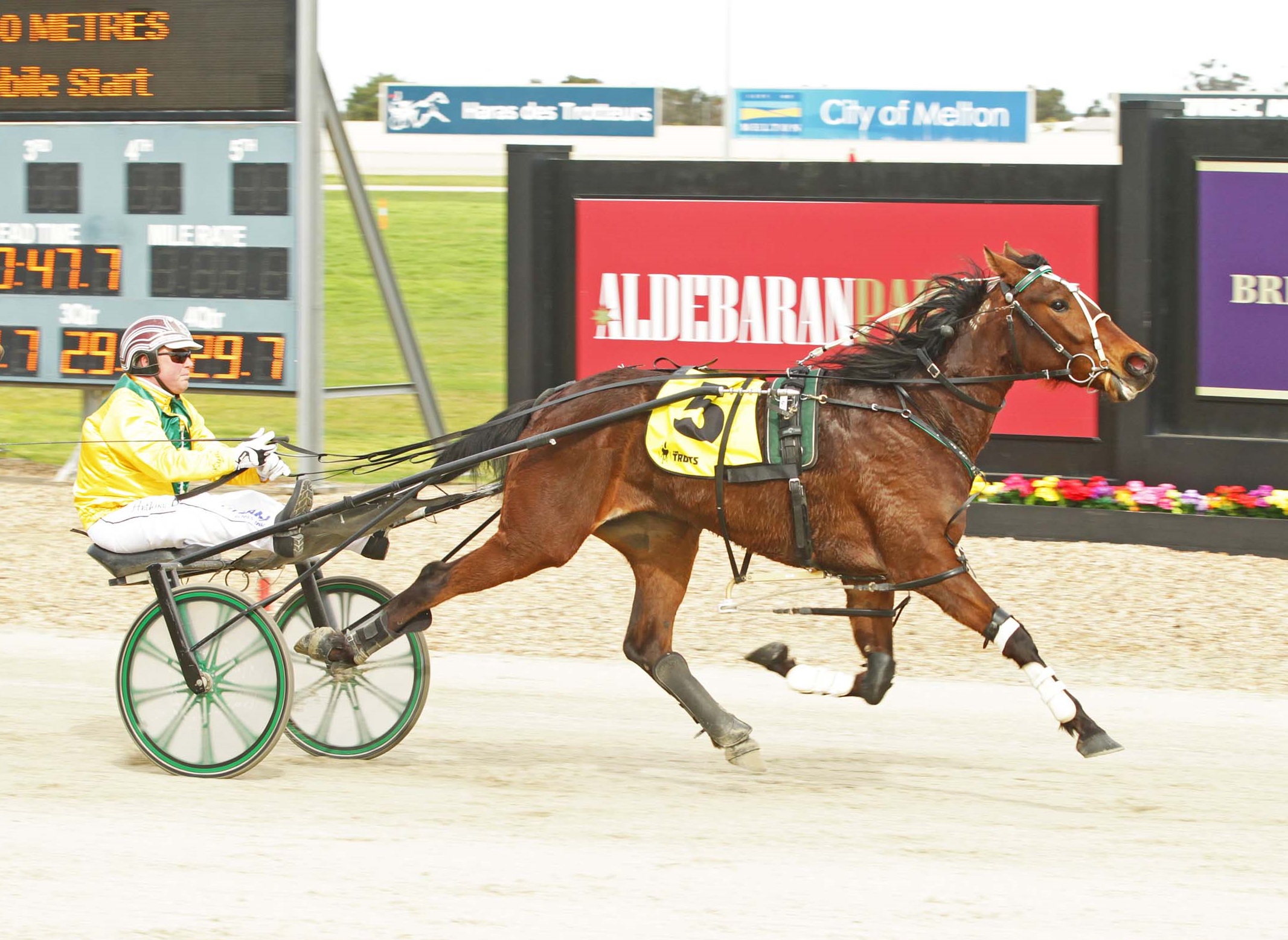 Group 1 winning trotter Kyvalley Kyrie has become the 16th graduate from the Australasian Premier Trotting Sale to join the $100,000 stake earnings club.
The Brent Lilley-trained mare is a daughter of Angus Hall and out of 10-time winning race mare Aldebaran Maori, who has also thrown Fear Not (the fifth highest APTS graduate stakes earner).
Kyvalley Kyrie has raced 30 times already this season for five wins and eight minor placings, securing $24,220 in stakes.
Earlier in her career she notched a Group 1 victory in the Aldebaran Park Breeders Crown Final of 2016 for two-year-old trotting fillies (pictured by Stuart McCormick).

This Saturday night at Terang, three APTS graduates will do battle in the feature Volstead @ Haras Des Trotteurs Trot over 2180m – Storm Cloud (by Majestic Son out of Cloud Chaser), Kyvalley Clichy (by Angus Hall out of Modern Maori) and Gus An Maori (by Angus Hall out of Sumthingaboutmaori).
That trio have accumulated $279,690 in stake earnings between them.
Of course, while Victoria is home of the APTS and has been since its inception, graduates from the sale continue contesting races right across Australia.
On Friday night, Shadow Hall (by Angus Hall out of Maori Louise) resumes at Albion Park in Race 4, while on Saturday night Greg The Great (by Great Success out of Speedy Naomi) contests the lucky last at that venue.
Needabacardi (by Bacardi Lindy out of Modern Maori) and Hotjane Bling (by Eilean Donon out of Kyvalley Bling) will both race in the last race at Menangle on Saturday night.
Needabacardi was a winner two starts back for the in-form Craig Cross camp, but last time out got it all wrong in the Group 2 standing start event to finish well-back.
And next Tuesday, September 15, will see six APTS graduates strut their stuff around Lord's Raceway in Bendigo across two races.
Hoping to break through for their first win in the Hygain Maiden Trot will be Princess Faith (by Majestic Son out of Yankee Princess), Pocket Of Success (by Great Success out of Pocket Fantasy) and The Red Warrior (by Bacardi Lindy out of Spring Fly).
Later, in Race 6, Dicko Dixon (by Lawman out of Bold Mover), Tam Oshanter (by Bacardi Lindy out of Ima Tartan Tease) and Ball Park (by Armbro Variable out of Lucytwo) will step out.
In June, HRV announced that the Great Southern Star would revert back to its original format of two heats into a final (all over 1720m) on the one night and would be hosted on a new all-trotting Friday night during the TAB Summer of Glory in 2021.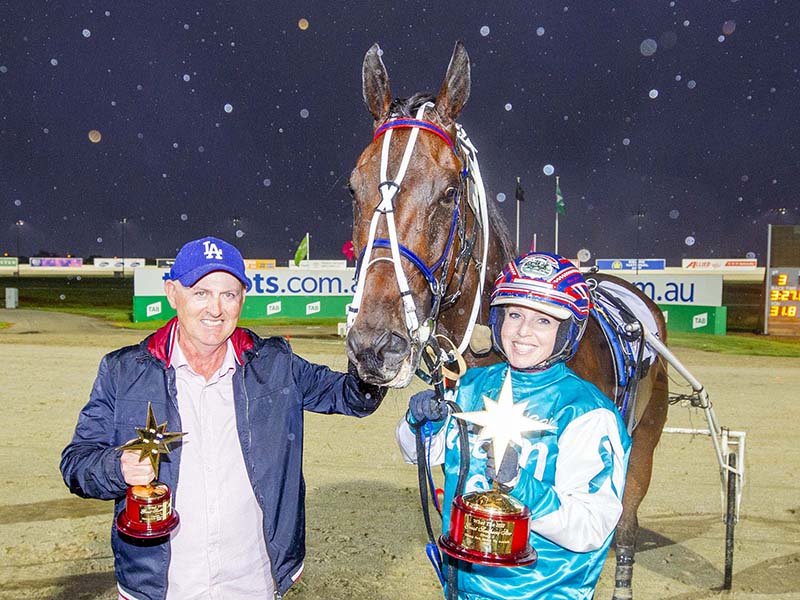 More exciting details on GSS21 will be unveiled in coming weeks and months, but trotting fans are certainly rightly excited about the event.
Visit the new-look APTS website for more information on the annual APTS sale, including Harness Racing Victoria's 'sales day special', which sees yearlings purchased eligible for the industry leading Vicbred program, the Need for Speed series and the Breeders Crown for just $1000 – a saving of over $500.
The Graduates page has also been updated to include all breeding information of the runners and a list of upcoming runners from the APTS.
Earlier this year the Victorian Harness Racing Club announced it had signed a partnership with the APTS and Australian Pacing Gold which will deliver up to $900,000 in financial benefits shared between owners and trainers of APTS purchases.
Pictures: Kyvalley Kyrie taking out the 2016 Aldebaran Park 2YO Trotting Fillies Breeders Crown with Anthony Butt in the sulky, and Andy and Kate Gath with Tornado Valley after winning the 2020 What the Hill Great Southern Star at Melton. By Stuart McCormick.
APTS graduates in action in coming days are:
Monday August 08
Tuesday August 09
Wednesday August 10
Thursday August 11
Saturday August 13