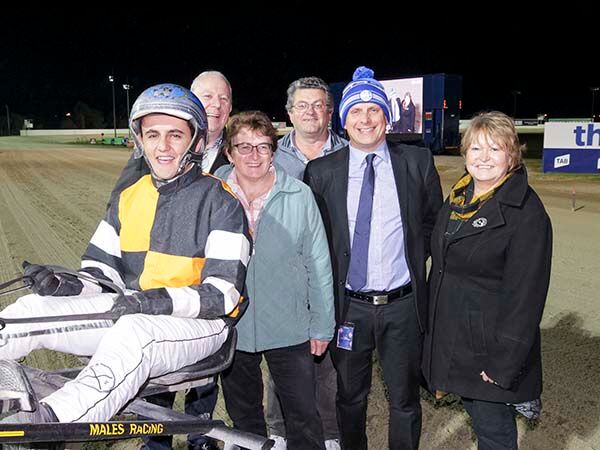 When Rob Auber purchased a standardbred pacing mare named Sheza Beauty (by Torado Hanover out of Express Wish) he couldn't have known the ride she'd take him on.
The long-time, passionate trots man's first foray into breeding from Sheza Beauty – a seven-time winner from 53 starts for almost $22,000 in stakemoney – produced a filly which Auber and his team named Precious Milly.
"She was an absolute dud," said Auber of the daughter of What's Next, whose record on the racetrack reads seven starts for duck eggs … Zero, zilch, zip, nada.
And so Precious Milly was retired and tried in the breeding barn, sent to stallion Pacific Fella, which produced a two-time winner from 42 starts named Aquatic Belle.
The mare was then sent to Albert Albert for a three-start maiden filly, and eventually to Northern Lights for a filly which Auber and his mates named Bella Aurora.
That bay filly showed instant ability and Auber recalled his excitement when she qualified for the Vicbred fillies' final at two in 2003.
"I was working at Channel 31 at the time, and I was just so excited going into that race (at Moonee Valley)," Auber said tonight at Tabcorp Park Melton.
"She was a really good filly … well above average."
But what should have been one of Auber's most enjoyable nights at the trots turned into a nightmare when his precocious pacer copped a severe check in the run about 600 metres out.
She lost enormous ground and basically all chance of winning.
"She made up about 50m in the last 200m and was only beaten in the finish by 7m, so she should have won. I was shattered," Auber said.
"It was only an hour or so later on I went down to the stalls and there was commotion and the vets were there, and that's when we found out she'd severed a tendon.
"The vet (Alistair MacLean) at the time said he'd never seen a two-year-old with a more severed tendon, so Paul (Males) looked after her for a long time after that."
Auber said the team waited until Bella Aurora was four years old before they bred from her, sending her then to Elsu. "I'd always been a bit of fan of his," Auber said of the stallion.
The result was a small horse named El Bella, who was sent to trainer Glenn Douglas for one win at Nyah.
Bella Aurora's second foal was by super sire Bettors Delight, and the resultant offspring would become Bellas Delight, a marvellous race mare, who won 20 races and paced a 1:54.3 lifetime mark, earning over $442,000 along the way.
"Wow, when she came along… she was mum plus more," Auber said.
Looking back, Auber says early retirement for his first top-notch filly was "probably blessing in disguise".
"She was such a good broodmare... She has so far produced eight foals to race and all eight have won. And we have two more, both by Bettors Delight (making them full siblings to Bellas Delight)."
One of Bella Aurora's progeny, Rockabella Starz, scored her eighth career win tonight at Tabcorp Park Melton for trainer Kari Males and reinsman Zac Phillips in the Hygain Pace.
For the five-year-old to win just days after her mother passed away was "really special", said Auber.
"She'll be missed, but we've got Rockabella and Seaya Laterbella (who goes around at Kilmore on Tuesday) still on the track, so her progeny live on. She was a wonderful mare."
Rockabella Starz rated 1:58.9 to defeat Platinum Power by a head.