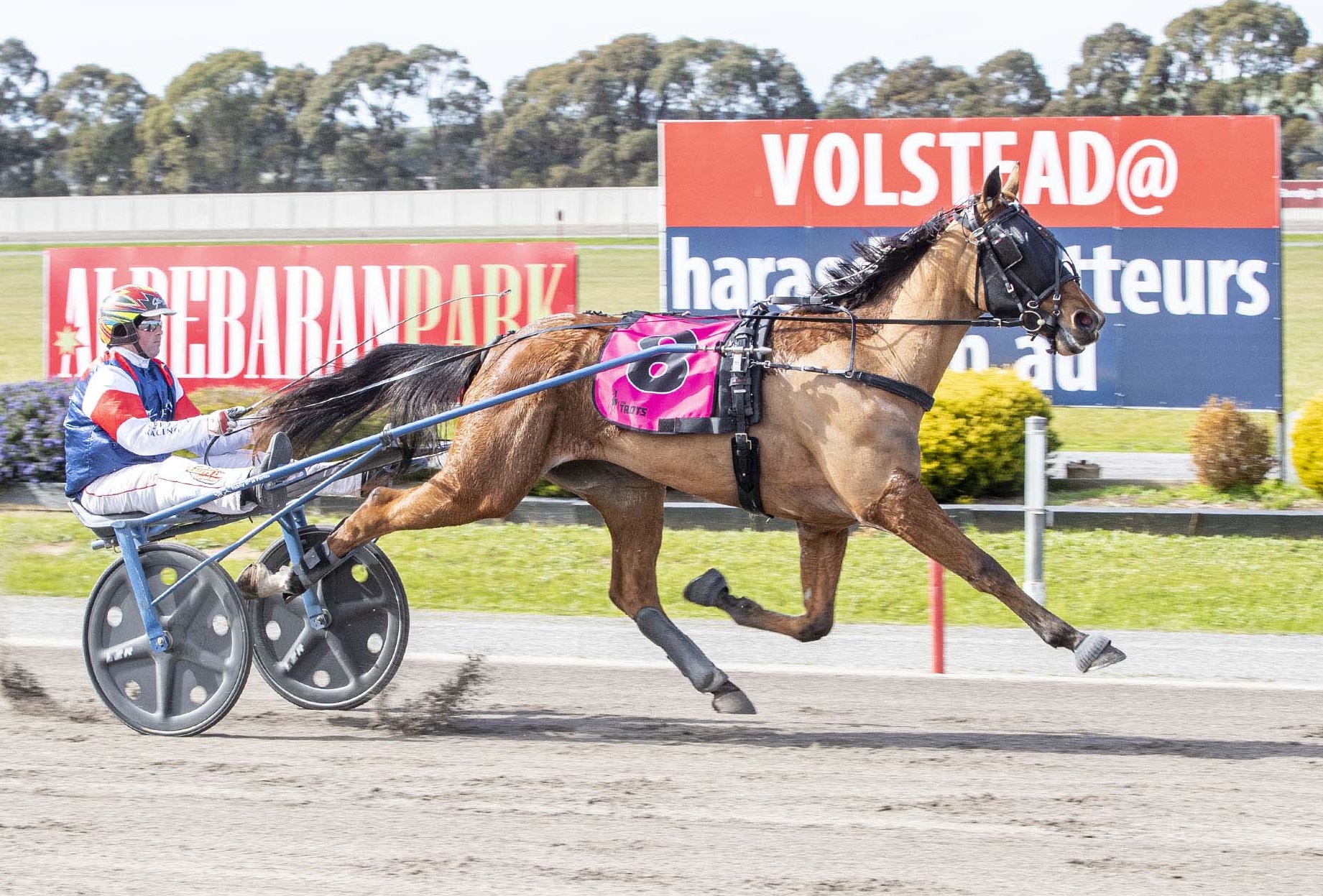 Sunday's Aldebaran Park Starlet 3YO Trot at Cranbourne has attracted a classy line-up of trotting fillies.
The $10,000 race carries an additional $1500 service voucher courtesy of Aldebaran Park to the winner, which can be claimed to offset a service to Aldebaran Park's resident stallion Skyvalley or Aldebaran Eagle, whose semen is available through Aldebaran Park for the 2020 or 2021 seasons.
This year's Aldebaran Park Starlet will prove a key guide to the upcoming Group 1 TAB Victoria Trotters Oaks, to be run at Tabcorp Park Melton on October 17.
The stellar Aldebaran Park Starlet field consists of the following runners:
2. Araignee Flair (by Yankee Spider out of Petite Flair)
Has won two races from 10 starts, including a last-start Ballarat triumph in 2:02.5. The filly is out of Petite Flair, making her a half-sister to The Girls Gotflair and Mister Pepe. Petite Flair was a full-sister to A Touch Of Flair (1:52.6, $569k), and a half-sister to Mighty Maori (1:55.2, $256k) and Son Of Flair (1:56.2, $257k). Yabby Dam Farms races Araignee Flair and she was bred by Yirribee Pacing Stud.
3: Imamaorijet (by Quaker Jet out of Sumthingaboutmaori)
Broke her maiden status last start at Kilmore with a 2:04.3 victory over 2180m. In addition to that she has placed five times. Bred and raced by Yabby Dam Farms, Imamaorijet is from 31-time winning mare and Inter Dominion winner Sumthingaboutmaori.
4: Homonym (by Majestic out of A Touch Of Sun)
Winner of two of four starts. A filly trained by Emmett and Richard Brosnan, Homonym is a full-sister to smart squaregaiter King Denny. Her only two defeats so far have come when she has broken in running. Bred by Jordash Breeding Trust.
5: Aldebaran Tess (by Muscle Hill out of Solar Powered)
Bred and raced by event sponsor Aldebaran Park, Aldebaran Tess looks a star on the rise for Terang trainer Matthew Craven. The daughter of Muscle Hill is out of unraced daughter of Sundon Solar Powered, who has also produced the smart Aldebaran Willo (five wins from 13 starts to date). Aldebaran Tess has won three of her six starts and looks a serious feature race player this season.
6: Illawong Stardust (by Muscle Hill out of Lunar Landing)
A four-time winner from 14 starts to date, Illawong Stardust is a well-bred daughter of gun producer Lunar Landing, making her a half-sister to Spidergirl (42 starts, 20 wins, $317k, 1:56.8), Illawong Moonshine (40 starts, 10 wins, $63k, 1:58.1) and Illawong Armstrong (84 starts, 18 wins, 1:56.0, $230k). Illawong Stardust was bred by prolific breeder Dr Martin Hartnett, who passed away earlier this year. She is raced by Hartnett's loving wife, Kaye.
7: Naked Ambition (by Andover Hall out of Starcus)
A daughter of Andover Hall and Starcus (a mare who has produced 13-time winner Zhenya, nine-time winner Naked Majesty, 18-time winner War Dan Destroyer and three-time winner Birthday Suit) Naked Ambition has won four races from 12 starts to date for trainer Dylan Stratford. The talented trotting filly is raced by the Cranbourne Club 21 Syndicate and is coming off a last-start Melton win. She was bred by Gerard Moloney.
8: Im Ready Jet (by Quaker Jet out of Im Ready Set)
Breeders Crown champion at two and IRT Australia Need for Speed Princess Final winner earlier this year at three, Im Ready Jet has won six races from 11 starts to date and resumes from a spell here for trainer Anton Golino. Im Ready Jet is out of Im Ready Set, who has also produced talented fast-class trotting mare Imsettogo. Bred and raced by Yabby Dam Farms and looks set for a big next few months on the feature race scene.
9: Tailored Elegance (by Muscle Hill out of Classic Armbro)
The real Tailored Elegance stepped out last time out at Bendigo and won by over 20m in 1:58.7 – a new career-best mark for this filly. Tailored Elegance has won five races from 14 starts for stakemoney of $77,926. She is bred and raced by Breckon Farms and was successful in New Zealand before crossing the ditch recently.
10: Queen of Crime (by Sportswriter out of Our Crime Of Passion)
The second of Matt Craven's fillies in this year's Aldebaran Starlet, this daughter of Our Crime Of Passion is pacing bred and has made mistakes at both of her trotting runs to date when favourite. Bred and raced by Tony and Pam Coniglio.
11: Hopeful Beauty (by Brillantissime out of Beauty Life)
French-bred trotter owned by Yabby Dam Farms and trained by Anton Golino, Hopeful Beauty has one win from four starts to date. That success came at Charlton in August.
12: Quality Sunset (by Quality Cam out of Troys Sunset)
Trainer and owner Peter Fiscalini also drives this daughter of Troys Sunset, who has shown plenty of brilliance in winning two races from 10 starts to date. Quality Sunset possesses a powerful finishing burst and looms as a smoky in the good three-year-old races in coming months.
Sunday's Aldebaran Park Starlet is Race 4 at Cranbourne and is scheduled to be run at 7.25pm.
Meanwhile, Australasian Premier Trotting Sale graduates Whose Me Mum, Captain McCraw, Fend Off and Scootin Around will all compete at Cranbourne in Race 6 on Sunday.
Check out the full list of APTS graduates and explore the 2021 APTS catalogue at the new and improved APTS website today.
Picture: Smart trotting filly Im Ready Jet cruises to victory. By Stuart McCormick.
APTS graduates in action in coming days are:
Monday August 08
Tuesday August 09
Wednesday August 10
Thursday August 11
Saturday August 13