The Trial File returns with another round of Blackbookers.
This week I've found five to add to our follow list and I've removed three. Out go Majestic Cruiser (prefer to see again), Scotlynn Jack (he was super to us with three wins) and Frankincense (went one out of one for us).
Into the book go Lochinvar Art, Nationaldraft, All I Can Be, Aspureasdrivensnow and Bonus Play. The reasons can be found in the summaries below along with other notes from each of the trial venues.
Last Week's results: It was a busy week for the Trial File Blackbookers with 12 runners. While our stable produced four winners from the 12 runners (Moreton Bay $1.2, Single Tree Road $2.5, Courageous Affair $2.6 and Frankincense $1.5) the odds didn't outweigh the runners, so we ran at a loss for the week. Place payers also found Mango Stride at $3.7, so that was something small!
The good news is the Blackbookers remain in the profit zone overall at +4% return on investment since launch for the win (or +2.64 units) and +6% for the place (+4.06 units).
Remember to sign up here to receive notifications when we update the Trial File each week and we'll also be sending out the results of our Blackbookers so they can be tracked.
Updated Blackbook can be found at the bottom of the page with the ins and outs added/removed.
You can sign up for your own free Blackbook service by visiting www.harness.org.au
To view all the trial replays yourself, click here for a list of clubs that post them.
Previous Trial File reports can be accessed at the bottom of this page.
Shepparton – Thursday April 5
Laura Crossland and the Lochinvar horses must have a strong record as juveniles and I suspect the talented trainer/driver has unveiled another likely sort in Lochinvar Art.
The son of Modern Art delivered a 40-metre KO to rivals here, getting home in 56.9secs and sprinting hard at the end.
He actually made his race debut today (Thursday) at Bendigo and ran a good third in what might prove a nice form race. He'll benefit from that experience and he's into the Blackbook.
Crossland actually had another two-year-old I want to keep an eye on going forward in Tiger Courage, which attacked the line stylishly in the other two-year-old pacing trial here. Lunar Delight won that nicely, and Nationaldraft for David Farrar (only beat one home at Bendigo today at the races) showed enough here at the trials to suggest he could bob up before too long at nice odds. He sprinted fairly hard for a furlong at the 600m and maintained the rage until fairly late. Forget he went around at Bendigo as drew impossibly.
Vicbred runner-up All The Moves won well for Patrick Ryan, the trotter by Muscles Yankee moving like a professional. Our Blackbooker Bridie Okane again went super for Kevin Weidenbach. She's 0/26 at the races, but she'll find a race win very soon on her trial form.
Tact Bess was impressive at the trials here (raced at Bendigo on Thursday and finished third) and remains in our Blackbook. She's got a good motor, but got too revved up at Bendigo. She'll keep getting better. And at this trial performance she gave Scarlett Brew a 20-metre start approaching the final circle before cutting into the gap late for Nathan Jack. And always felt Jimmy Locke has a touch of X-factor and he ran on well late here.
Blackbookers: Lochinvar Art, Nationaldraft, Bridie Okane.
Cranbourne – Saturday April 7
About three weeks ago I mentioned the veteran All I Can Be won well at the trials, and the 11-year-old did it again here, this time holding off smart mare Kotare Yarra by a narrow margin in 2:02.1 (58.5 last half).
Zoliver (a half-brother to Yankee Rockstar, Yankee Showgirl, Born To Rocknroll and Poster Boy) displayed strong gate speed to lead in the two-year-old trial over 2080m with Troy McDonald in the gig for Ahmed Taiba, before coming from behind late to overhaul Heavens Showgirl for Gary Quinlan by five metres at the post. Quinlan wasn't happy with the tempo at the 1200m and ran Heavens Showgirl to the front, but Zoliver proved too strong late and impressively stretched out.
Another Mortgage is the other to mention. The three-year-old Phillip Walters-trained filly showed a bit last prep and was given a strong hit-out here. Initially she drifted back before Walters sent her forward to take up the running two laps out. In the run she strode along at a good tempo and was entitled to be getting a little leg weary – which she did – at the finish. She won by 3m over Antico Rock, a Rock N Roll Heaven colt yet to debut for Jayne Davies, with a big gap to the remainder.
Blackbookers: All I Can Be
Ballarat – Saturday April 7
I almost Blackbooked Holidays back in February when she showed good character to win a Maryborough trial, and she's bobbed up again now at her second official hit-out and won nicely for Damien Burns. The daughter of Safari strode clear early and must have had almost 60m on her rivals down the back straight the final time before clinging on late to win by 2m in 2:03.6. Lots of credit too must go to runner-up Evacuate for one of the leading trainers of two-year-olds at the minute, Michael Stanley. The Betterthancheddar gelding gave Holidays that big start and reeled her in strongly at the end. It might pay to keep an eye on the progress of both of these horses.
Blackbookers: None
Maryborough – Sunday April 8
There has never been a knock on the ability of six-year-old mare Aspureasdrivensnow, but she has always been a walking-on-eggshells proposition for drivers. Not here. It was great to see Ash Matthews send the Neil McNaughton trained mare to the front early doors from the top of the circuit, and she paced perfectly throughout despite copping heat in the run to score untouched by 10m. Two Tell was second after having the perfect trail throughout, while In The Thirties found the line well in third. The winner went 2:01.9 and looks in great form.
Two-year-old Hugo Rocks won well here. The field singled out pretty quickly and the Ashleigh Herbertson trained Hugo Rocks ran the field along throughout to rate 2:03.6. Valla Reine tried hard in second and The Knight Star is showing a bit in third, but all honours with the winner.
The baby trotters' trial was more like the early stages of a track cycling event without the rest of the race, with absolutely no speed whatsoever early doors. In the finish Ross Graham guided Nephew Of Sonoko to victory by a head over Brett Shipway's Ima Louie Touie in a mile rate of 2:34.9 (that is correct). The most important part here was they all stepped safely from behind the tapes.
Blackbookers: Aspureasdrivensnow.
Hamilton – Sunday April 8
Honest-as-the-day-is-long trotter Jack Of The Green did his thing all the way in the last here for Jim and Rod Barker to beat stablemate Glorious Finale from the standing start over 2160m (in 2:10.8). The second horse have away a fair start as a T7 versus a T0, but also got a bit wayward in the home straight while the leader stuck his head out and was silky smooth.
Bliss Man beat Thebackpagescribe in their two-horse trial – not a bad effort by the runner-up as a C2.
Jewel Of Safari showed heart to win the first for Jim and Jackie Barker, holding off Strongnbold in 2:00.2, the winner leading throughout.
Blackbookers: None
Bendigo – Monday April 9
We've got a long-time Blackbooker down to debut on Monday at Charlton in Spiders Devil! Even better news, he's won another trial. Trained by Carla Innes-Goodridge, Spiders Devil has looked ultra-professional for a while now and cruised up to more experienced Mystic Chip and Armbro Hugh here to score a narrow win untouched out wide after coming from last in the run. Let's see what this fella can do on race day.
Singing The Girl (Yankee Spider-Singing Creek) has once again impressed for Paul Campbell. The two-year-old trotter scored by a head over Matt Gath-prepared Three One Two One in 2:13.7 and showed excellent manners in doing so.
American Tiger for Brian Gath is making a habit out of winning at the trials with two on the spin now. The two-year-old son of American Ideal led early doors and gave nothing a chance in the run, driven out to score by a length over The Spin Professor and Hancocks Hero who finished together. The winner has won two out of three at the trials.
Blackbookers: Spiders Devil.
Tabcorp Park Melton – Tuesday April 10
Big Bad Bruce bolted in for Emma Stewart and Chris Alford and did it with plenty still in hand over Gwendalion. At the quarter-pole about 10m separated these two, then Bruce went bang and in the blink of an eye it was beyond doubt – the last quarter covered in 28.7 and the winner's mile rate 2:01.2. He could have gone much quicker had he elected.
Messini's little bro Messerati has improved every time he's stepped out for John and Maree Caldow and today was no exception, the Art Major-Mesmerizing gelding overpowering Emma Stewart's Bettors Delight filly Two Times Bettor in the run to the line by 1.5m in 1:59.2 for the 1720m trip (28.3 last split). Two Times Bettor led but Messerati made his move inside the 400m, peeling out of the trail. Valiant Charger for Jess Tubbs and Allan McDonough was third.
Trainer Danny O'Brien hasn't prepared a winner since 2011-12, and hasn't had a runner since 2013-14, but things could be about to change. Im Sir Blake (Alta Christiano-Jupiters Darling) for driver David Murphy came from fifth in the run and made up 15m in the last 400m to overhaul Emma Stewart prepared Mamas New Dude by 7m in 2:00.6. The winner looks a nice two-year-old and good times lay ahead. Mamas New Dude will keep improving, while Jay Jay Shady was solid in third for John Murphy.
Art Major-All The Magic colt Ride High won trial five for Emma Stewart and Chris Alford in 1:59.8 over Bye Bye Barbie for John and Maree Caldow, with Whats In The Esky third for Allan McDonough. Driven conservatively early to settle second-last, Ride High peeled off the pegs in the back straight the last time to sweep up and claim the cookies, hitting the front at the top of the straight. He stretched out nicely and is one to follow, the last 400m covered in 27.7.
Bonus Play is a former Blackbooker who started deep into the tomato sauce odds on debut and blew it at the start. The Bruce Morgan prepared gelding by Shadow Play was ultra-impressive here over 2240m, sprinting to the front at the 500m via a 28sec quarter down the back, before ripping home in 27.6 for a 7m win over three-time winner Somebeachshadow. There is no doubt re the winner's ability, and based on this he's going back into our Blackbook and here's hoping he paces perfectly when he steps out next time.
Blackbookers: Bonus Play.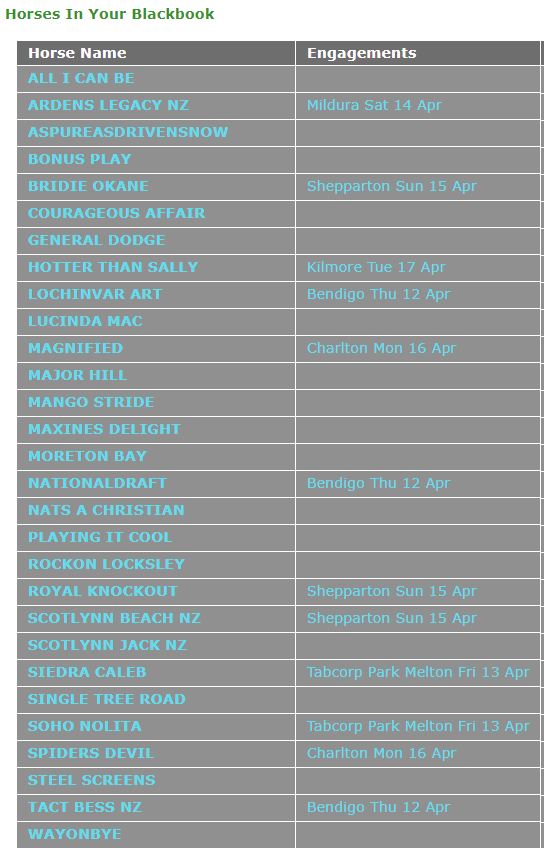 Previous Trial Files