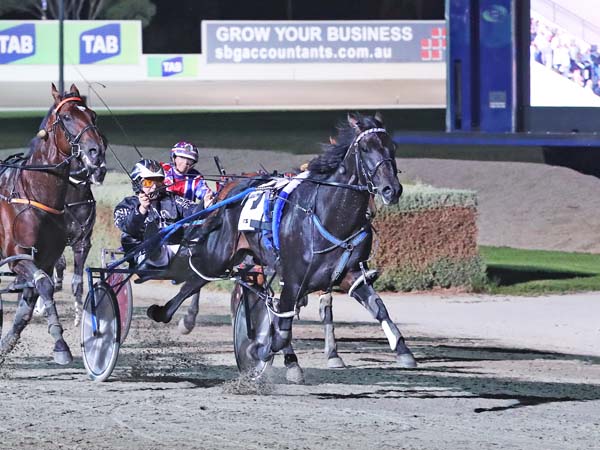 THE shock defeat of iconic champion Lennytheshark in Saturday night's Bold David Free For All not only cruelled punters and pundits' alike but also raised a pressing issue for harness marketing gurus.
Who is the headline horse, the one a broader narrative should orbit around, as we head toward this year's Inter Dominion series?
Just weeks ago that question was easily answered by the word Lazarus.
Before his sale to North America, the modern era's most charismatic pacer appeared capable of carrying the ID, but with the news he'd never again race in Australia a problem quickly emerged.
That problem appeared semi-solved when Lennytheshark produced a monstrous first-up run in the Shepparton Cup but re-emerged when the aging champion was well below his best at Cranbourne.
Knowing that David Aiken's Inter Dominion and multiple Vic Cup winner may not be the reliable commodity he once was one could be forgiven for wondering who will be this ID's headline player.
Miracle Mile placegetters Soho Tribeca and Jilliby Kung Fu top the list of potential protagonists particularly given the winner of that race, My Field Marshal, is unlikely to tackle the ID.
There is also the hope that another pacing megastar will emerge in the seven months between now and heat one of the 2018 ID.
EMMA Stewart's dominance over the Victorian harness racing scene was on full display at Melton Friday night where she won four races and filled the podium in the Argent 3YO Classic.
The most impressive of Stewart's quartet was superstar mare Berisari, who did all the work but still proved too good in the Alabar Angelique Club Pace on her way to a clean sweep of the Mares' Triple Crown.
However, Rocknroll Icon was also strong as was Ride High, who obliterated his adversaries in the final event and now appears a smoky for some major futurity assignments in coming months.
For all those successes, however, no result would have been as sweet as their 3YO Classic Trifecta where Nostra Villa outclassed improving stablemate Frankincense and also Molly Kelly.
HARNESS Racing Victoria's Raceapacer syndication team had cause for celebration Friday night when Rockin Shiraz went from pillar to post in race four at Melton's Tabcorp Park.
Trained and driven by David Miles the pacing-bred Rockin Shiraz has been a wonderful money spinner for her happy hoard of connections, winning four from 18 including three at Melton.
Raceapacer has been a long-standing initiative to promote ownership opportunities and with Rockin Shiraz and Sheza Beach Dream both racing well the team are going through a purple patch.