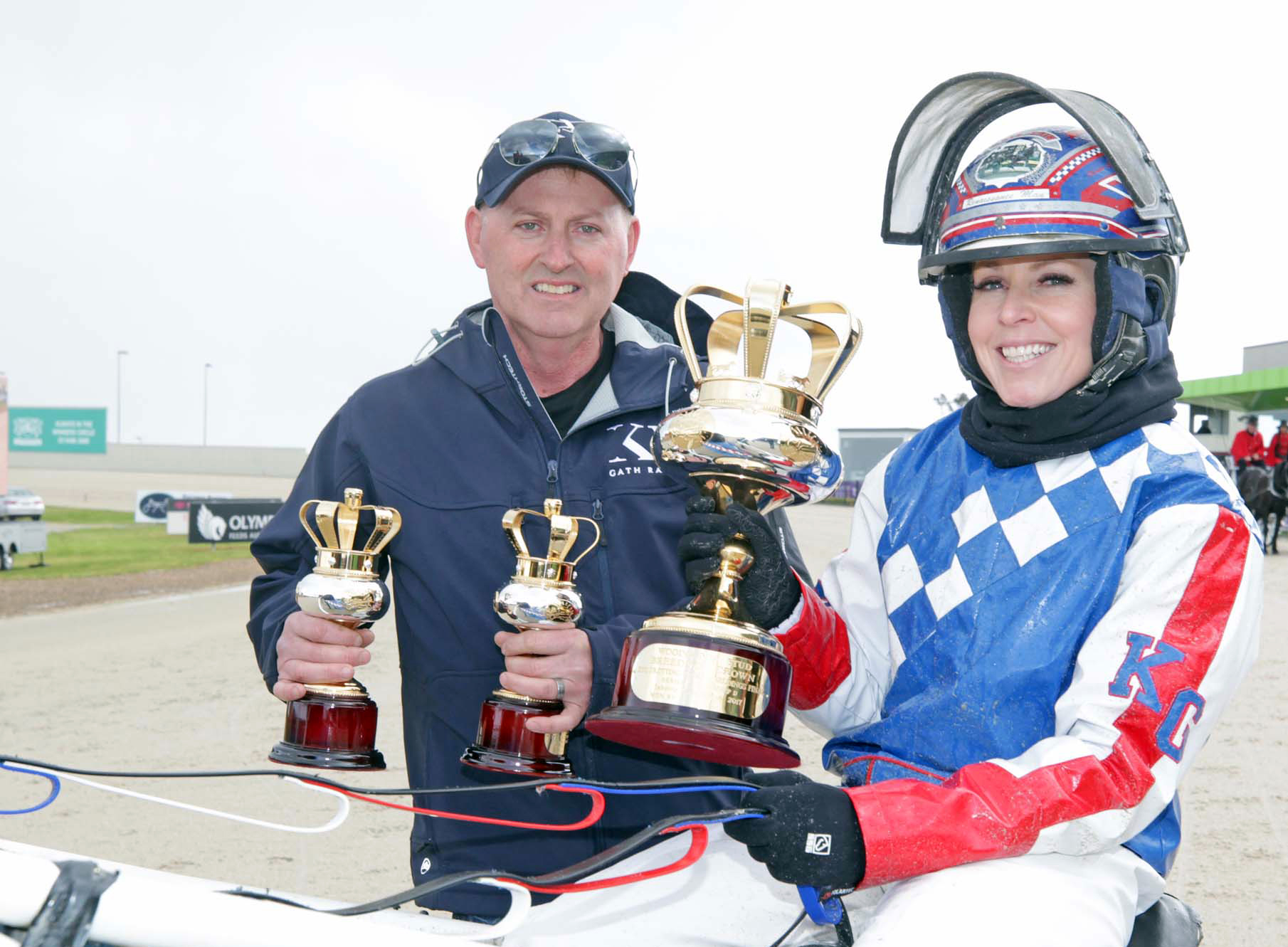 One of the deepest fields we've seen will contest Saturday night's Nevele R Stud Victoria Oaks heats, says leading trainer Andy Gath.
The Long Forest trainer's stable has been strengthened by the acquisition of talented My Sweetchilliphilly, who will make her debut for Gath on Saturday night at Tabcorp Park Melton.
"It's going to be one of the strongest Oaks we've had depth wise, a lot of quality horses," Gath said. "It's going to be very hard just to qualify your horse."
My Sweetchilliphilly has raced with New South Wales' Shane and Lauren Tritton, winning six of her 13 starts at $106,210, including the Group 1 Gold Tiara as a two-year-old.
"She's a well-performed filly and has got money in the bank," Gath said.
"It is nice to have a quality filly in the stable. If you draw a line through her New South Wales Oaks form she did a bit of work early but really finished strong."
Gath was still finding his way with the filly, who is to step on to Tabcorp Park Melton in tonight's ninth trial.
CLICK HERE FOR THETROTS.COM.AU'S TRIAL FIELDS
AND CLICK HERE FROM 6.15PM FOR THETROTS.COM.AU LIVE TRIALS STREAM
"I haven't had her that long, she will trial at Melton when we will learn a bit more about her."
It has the makings of a big night for the stable on Saturday, with outstanding trotter Tornado Valley to contest the Group 3 Uncle Petrika Trotters Free For All.
Tornado Valley has won five consecutive races since placing fifth and second when debuting for the Gath stable, quickly proving an outstanding purchase for owner Norm Jenkin.
"I thought he would come to Australia and do a really good job, but he has probably done a bit more than we'd thought he would do," Gath said. "To win five in a row is very tough."
The trainer scouted Tornado Valley in New Zealand, where he caught his eye in competitive metropolitan racing before a more modest six-year-old campaign that produced only three placings from 11 starts.
"His form 12 to 18 months ago was pretty strong against metro class," Gath said. "They are the type of horses that you try to get your hands on.
"It's something that's just a hunch. Sometimes you get it right, sometimes you get it wrong.
"He's got plenty in his armour. He's got good gate speed, he's really strong. He handles the racing really good. He ticks a lot of boxes."
Tornado Valley will target the $50,000 Yabby Dam Racing Australasian Trotting Championship on May 19, with form and fitness to dictate how long his campaign extends before a likely spell ahead of a return for the trotting Inter Dominion and the summer's features.
In Saturday night's Uncle Petrika Free For All he will run into stablemate Clover Mac, who's returning for the first time since running fifth in The George Gath on January 13.
"(Clover Mac) has done a really good job. He is probably not the level of Tornado Valley, but it is a good race for him first up," Gath said.
"He is not great at track work, so it's a little hard to say how he's going first up, but come race time he performs well."
Elsewhere for the stable, emerging four-year-old Beach Surge will content Wednesday night's Country Clubs Championship heat at Ballarat, while three more trotters have recently joined Gath's camp from New Zealand, all through owner Norm Jenkin.
They include three-year-olds Success Counts and Scallywag Sam, who ran seventh in last Friday's Inkwise New Zealand Trotting Derby and, all going well, will be directed toward Australian trotting derbies.
Success Counts will also be among tonight's Tabcorp Park trialists, starting from gate seven, directly inside Anton Golino's very smart Amour De Frere.
Gath has also welcomed into his stable eight-year-old Kingdom Come from New Zealand, a trotter he likened to Clover Mac.