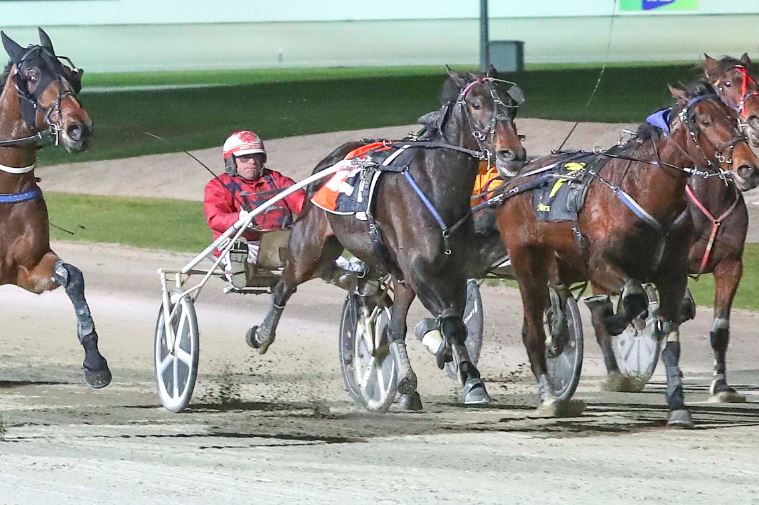 Kheiron was "born in the backyard" at owner/trainer Peter Lane's property and his wife, Anita, insists on purchasing every winning race photograph that the now Group 1 trotter earns.
"It's just a wonderful sport to be in and we've never had anything like this," Lane said on this morning's episode of RSN's One Out, One Back, speaking after his trotter won Friday night's Group 1 Aldebaran Park Vicbred Super Series Final at Tabcorp Park Melton.
The enthusiasm and positivity was radiating from Lane, a man who clearly loves his horses and the game.
"You go through lots of emotions with horses," he said.
"I was probably in the early days not really a lover of horses … when I joined up with Anita, and we've been here now for 11 years, we've had foals born in the backyard and in the last couple of years I've had to deliver a couple of my own. They really are like family."
Friday's win took Kheiron's career earnings to almost $150k, champion reinsman Chris Alford guiding the Majestic Son gelding to a head win over Next Thru.
And here's an interesting parallel that a quick flick through the results revealed.
Lane previously trained Eisenhower, who ran second in the APG 3YO Trotters Final of 2009. Eisenhower ran second to Let Me Thru in that Group 1 event at Moonee Valley.
Well, Lane has now produced a trotter to turn the tables on Let Me Thru's brother!
Lane admitted he was confident going in, but you're never certain: "We were really expecting him to go well but there's nothing quite like the satisfaction of actually getting the job done," he said.
On Eisenhower, Lane said he still sees that horse every day. "He gets a pat or a kiss … we're really close with him still".
Lane spoke of visits to the family farm during school holidays growing up where he was introduced to harness racing through a pacer trained by his uncle Eric.
"I think with his very first drive my uncle won with a horse called Charity Boy in the 70s," Lane recalled.
"I got the bug and poked along wherever I could. I spent a bit of time with Leigh Kirby and we had horses stabled with Neville Welsh.
"My first winner as a trainer was in 1987 … and my first winner as a driver was in 1991 with a horse called Our Folly at Horsham. My greatest thrill was turning around to go back to scales and I could hear my grandmother from about 50m away telling everybody! You never forget those things."