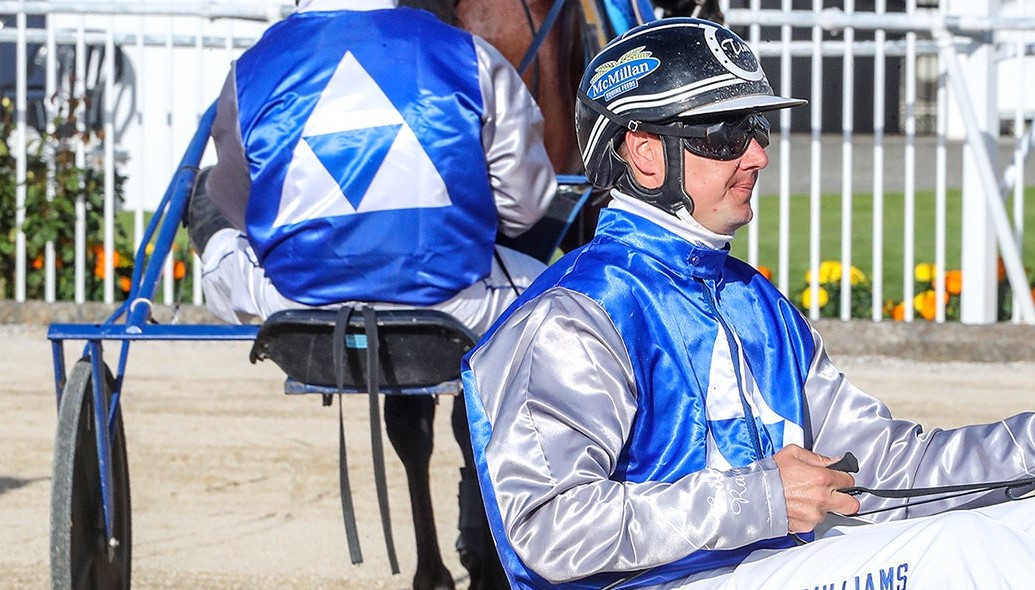 For the man thrust into NZ harness racing's hottest seat, his second homecoming at Cambridge on Sunday simply has to go better than the first.
In fact, it should go a lot, lot better for Hayden Cullen.
Cullen trains four of the hot favourites at the IRT Jewels meeting, where nine $100,000 Group 1 races will be decided.
It is harness racing's last big bash of the season, the final chance for skiting rights and for Cullen a return home.
A Cambridge lad, he grew up there before working in Pukekohe and eventually the South Island as foreman for champion trainers Mark Purdon and Natalie Rasmussen.
When they took a step back from training for a more balanced life this year, Cullen and his wife Amanda were offered the lease of their property and with it the training of many of our elite harness horses.
They said yes and haven't looked back, or slept much, since.
>> READ MORE: NZ Jewels: Guerin's race-by-race punting guide
Everybody likes to show off their special achievements to the people back home and Cullen got that chance just days after he took over the stable, taking a team including NZ and Auckland Cup winner to his old home track of Cambridge for Flying Mile night in January.
He didn't win a race.
He soon made up for that inauspicious start and with Purdon and Rasmussen helping around the major carnivals, the stable is almost as dominant as it was under their name.
Cullen has already won Group 1s and trained five winners in a night at Addington recently, but having four favourites in the first six elite level races at the Jewels is something else. Especially coming home to Cambridge.
"I am excited about it, we all are," Cullen told the Herald.
"It has been amazing to train these class of horses and to win those type of races but the Jewels are still something special for all of us.
"To be taking 16 horses there and so many favourites, to my old home track, it means a lot to us."
Cullen opts for Akuta (R6, No.5) as his best winning chance even though he has only had four career starts.
"He was super impressive at Addington and has travelled up well," says Cullen.
"We have a strong hand in that race but he is the best of the juvenile boys at the moment."
Cullen says Group 1 girls Amazing Dream (R1, No.9) and Bettor Twist (R3, No.8) are actually the most "in the zone" of the fledgling stable's representatives, but realises they face difficult tasks from the worst draws.
"They are really well and ready to win and they have the right driver in Natalie to drive them aggressively."
But far better drawn and the best of a totally dominant team in the two-year-old Diamond is True Fantasy (R4, No.3).
She was stunning winning two of the three major fillies races at Alexandra Park in the last six weeks and was beaten by a passing lane rival after sitting parked in the Harness Million last start.
"She looks very hard to beat because I can see her leading but one of our other fillies there in A Bettor You might be the smokey because she is very fast."
Two-year-old trotter Highgrove has been the biggest market mover at the Jewels all week, while there has been strong support for many of the favourites as the TAB bookies brace for a multi onslaught.
---
Trainer Steve Telfer has opened up about the likely tactics set to turn one the of highlights of Jewels day on its head this Sunday.
Telfer, having a career-best season with 60 winners, holds the key to one of the glamour races at this Sunday's NZ$900,000 meeting at Cambridge with B D Joe and Alta Wiseguy in the three-year-old male pace.
Both are last-start winners and have drawn well - B D Joe with the ace and Alta Wiseguy at barrier three – which is crucial over the mobile mile from the tricky Cambridge starting point.
While they both have winning chances their tactics may also dictate, at least early, the chances of the best horse in the race Krug, the favourite to win the Group 1.
Krug has drawn barrier nine, or one on the second line, and if B D Joe uses his gate speed to try for an all the way win, then Krug will almost certainly secure the trail and a clean shot in the home straight passing lane.
Telfer was leaning that way when he initially saw the draws on Friday but a brilliant performance from Alta Wiseguy at the Cambridge workouts on Saturday, in which he beat the likes of Copy That after showing blazing gate speed, has Telfer giving his drivers more licence.
"You can never tell how a race will pan out at the start and what will happen and drivers have to react to that at the time," says Telfer.
"But you sometimes have you own thoughts on what to do and the way Alta Wiseguy left the gate on Saturday I'd be comfortable with him going forward and trying to lead.
"We actually drove B D Joe a bit quieter off the gate at Alexandra Park when he won on Friday and he showed great speed later so I think if, and it is always an if, he trails then he could sprint very hard."
While each horse must be driven on its merits and to win, a Telfer lead-trail is actually the best chance either have.
If B D Joe stays in front then Krug is $1.20 to beat him up the passing lane, and if Alta Wiseguy doesn't go forward, he is going to likely get pushed back in an active race and finish midfield.
With Cambridge almost always favouring leaders and trailers in mile races, if the Telfer pair can secure those spots that is them being driven to their best advantage.
If that eventuated then Krug could be left three back on the markers, and while that by no means ends his chances, punters taking the odds-on will feel a lot more comfortable if he is in the trail or handy on the outer.
He does have the services of the country's top driver in Blair Orange to plot him the best path, which could include sitting and waiting for a gap or trying to push away from the markers early and getting into the running line.
With the race also containing speedsters like Pace N Pride and American Dealer as well as the hard-running Shan Noble, likely to go forward from wide out, it shapes as one of the races of the day.
But more and more it is starting to appeal as a race in which B D Joe looks set to do the least work with a reduced chance of bad luck, so he might be emerging as the logical each-way bet, even though Krug is clearly the best pacer in the race.
---
Ray Green isn't going to worry about what he can't control in two of the glamour races of the IRT Harness Jewels at Cambridge.
Because that is what he pays world class reinsman like Maurice McKendry and David Butcher to do.
Two of the highlights of the day are the three-year-old and four-year-old male paces, races laced with potential Cup winners of the future and Pukekohe trainer Green has the highest profile of those in Copy That.
Green not only has Copy That (R9, No.13) in the four-year-old pace, but American Dealer (R7, No.10) in the three-year-old and both have second line draws that bring luck, traffic and race tempo into play for them to get their best winning chance.
Green realises he could waste his time mulling over the possible scenarios of what horses may create pressure, be the best to follow out or hopefully set the race up for his stable stars, but at 73 years old he would rather not.
"I have been around long enough to know you can't predict those things," says Green.
"I realise sometimes tactics can come off, like if you have a likely leader from barrier one in a race and your horse is drawn behind it then you might get the trail behind it.
"But when you have a horse like Copy That, who is the best horse in the race, drawn wide on the second line it is impossible to know what might happen.
"I hope they go hard and we get a cart into the race but that is often a matter of inches or seconds in decisions made.
"All I know if he is very well and ready to go a big race. If we get our chance I think he can finish over the top of them even though most of his winning form has been when he led. That was usually because he was clearly the best horse in the race and he got to control things.
"That won't be the case (Saturday) but he is still a very, very good horse"
Copy That may have a stunning record leading but in the races when he has been driven with a sit he has always hit the line hard and the equation of his race may be which horse he gets to follow in the three-wide train and whether the first 800m is cut out in 55 seconds (good for him) or 57 seconds (bad for Copy That).
He is still the horse to beat but could just as easily scream home from a hopeless position and lose no fans but plenty of punters' money.
American Dealer doesn't have the same pressure as Copy That as he will be a lot longer in the market in the three-year-old pace, but he still appeals as a place chance in a race certain to contain pressure.
Another trainer not losing too much sleep over the myriad of potential race patterns from a less than ideal second line barrier draw is Tony Herlihy, who also drives trotting hotshot Bolt For Brilliance (R8, No.11).
Put him in front from a good draw and he almost certainly wins the four-year-old trot, but not only has he drawn the second line but starts behind a likely slow beginner. This suggests arch rival Muscle Mountain could get a long way in front of him.
"There is rarely much point worrying about what will happen early from second line draws," says Herlihy, our most successful reinsman of either code.
"Gaps can open or close, horses go backward or forwards in front of you and you can't control it. I will just balance him up and see what happens next."
The opinions expressed in The Forum are those of the author and may not be attributed to or represent policies of Harness Racing Victoria, which is the state authority and owner of thetrots.com.au.