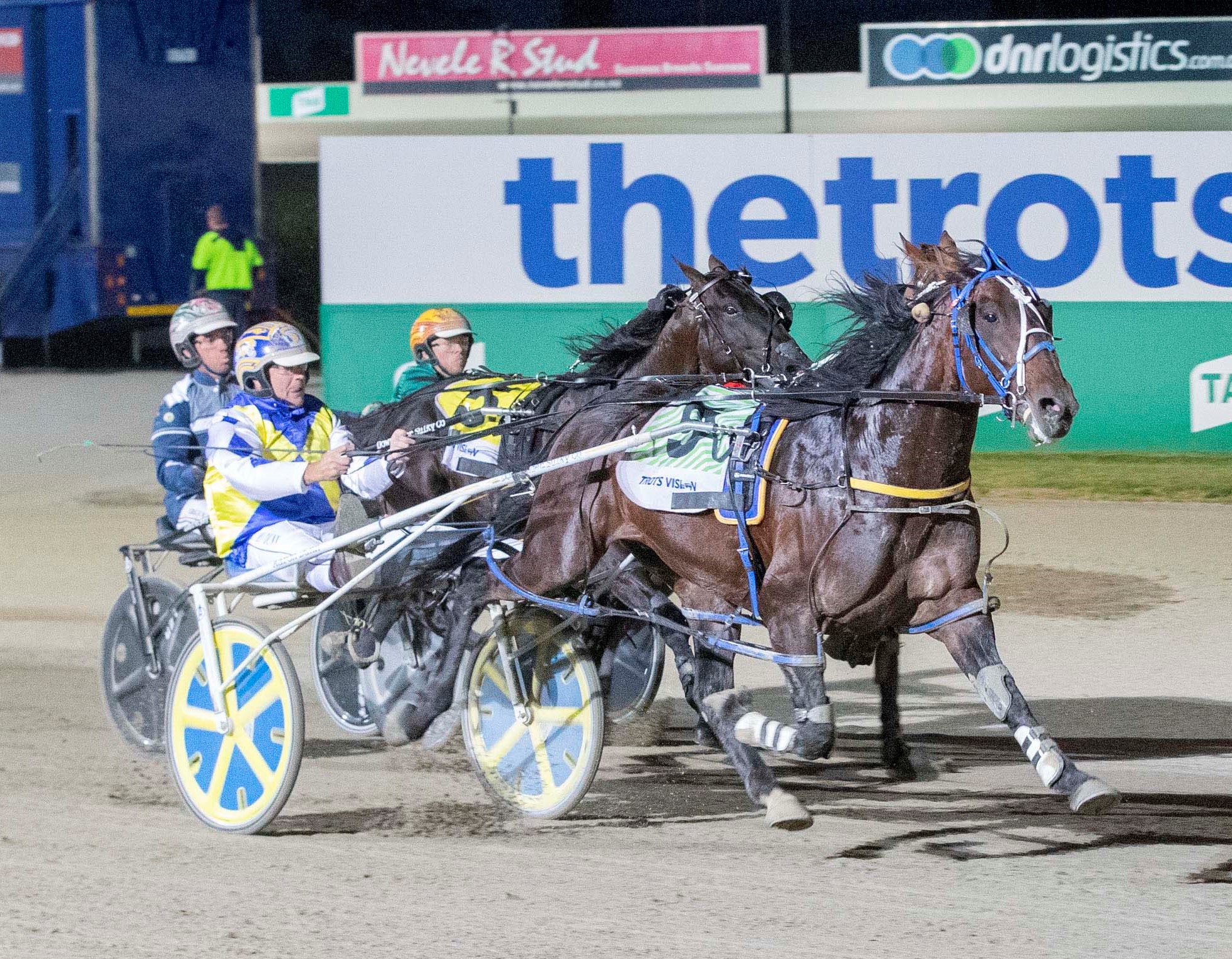 VICTORIAN young gun Bondi Lockdown is the big winner from the Miracle Mile wash-out.
While the one-week postponement shouldn't impact many runners negatively, an extra week to prepare is just what trainer-driver Aaron Dunn needed with Australia's most exciting pacer.
"I'm not disappointed, that's for sure," Dunn said. "I've been open in saying that huge run in the Chariots of Fire knocked him around a bit. We needed every bit of the two weeks between runs.
"Even though I'd been happy with him in the few days leading into it (last Saturday night), I still wished I'd had a bit more time.
"Now it's a matter of finding that balance between ensuring he's feeling great again, but not letting him get away at all on me. They don't have scales up here, so I think I'll have to invest in some just to check his weight."
Dunn took the opportunity to work around Menangle on Sunday morning to help keep him on target.
"Luke (McCarthy) was great. Like us, he left his horses in the retention barn (at Menangle) overnight and said he'd take them out for some work. He asked if I wanted to take Bondi out with them," Dunn said.
"I worked with Expensive Ego and Mach Dan was with us, too. We didn't do too much and sat out pretty wide on the track, but it was good to get some work into him.
"He felt good and his heart rate was terrific after it. Now it's just a matter of how I play the rest of the week."
Miracle Mile favourite King Of Swing also worked yesterday morning along with stablemate and main danger, Spirit Of St Louis.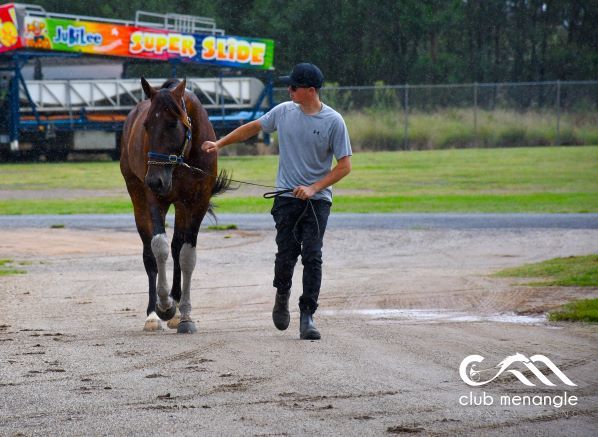 McCarthy said the delay wouldn't impact their chances.
"It's not ideal for the race after the terrific build-up, but as far as the horses go, we just get back to working them and prepare for next Saturday," he said.
It was one of the most surreal race meetings I can recall.
For 30 minutes before the torrential rain hit, everyone was looking at the "BOM" app on their phone for the rain radar and saying how ugly it looked.
Then it hit and with ferocious force just moments before the running of the Group 1 Ainsworth Free For All, won by Zeuss Bromac.
Drivers Jack Trainor (Stylish Memphis) and Nathan Jack (Like A Wildfire) said they had never driven in such heavy rain. Both said the water literally "hosed" out of the sleeves of their driving suits after the race.
"While it was bad for us, it would've been worse 30 minutes later. For us it was just heavy rain, but later it would've been mud flying back at us," Jack said.
---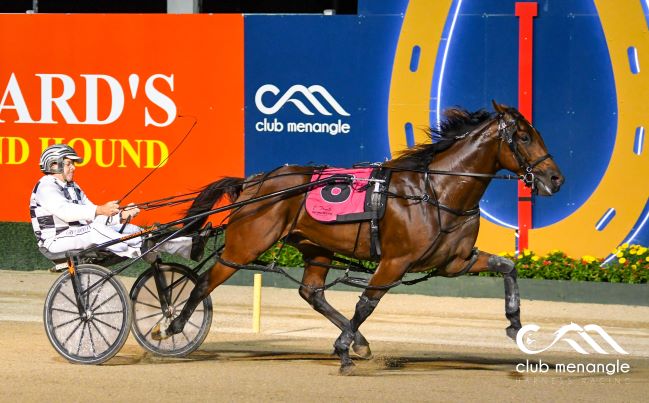 A STAR was born before the Miracle Mile night wash-out.
Queenslander Leap To Fame's win in the NSW was something to behold and stamped him as not only the next big star of his home state, but one of the most exciting pacers in this part of the world.
He gave trainer-driver Grant Dixon his second NSW Derby win, 28 years after his first with Jeremy Lee.
Leap To Fame, raced by Kevin and Kay Seymour, now heads home for a break before attacking his home state Constellations Carnival in June/July.
He's got the $102,000 Queensland Derby on July 23, but the temptation will also be there to tackle the new $300,000 The Rising Sun on July 9.
The Rising Sun is restricted to three and four-year-olds only and three-year-olds get a preferential barrier draw.
Leap To Fame is a big, impressive and relaxed customer and looks to have the right ingredients to tackle a race like The Rising Sun, especially in his own backyard.
---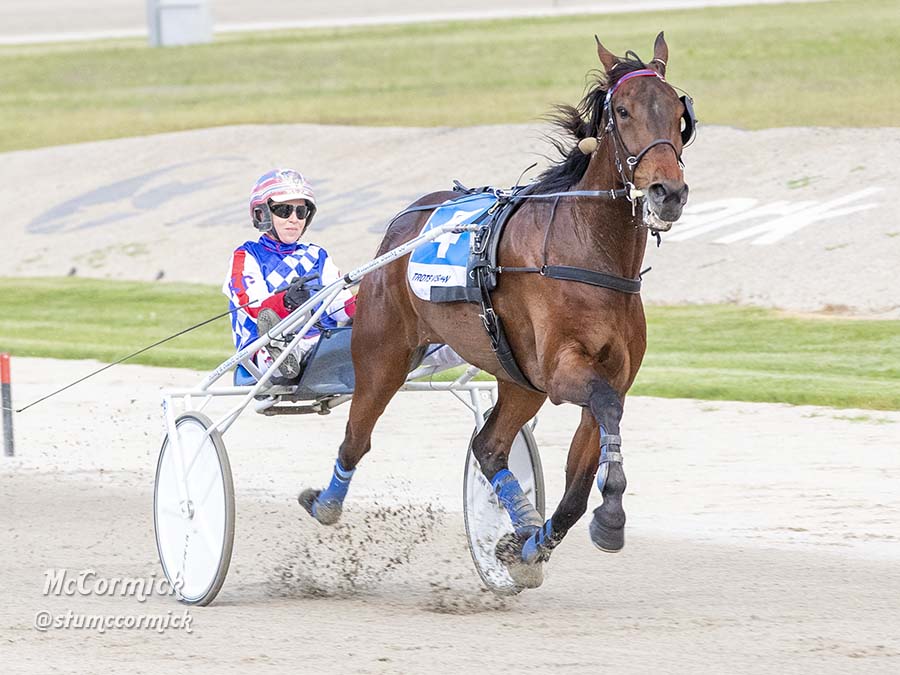 CHAMPIONS come in all different forms.
Some are flashy, some remarkably tough and resilient. And, of course, some have a dash of everything.
Tornado Valley certainly had a dash of everything, but what made him a champion was his longevity at the very highest level.
Two Great Southern Stars, an Inter Dominion and so many other major wins across four years in Australia with Andy and Kate Gath.
Andy Gath is a notoriously hard marker on horses and, although it took a long time, he tagged Tornado Valley a champion after he came back from the brink of retirement to win his heat and final of last year's Great Southern Star.
Tornado Valley saw new rivals come and go over his four years at the top and kept fending them off.
It's fantastic he is now en route to join HRV's HERO program to potentially become an ambassador. It would give the program a real poster boy to showcase the invaluable work it does in the sport.
---
The opinions expressed in The Forum are those of the author and may not be attributed to or represent policies of Harness Racing Victoria, which is the state authority and owner of thetrots.com.au.