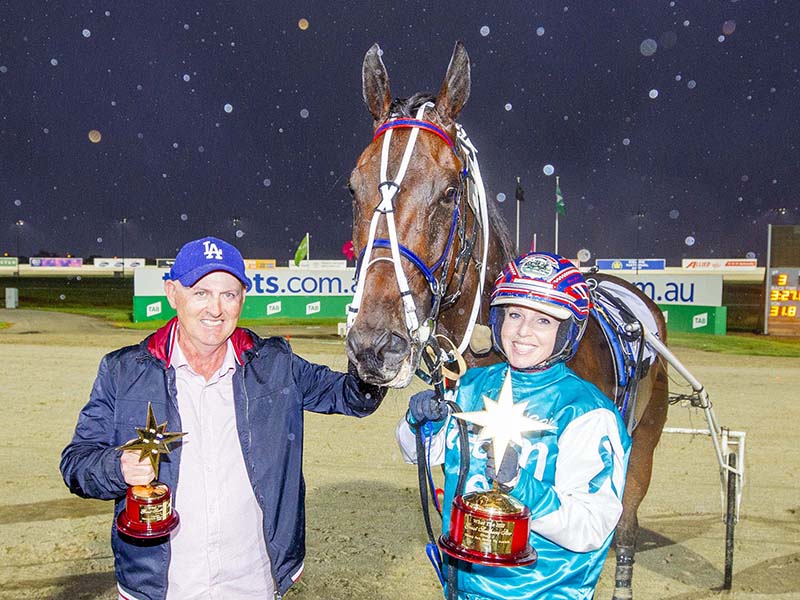 The 2024 Aurora Australis shines an international spotlight on Victorian trotting. Commencing in January, this eight-race series encompasses the feature trotting races that headline the start of a new racing year.
The Aurora Australis commences with the $75,000 Maori Mile at Bendigo on Saturday 6 January, where the fastest trotting stars compete for glory on one of the quickest tracks in Victoria.
The series then heads to Ballarat on Pacing Cup Night for the time-honoured $50,000 The Knight Pistol on Saturday night 20 January.
Victoria's metropolitan track Melton, plays host to the next legs of the $655,000 Aurora Australis series of races – with the $50,000 V L Dullard Trotters Cup on Saturday night 27 January and the $360,000 Great Southern Star series (two $30,000 Heats into a $300,000 Final) on Saturday night 3 February.
A new race has been added to the 2024 Aurora Australis, the Bruce Skeggs Cranbourne Trotters Cup, a $50,000 Group 1 race over 2555m at Cranbourne.
The final leg is the Group 1 $75,000 Australian Trotting Grand Prix on Saturday night 24 February at Melton.
The culmination of this prestigious eight race series will see a $20,000 bonus payable to the Owner of the horse which accrues the highest number of points throughout each race of the Aurora Australis: 1st - 8 points, 2nd - 5 points, 3rd - 3 points, 4th - 2 points and 5th - 1 point.
An attractive target to Australasia's best trotters, the Aurora Australis will attract international participation from the key global trotting markets in the years to come.