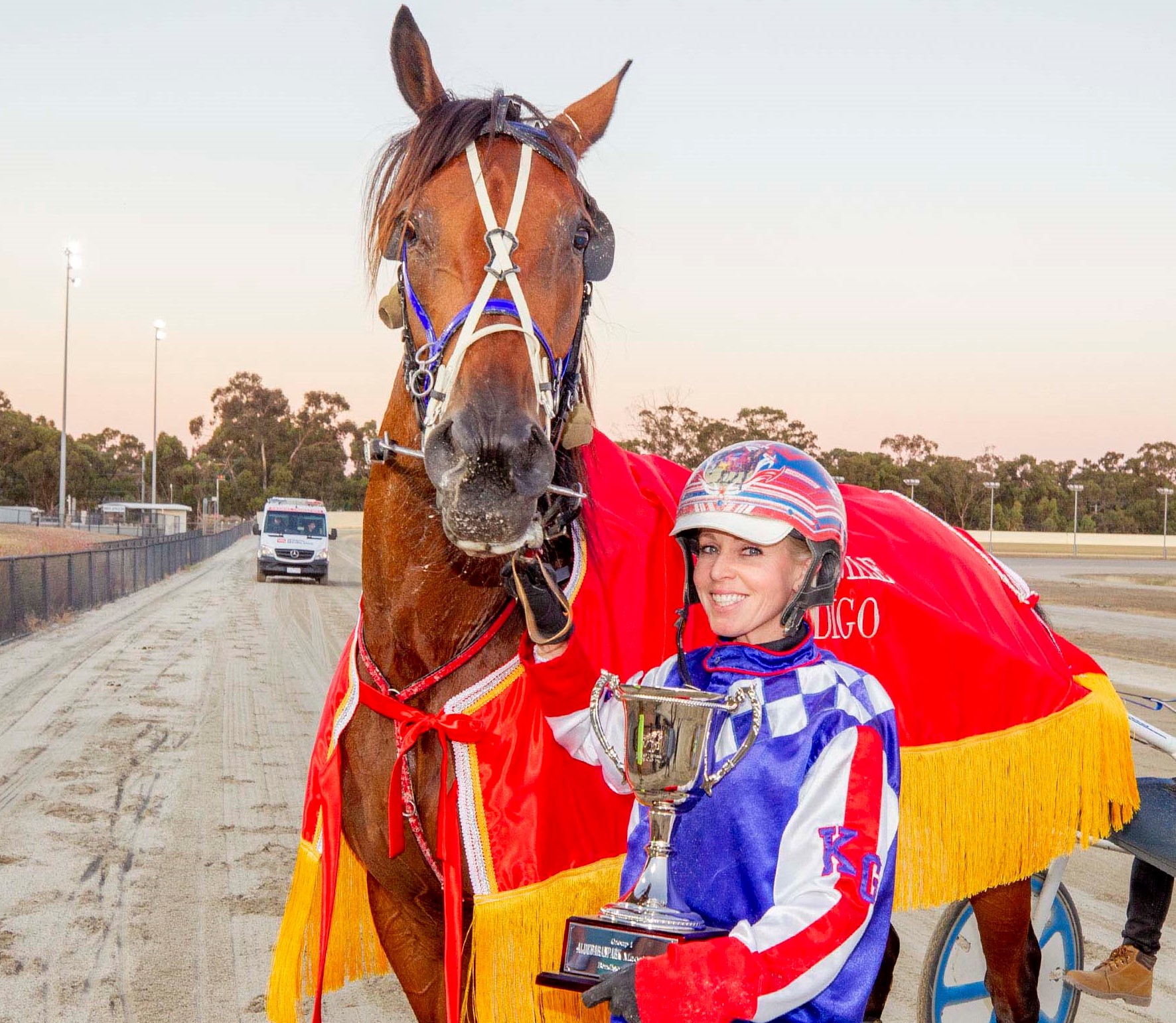 Kate Gath has got something thinking to do. The resurrection of McLovin, a little hiccup with Majestuoso and the miles on the clock for ageing champ Tornado Valley make for quite a conundrum when Gath has to choose between them.
You'd have been laughed at a few weeks back if you suggested she would drive McLovin, but he's got his mojo back and arguably went as good as he ever has winning Saturday night's Group 1 Aldebaran Park Maori Mile at Bendigo.
To sit parked, rip home in 55.9 and be just 0.1sec outside Tornado Valley's race and track record was something to behold.
Not only did McLovin crunch the brilliant leader Red Hot Tooth, but he also held-off glamour mare Dance Craze along the sprint lane late in a mighty performance.
It's taken some time and been a heck of a training performance from Andy Gath to get McLovin back to this sort of form after a health scare in NZ in late 2019 and fears he may never been the same horse again.
"It was a huge run, his form over the short trip is super. I won't say I was confident of winning knowing we'd have to sit parked, but I was confident he'd run a great race," Kate Gath said after the Maori Mile. "He's really in the zone at the moment, his work at home this time in has been fantastic."
Gath confirmed Tornado Valley was close to a return, but added some caution.
"He's almost ready. He's getting older and time will tell if he's still right up with the very best of them," she said.
Asked if she had a preference right now who she would drive when they clash, Gath said: "Hopefully they are all going well at the time and then it'll be a matter of choosing then, but McLovin is right there with them at the moment."
It's a good problem to have.
X X X
It's counterpunch time for our brightest pacing stars.
Lochinvar Art stamped his patch with that mesmerizing 30.5m Group 1 Alabar Farms Vicbred Super Series four-year-old entires and geldings final win on New Year's Eve.
While he had last weekend off, King Of Swing looked stunning when he scorched closing splits of 52.9 and 25.7sec to win as he liked in a 2300m Menangle free-for-all last Saturday night.
It's Lochinvar Art's turn this coming weekend when he tackles his hometown $70,000 Group 2 Neatline Homes Shepparton Gold Cup.
They'll both run on January 23 – Lochinvar Art in the Ballarat Cup and King Of Swing at Menangle – as their final lead-ups to the Del-Re National A. G. Hunter Cup on February 6 at Melton.
The big guns head into the Hunter with King Of Swing holding a 2-1 advantage through his wins in the Miracle Mile (Lochinvar Art ran second) and last year's Hunter Cup (Lochinvar Art ran seventh).
But Lochinvar Art made his statement by emphatically beating King Of Swing in the Pryde's EasiFeed Victoria Cup at their latest meeting on October 10.
Gee that Hunter Cup barrier draw at the exciting new VHRC "Night of Nights" on Sunday January 31 is going be super important.
X X X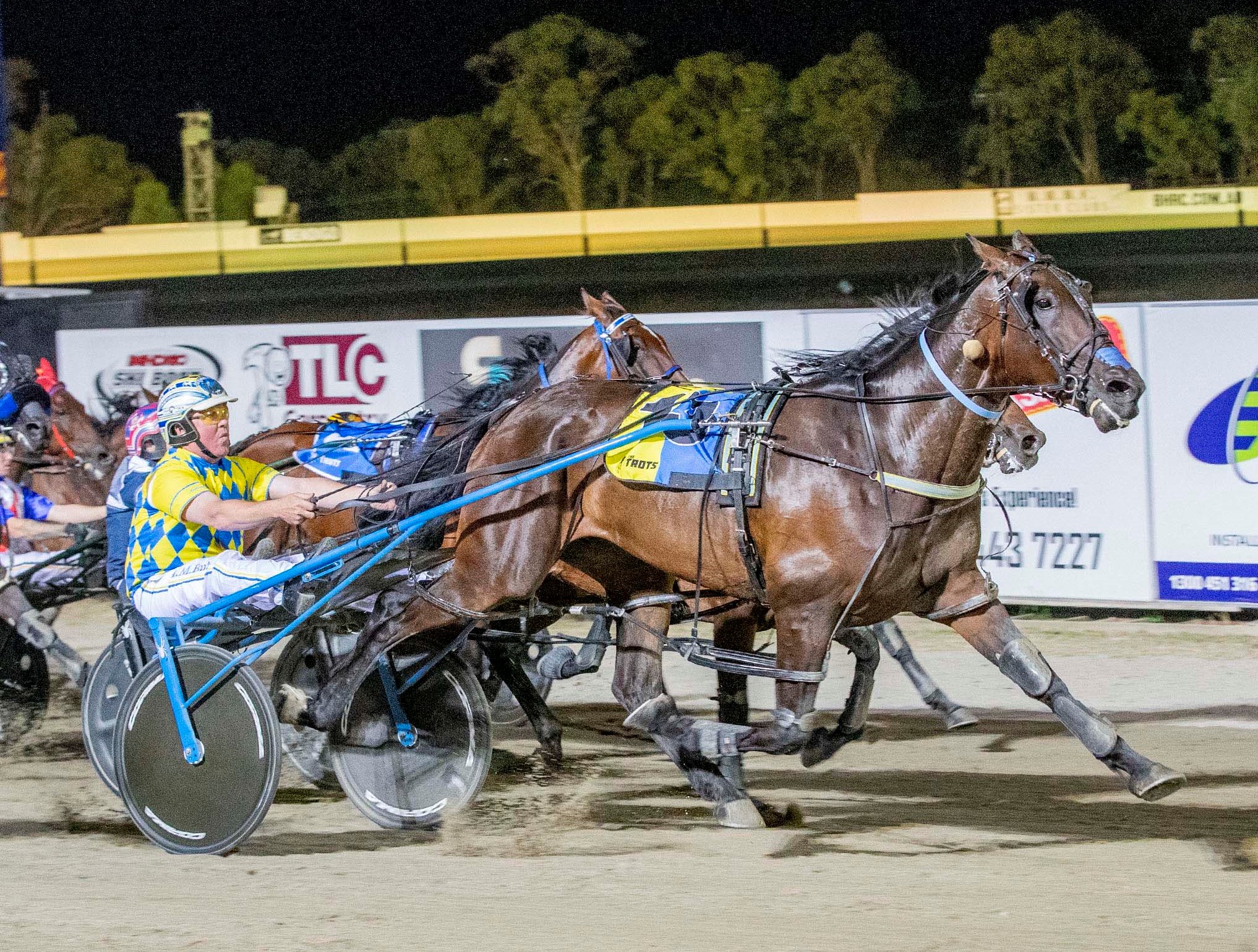 Maybe it's a year too soon, but the emerging Wolf Stride deserves his crack at the Hunter Cup.
Sure it's a big ask to take on the likes of Lochinvar Art and King Of Swing, but Anthony Butt certainly knows what it takes to win the great race.
Butt touted Wolf Stride as a future Grand Circuit player when he won the metro division of the NSW Regional Championships back in May, last year. He's since won the Breeders Crown Open free-for-all and now Saurday night's Group 2 Garrards Horse & Hound Bendigo Cup.
Sure, he had the three-wide trail home at Bendigo, but it was a big win and he's a brute at his best.
It also marked the first "big" win for Butt and Sonya Smith in their official training partnership down in Victoria.