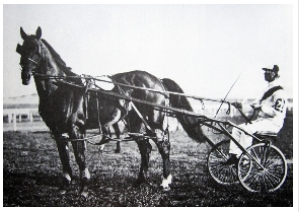 Edgar Tatlow, born 1889, started driving team horses as a 12-year-old, in a mail coach run operated by his father from Stanley in Tasmania. Over 100 horses were required for this business
His first venture into harness racing was training and driving pacers Masher and Polo King (14 wins) in Hobart. In 1927 Tatlow bought,, trained and drove 2 Victorian horses, Vendome 1928 Launceston Cup and Brazil 2 Tasmanian Easter Cups
In 1928 Tatlow bought the then 16yo stallion Globe Derby from A.G. Hunter, and stood him at stud at Derby Lodge, Hagley. Globe Derby at stud created the "Globe Derby Empire", siring 315 individual winners.
These included the champions: Van Derby, Walla Walla, New Derby, Evicus, Logan Derby, Icevus and Springfield Globe.
Globe Derby's sons bred on as did grandsons, producing winners at all levels of Australasian harness racing: Inter Dominions, Miracle Miles, Cups, Derbies and Oaks.
Thirteen Inter Dominion winners including the first Logan Derby, are descendants of Tatlow breeding.
In 1938, Tatlow ventured to the USA where he purchased a successor to Globe Derby in Raider.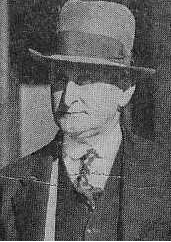 In 1948 with the advent of night trotting in Victoria at the Melbourne Showgrounds, Tatlow moved the stud to Epping, where he established the new Derby Lodge.
Raider (273 winners) died in 1950. Tatlow then stood other stallions with limited success.
These were replaced by US imports Stanton Hal and Volo Chief, but Tatlow was not satisfied, returning again to the US where he selected the Adios horse Meadow Vance.
Meadow Vance became the leading money-winning sire for seasons, 71 and 72, siring 273 winners.
Tatlow's Derby Lodge stallions dominated Australian harness racing from when records, (at best unreliable with no records during war years) ) commenced in 1938 with Globe Derby 1938-1942, Raider 1948-1955, Meadow Vance 1970-1972 as well as Tatlow bred Springfield Globe 1956 and Aachen 1973 being the leading Australian stallions.
From the time he became a commercial breeder, Tatlow purchased innumerable top class fillies and mares to breed to his stallions. These included Ayr the dam of Springfield Globe and Van Derby, Connenora the dam of Aachen, and Nevada, dam of Para Derby and Nevamaid.
Edgar Tatlow - passed away in 1968