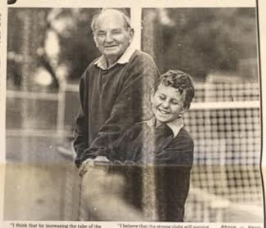 In 1950, the Riverine Herald reported that Harry Holmfield, a grazier from Womboota, NSW, just over the border from Echuca:
"made an auspicious entry in the trotting game, as his recent purchase, Pleasant Bob, confirmed his owner's judgment at the Melbourne Showgrounds on Saturday night when he won the Trotters' Handicap comfortably. Although he paid over £2000 for Pleasant Bob he stated at the time, he is now a cheap horse for he was heavily backed on Saturday night."
Harry Holmfield's contributions to Victorian trotting are many:
President of Echuca Trotting Club from 63-71 and member of the committee for 27 years.
President of Victoria Harness Club for 9 years from 1972-1981 overseeing significant growth of the Club during those years.
Country representative of the M@C.T.A. for 5 years 1958-63.
President of the Country Championships 1960-68.
He raced many trotters and pacers. Among his trainers were Bill Rothacker and his son Gordon, Frank Shinn, Gus and Ted Zimmer and Ken Pocock.
Among the horses that Holmfield raced are:
Avian Again: (14 in succession) Ararat Cup, Echuca Cup, Vic Autumn Cup (sire of Angelique and Denny Dee among others)
Wilbur's Hope: Ararat Cup, Vic Easter Cup, Heat ID
Sandy Bar
Chief Invader: Shepparton Gold Cup
Furtive: SA Gawler Cup
Fine Finish
Johnny Chappelet: Shepparton Gold Cup, Geelong Cup
Charles Nelson
Nutritious
In 1990 a metropolitan race for 3yo trotters, the Holmfield was established in Harry Holmfield's honour.