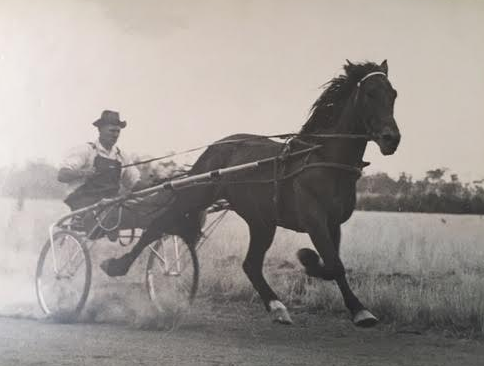 Leading Australian Stallion for 6 seasons 1957-1962
Noble Scott (U Scott-Widow Volo) was foaled in 1940 at the famed New Zealand Roydon Lodge of Sir John McKenzie.
His sire, U Scott is the greatest sire ever imported into New Zealand. He was the leading stake earning sire of New Zealand on nine occasions, topped the broodmare sires list on ten occasions and the Australian list six times.
Noble Scott was selected In NZ for the new Meadowbrook Stud established at Woodend by the Abrahams brothers by inaugural stud-master Ron Males. He stood his inaugural season in 1945. Noble Scott was raced, winning 6 races, all at Woodend, when trained and driven by Ron Males.
In 1953 Jack Campbell of Barrakee, near Charlton bought Noble Scott from the Abrahams, for a then Australian record price of over six thousand pounds.
He stood at Loddon Valley stud Durham Ox, for 12 seasons.
Noble Scott sired 301 winners in an era when there were limited opportunities as year round metropolitan racing was yet to be introduced.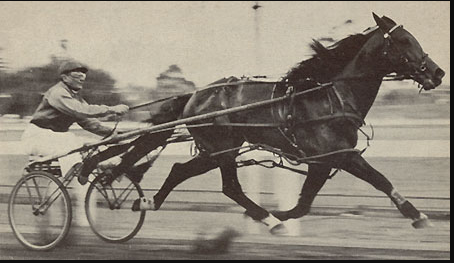 His winners included the brilliant Inter Dominion winner and sire James Scott (bottom picture), dual Trotters Derby winner Uncanny, the classy Horology, and cup winners Pedro Scott, Chelsea Lodge, the W.A. star and sire of Dainty's Daughter Scotts Way, and Inter Dominion heat winner and sire Goulburn Monarch.
Noble Scott mares produced, among others the prolific Kodak, V.L. Dullard Cup winners Mary Beverly and Stormy Meadow and Bendigo and Melbourne Cup winner Rhodonite., Cardinal Bruce.
The 1989 Inter Dominion winner Jodie's Babe is a descendent of a Noble Scott mare, as is the 1:40.9 star Heaven Rocks.
A number of sons went on to sire winners. These included James Scott (248 winners), Chelsea Lodge, Efficiency, Goulburn Monarch, Griffith Scott.