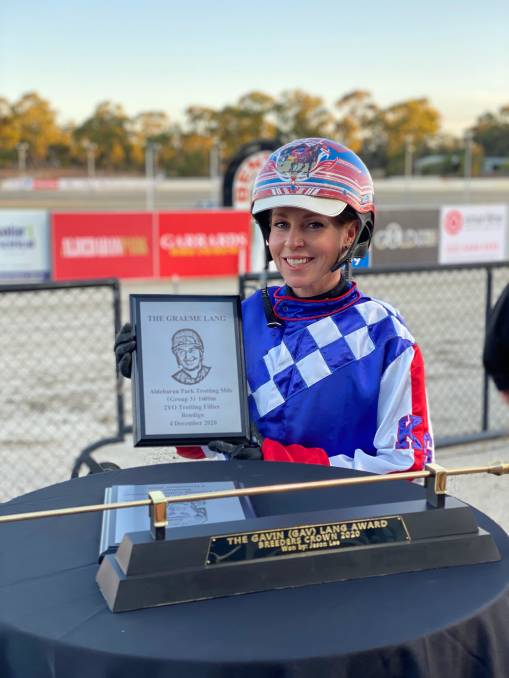 An overdue change of fortune for Aldebaran Ursula delivered the two-year-old filly's connections the coveted Victorian feature race win they had been seeking since her arrival from New South Wales in October at Lord's Raceway on Friday night.
And it came with the bonus of a new Australasian one mile two-year-old trotting record.
The supremely talented daughter of leading Swedish sire Yield Boko – driven by Kate Gath – stamped herself as the inaugural winner of the $20,000 Group 3 Graeme Lang Aldebaran Park Trotting Mile with a standout performance on an 11-race all-trotting program dedicated to the memory of harness racing legends Graeme and Gavin Lang.
Aldebaran Ursula, trained by Andy Gath since being sent south by KerryAnn and Rob Morris, slashed more than a second off her previous best mile in finishing more than 10-metres clear of That's Not My Gait, with Evas Image for trainer-driver Chris Lang back in third.
Her mile rate of 1:55.7 established a new Australasian record for two-year-olds.
Kate Gath said the stable never doubted Aldebaran Ursula had plenty of ability but conceded things had not exactly gone to plan in the Redwood Classic and again in the TAB Breeders Crown when she finished eighth behind Sangreal.
"We had absolutely no luck in the Breeders Crown, everything that could go wrong did," she told Trots Vision.
"It was really good to win tonight (Friday) and get some redemption in a race that is quite an honour to win.
"The Lang family are so synonymous with harness racing – not just in Victoria, but around Australia."
The rich Vicbred Super Series lies over the horizon for Aldebaran Ursula, with Gath confident the filly is just hitting her straps.
"She has just continued to impress me at home all the time, but as I said, she just had no luck in the Breeders Crown," she said.
"She probably would have gone so close to winning it if the horse hadn't galloped in front of her. That's the way racing is.
"We were lucky this race was put on by Aldebaran Park and Bendigo, and when you can race for this sort of money at two (years-old) and as a trotter. Honestly, (with) the trotters at the moment, we are earning more money with them than we are the pacers.
"There's so much upside to them and we just get our hands on as many as we can. We were extremely lucky to get sent this filly and I'd like to thank Robbie Morris and his family for doing so."
Aldebaran Ursula boosted her career record to five wins and two seconds from 10 starts.
Her time of 1:55.7 was clearly superior to that of Utopia (1:58.6), who won the colts and geldings division of the mile, named in honour of Gavin Lang.
The Gaths now have every reason to be convinced the filly can be a major player in the Vicbred Series.
"She's got a bit of strength about her, but she's also got a bit of speed. She's pretty versatile," she said.
"You can't win those races with super-hard runs, but she is the type of horse that you could make a little bit of your own luck with, provided as you get a bit as well."
Story originally published at Bendigo Advertiser
Picture: Winning driver Kate Gath. By Claire Weston Photography.