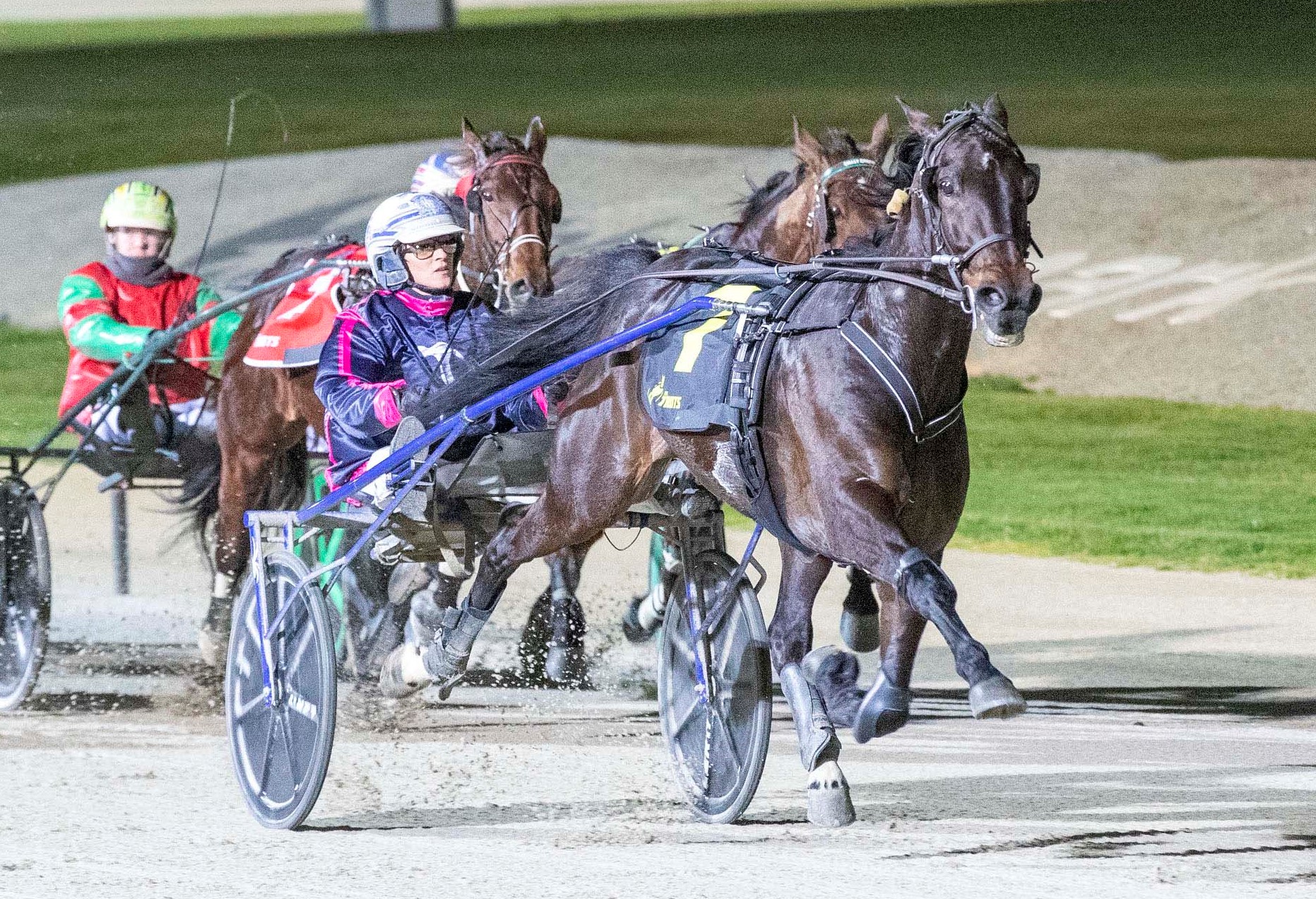 The Australasian Premier Trotting Sale has been a consistent source of Group 1s, classics and cups winners since the inaugural sale in 2013.
Big Jack Hammer (pictured), bought for $22,000 at the 2014 APTS sale and now the winner of $383,123, is unquestionably the flagbearer for the sale. The gelding has won six Group 1's including the Australian Trotting Grand Prix, Dullard Cup, Breeders Crown Open and SA Derby.
Other graduates of the 2014 sale were the dual Vicbred champion Aldebaran Eve (winner of $158,508), the Breeders Crown and Vicbred three-year-old winner Cruisin Around ($290,872), the Group 2 winner War Dan Destroyer ($181,262), Greg The Great ($124,443), Ball Park ($105,695) and the bonny mare Fear Not, who was bought for $4,000 and has earned $169,415.
The inaugural sale produced the Vicbred 2YO and 4YO Final winner Endsino ($185,203), the Breeders Crown champion Gus An Maori ($117,471), the Cups winners Itsgettingcalder ($140,564) and Shared Interest ($153,334) and the exported Agent Maori ($148,915).
The class of 2015 included the Breeders Crown 2YO champion Kyvalley Kyrie ($100,251), the Vicbred 2YO Final winner Needabacardi ($111,280), the Vicbred Platinum Home Grown 2YO Classic victor Illawong Shimmer ($61,548) and the Group 3 winner Hotjane Bling ($132,230).
Among the 25 winners from the 2016 sale have been Mar Pacifico ($81,490), The Girls Gotflair ($61,760), Aldebaran Crescent ($59,430), the Vicbred Silver 2YO winner Crow Power and the Vicbred 2YO Final runner-up Fend Off.
Royal Charlotte ($102,305), the Victoria and NSW Oaks winner, and Kyvalley Clichy ($163,760), winner of the Breeders Crown 2YO and Vicbred 3YO Finals, were graduates of the 2017 APTS sale. Others from that sale have been Alpha Male ($64,800), who won the Vicbred Platinum Home Grown 3YO Classic, and the Breeders Crown 4YO champion Keayang Livana ($75,930).
The 2018 sale produced the Vicbred Platinum Home Grown Classic winners Is That A Bid ($78,430), Cover Of Darkness ($66,060) and Keayang Ignite ($37,980), while this season's star youngsters Aldebaran Ursula ($39,380), the Australasian two-year-old mile record holder and winner of the Group 3 The Graeme Lang, the dual Group 3 winner Utopia ($38,840) and The Redwood placegetter Aldebaran Zeus ($30,330) were all graduates of the 2019 APTS sale.
The 2019 sale has already produced an amazing 14 individual two-year-old trotting winners.
The 2021 Australasian Premier Trotting Sale, featuring 45 superbly bred yearlings, will be conducted by Australian Pacing Gold at Oaklands Junction on Sunday, February 7 at 12 noon.
To order a catalogue or to view the catalogue online simply click on the links on the website www.apgold.com.au