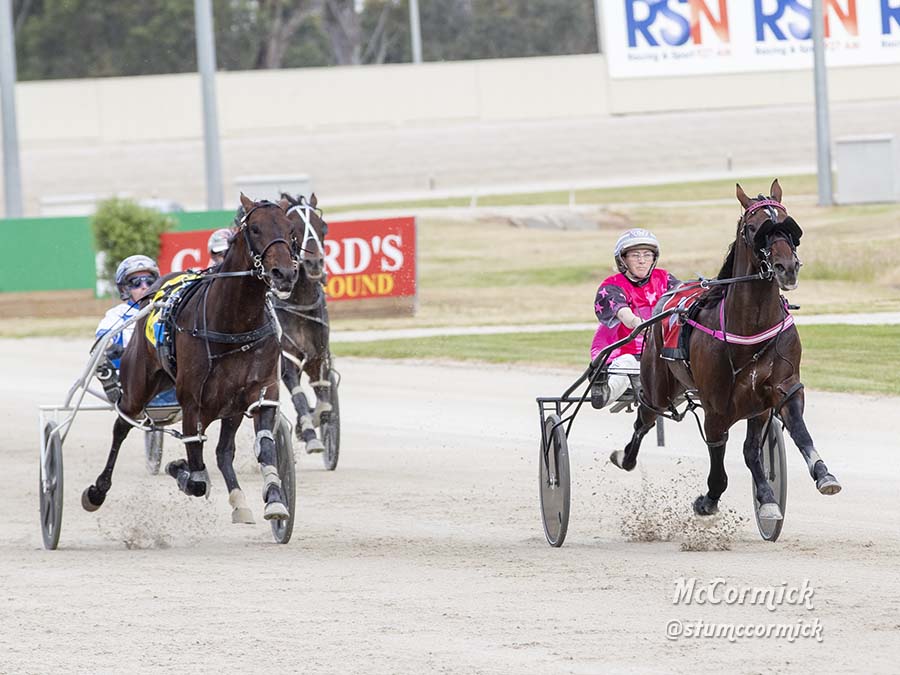 Six locally-trained horses will look to halt the Lochinvar Art juggernaut in Saturday night's $110,000 PETstock Ballarat Pacing Cup, which will be drawn live on Harness Racing Victoria's Facebook page from 6.45pm tonight.
Cardigan-based Emma Stewart has accepted for the race with four of her stars - Always Fast, Fourbigmen, Somewhere Secret and Hurricane Harley - her partner Clayton Tonkin has locked in quality five-year-old Out To Play and Allendale horseman Basil Dooley is having a crack at Group 1 glory with his airborne pacer Bettor Be The Bomb.
Stewart prepared the last hometown winner of the Ballarat Pacing Cup back in 2014 when Restrepo managed to tip out Christen Me and Caribbean Blaster in a thrilling three-way finish.
A full field of 12 looks set to contest the 2021 edition, with Anthony Butt's last-start Bendigo Cup champion Wolf Stride and others he beat in that race - Forty Thieves (Joe Pace), Sicario (Brent Lilley), Jamieson Steele (David Miles) and Our Uncle Sam (Chris Frisby) - making up the list of Lochinvar Art's rivals.
One emergency has been declared and that is Matthew Craven-trained Kowalski Analysis, who finished second to Fourbigmen in Sunday's Matthews Petroleum Hamilton Pacing Cup.
Kialla trainer/driver David Moran has long said Lochinvar Art would be targeted at the Bray Raceway feature and his acceptance is the next step in his path towards the $500,000 Del-Re National A. G. Hunter Cup on February 6.
The son of Modern Art has won his last four races, including the Ultimate Machete Vicbred Super Series Final (4YO colts and geldings) and Saturday night's Shepparton Gold Cup.
Moran's charge is likely to open a warm favourite with the TAB following this evening's barrier draw, which will be broadcast live on the Harness Racing Victoria Facebook page.
The coverage kicks off about 6.45pm and will include interviews with key players and analysis of the field and draw from the experts.
The weekend's Ballarat Pacing Cup launches the TAB Summer of Glory carnival, which continues with night two on January 30 at Tabcorp Park Melton.
That meeting features the VHRC Caduceus 3YO Classic and Casey Classic, before the series closes with the blockbuster February 5-6 double-header.
The Woodlands Stud Great Southern Star heats and final are on the Friday night before the stacked Saturday night schedule featuring the Del-Re National A. G. Hunter Cup, DNR Logistics 4YO Bonanza and Alabar Bloodstock Ladyship Cup.

PETSTOCK BALLARAT PACING CUP (2710m)
SATURDAY, JANUARY 23
(Pre-draw field)
LOCHINVAR ART (David Moran/David Moran)
JAMIESON STEELE (David Miles/David Miles)
WOLF STRIDE (Anthony Butt/Anthony Butt and Sonya Smith)
ALWAYS FAST (Jackie Barker/Emma Stewart)
SICARIO (Chris Alford/Brent Lilley)
OUR UNCLE SAM (Anthony Frisby/Chris Frisby)
FOURBIGMEN (Kate Gath/Emma Stewart)
SOMEWHERE SECRET (Jason Lee/Emma Stewart)
HURRICANE HARLEY (Kate Gath/Emma Stewart)
FORTY THIEVES (Darby McGuigan/Joe Pace)
OUT TO PLAY (Kate Gath/Clayton Tonkin)
BETTOR BE THE BOMB (Jack Laugher/Basil Dooley)

EMERGENCY - KOWALSKI ANALYSIS (Sofia Arvidsson/Matthew Craven)

BALLARAT CUP HONOUR ROLL
2010 Cincinnati Kid NZ (Mark Peace)
2011 Stunin Cullen NZ (Anthony Butt)
2012 Highview Tommy NZ (Mark Purdon)
2013 Mah Sish NZ (Anthony Butt)
2014 Restrepo (Gavin Lang)
2014 Im Corzin Terror NZ (Chris Alford)
2016 Smolda (Mark Purdon)
2017 Smolda (Anthony Butt)
2018 Heaven Rocks (Natalie Rasmussen)
2019 Thefixer NZ (Natalie Rasmussen)
2020 A Gs White Socks NZ (Greg Sugars)