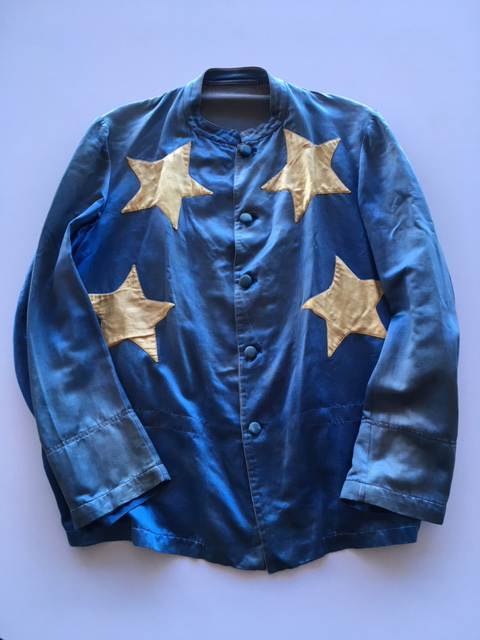 The spotlight shines on Bendigo for Saturday night's TAB Breeders Crown semi-finals and for race goers it's a chance to also visit the History and Memorabilia Collection at Lord's Raceway, which features some prized trots treasures including these silks.
The donation by John Phyland's granddaughter of a faded set of racing colours (right), dark blue with yellow stars, to Bendigo's collection has led to the uncovering, with the help of researcher John Peck and website www.classicfamilies.net, of the remarkable story of Phyland and his horses.
Balranald, in the south-west Riverina district of NSW, is on the western edge of the vast Hay plain at a place once used to ford the Murrumbidgee River. It was during 1890 to 1918 that Phyland, son of Irish immigrants, born in 1866, ran a 2000-acre sheep station. The property, Lake Vale, was south of Balranald, towards the Murray River town of Swan Hill.
This would seem to be an unlikely location for a harness racing breeding operation, being more than 400km from Melbourne, where harness racing was centred on the Richmond track.
But, undeterred by distance, Phyland purchased his first trotter in 1882 and proceeded to acquire expensive, high quality standardbred mares and stallions and embark on a venture that saw him:
• Breed and race winners of major races including The Melbourne Thousand, Bendigo JC Handicap (raced almost continuously on the grass track at Epsom, Bendigo, from 1867 to 1946), Boort Cup and numerous races at the Melbourne metropolitan tracks at Richmond and Ascot;
• Acquire Soultline Villa and training stables adjacent to the Royal Melbourne Showgrounds so he could race at metropolitan tracks;
• Develop a large self-contained training facility (including resident blacksmith) and home at 19 Raleigh St, Essendon;
• Become the chair of the Victorian Trotting Horse Owners and Breeders' Association, which lobbied strenuously for night trotting in the 1930s;
• Breed from imported and locally bred mares that left families that are still active today. Heaven Rocks, the Ballarat Cup, New Zealand Jewels three and four-year-winner, and 1:49.6 ($554,529) export to the US, is six generations on from the Phyland bred mare Dusky Ribbons;
• Saw the start of the training career of colourful and controversial Cedric (Ced) McLean, Phyland's son-in-law, with a mare left when Phyland died.
Phyland's training and driving career commenced in 1906 at the Lake Charm Race Course in Victoria, between Swan Hill and Kerang, where he trained and drove Roaney to win the two-mile trot.
1906 Lake Charm Trot (six sovereigns): J Phyland's ROANEY, 20yds (J Phyland) 1; A Bence's Nipper, scr (Wall) 2; J Donaldson's Molley, 20yds (Donaldson) 3.
Driver Donaldson was World champion sprinter Jack "Blue Streak" Donaldson, born at Raywood and brought up at Inglewood. That same year (1906) at age 20 Donaldson started favourite in the Stawell Gift with a handicap of 11 yards, but was narrowly beaten.
The following year, 1907, at the Sandown (Melbourne) track, Phyland trained the winner, Little Wonder (pictured, sired by the Robert Hunter stallion Honest Harry), winning in 2:28.2, and later used as a stallion at Lake Vale.
In 1916 he trained a winner, Kanakee Girl, at a Swan Hill Jockey Club meeting. It started from the handicap of 340 yards in the Distance Handicap Trot.
Phyland was a serious standardbred breeder. His acquisitions included the stallion General Ribbonwood, nearing the end of a successful racing career. He raced General Ribbonwood and among the wins for Phyland was the Ladies Bracelet (below) at Geelong in 1922.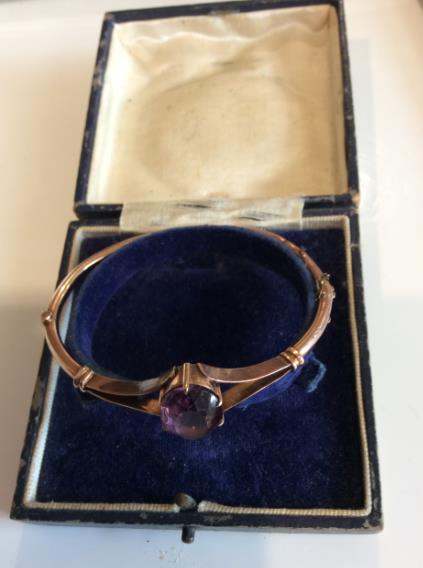 General Ribbonwood, foaled in 1914, was by the champion sire Ribbonwood from the broodmare gem Winona. Winona (1900) for whom the annual Australian Broodmare award is named, was the dam of eight winners and three successful sires (General Ribbnwood, Major Ribbonwood and Win Alto). She was the grand dam of Australian record holder Walla Walla and great grand dam of mile Champion Uncle Joe.
Phyland stood General Ribbonwood at the Lake Vale property at Balranald and also at Ascot Vale. He left 17 winners, most of them trained by Phyland and ridden or driven by his son Frank.
Phyland also had son of the imported Mauritius and the imported mare Lady Inez in Direct Mauritius foaled in 1911. It also stood at stud at Lake Vale and Ascot Vale. Direct Mauritius was the sire of 60 winners, 54 of them pacers.
One of the mares that Phyland had progeny from was Belle Patch. Belle Patch's second foal for Phyland — in 1921 — was the open class pacer Princess Mauritius, winner of the 1930 Bendigo Cup by his stallion Direct Mauritius.
Direct Mauritius' greatest offspring was Vin Direct, who excelled by winning the first 1925 Australasian Championships at Gloucester Park, the forerunner of the Inter Dominion. A Direct Mauritius mare Katie Mauritius is the ancestress of the 1992 Bendigo Cup winner Lord Muckalee.
In 1919 the Lake Vale property was leased and a dispersal sale of horses held.
The auctioneers were favoured with "Instructions from Mr John Phyland, to sell by public auction, on his Lake Vale estate, the whole of his stock, plant and sundries including his well bred trotters and pacers, blood mares and foals" such as: Direct Mauritius (brown stallion, five years, by Mauritius (imp)); Timely Bells (bay stallion, by Abbey Bells (imp) from In Maytime (imp) from America); Arion Direct (brown colt, registered trotter by Direct Mauritius from Rosario (imp) from America); Major Belmont (bay gelding, four years, natural pacer by Belmont from Kate Beiden); Jess Mckinney (bay mare, five years, by Clarke Mckinney (imp) from America); Floredo (black mare, placed several times at Richmond, by Tuxedo (imp).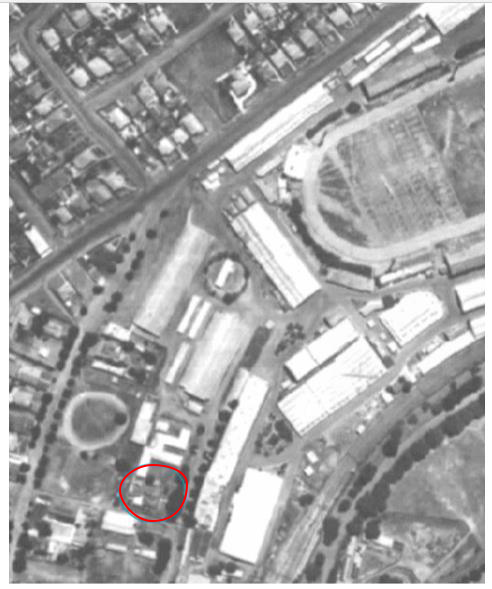 Phyland then relocated his family and horses to Soultline (see the red circle on the map at right), the impressive villa and stables less than 200 metres from the track in the main arena at the Royal Melbourne Showgrounds.
Soultline racing stables had been offered at auction. The property was sold on instructions of Mr S. P. Mackay, the owner of the classy galloper Soultline, winner of the 1909 Newmarket Handicap. It was first passed in. Subsequent negotiations resulted in an offer of £2000 cash for the property.
Alice Bell (Directway (imp) from Adelle) was one of the horses that was trained from Soultline and won seven classic races, including the 1919 Bendigo Jockey Club Open.
Ruby Ribbon won a second Bendigo Jockey Club Open (pictured) for Phyland at the Epsom racecourse in 1921, when ridden by his son Frank.
Phyland often made news.
In 1924, The Argus reported: John Phyland, owner of two recent Richmond winners, is a retired farmer from the
Balranald district of Victoria (actually NSW), whence one of the winners Balranald Maid takes her name. At present Mr J. Phyland is a resident at "Soultline", Flemington, the former home of the late Mr S. P. Mackay. He has a fair number of trotters in work at Ascot. He is a well known identity at Richmond, where although he is close on 18 stone, he is occasionally seen behind some of his horses. At present, however, his son, Frank Phyland, is doing the majority of the riding and driving for the stable.
During the 1920s Phyland acquired land at 18 Raleigh St in Essendon, where he established a large property including a home and stables. The property was so extensive it had its own blacksmith.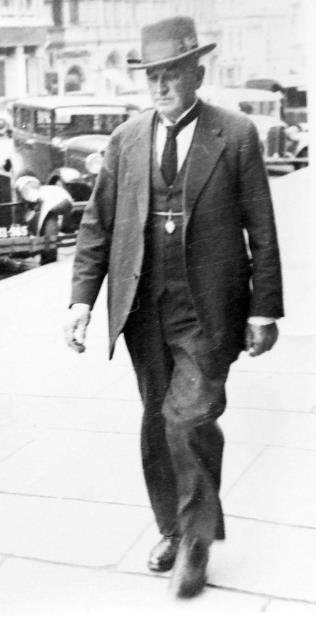 In 1931 Divitius, a pacer bred and sold by Phyland, won the prestigious Melbourne Thousand at the Richmond track. Shortly before this, this article was published in the Swan Hill Guardian headlined 'Pacer for £1': Mr. John Phyland (pictured) of Ascot Vale (Vic.), who has spent some thousands in the breeding industry, remarks the "Australian Trotting Record," was naturally pleased at seeing Divitius, a horse bred and sold by him, victorious at the Melbourne Show. Divitius is by Direct Mauritius from a buggy mare and put up the fast time of 2.21 in winning the Maiden Pacing Competition. Some time ago Mr. Phyland at a Swan Hill horse sale offered a fully-related pair to Divitius, and rather than take them back to his station across the border, accepted £1 apiece. Now that the dam has made a name for herself as a producer the owner of these bargain horses should make a little profit. But just fancy a pacer for a pound.
Thanks to www.classicfamilies.net, we now know that the "buggy mare" was Ivy, by Phyland's stallion Little Wonder from the mare Comet.
During the 1930s Phyland was the President of the Victorian Trotting Horse Breeders and Owners' Association, which had for many years been affiliated with the Royal Agricultural Society and the Chamber of Agriculture. The association was very active in presenting the case tor night trotting to Members of Parliament.
A newspaper of the day, The Argus, reported: The president of the association (Mr J. Phyland) who has pastoral properties at Lake Vale, Swan Hill, and Balranald, and who for years has been a leading breeder of trotting horse, took the chance of urging the introduction of night trotting when thanking Members of Parliament in a circular for the BOA. The bill was defeated in Parliament, preventing the introduction of Night Trotting in 1936.
Among the winners Phyland continued to train was 1934 Boort Cup winner Daphne Ribbon. Later in 1938, Balranald Pride was a winner at the Epsom track in Ascot Vale.
Phyland passed away at his residence in Essendon in March of 1945, aged 79.
Did You Know?
John Phyland was the father-in-law of colourful and controversial trainer of the Showgrounds era Cedric (Ced) McLean, who was associated with top trainers Dave Wilson, Alph Phyllis, Frank Shinn, Jack Barron, Howard Craig, Ron Peace and Jack McKay.
He also was a close associate of master builder, owner, concession punter and later champion jumps trainer Bendigo's Jim Houlahan.
McLean, a World War 2 returned serviceman, was employed in the catering industry. He married Rose, the youngest daughter of John Phyland.
The last of Phyland's horses was Daphne's Own and, as no-one was interested in training this last of Phyland's breeding enterprise, Ced McLean started training it.
One of McLean's first plunges, for which he later became renown, was with Daphne's Own at the Royal Melbourne Showgrounds in 1951, when it was backed from 33/1 to 14s before saluting.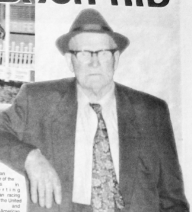 Not only did Ced (pictured) inherit Daphne's Own, he also inherited the colours of his late father-in law. However, he had to seek alternate colours when the blue with yellow stars were registered to former South Australian trainer-driver Dick Benger, who re-located to Eddington from his former base at Avenue Range in South Australia while Ced was on one of his many "holidays" from training.
Ced's daughter, Cheryl, related when handing his colours and some photos to the Bendigo collection:
The Phyland breeding dynasty is stlll influential today, with the enigmatic but brilliant 2018 Ballarat Cup winner Heaven Rocks, who traces back to the Phyland bred mare Dusky Ribbons, racing in the USA.