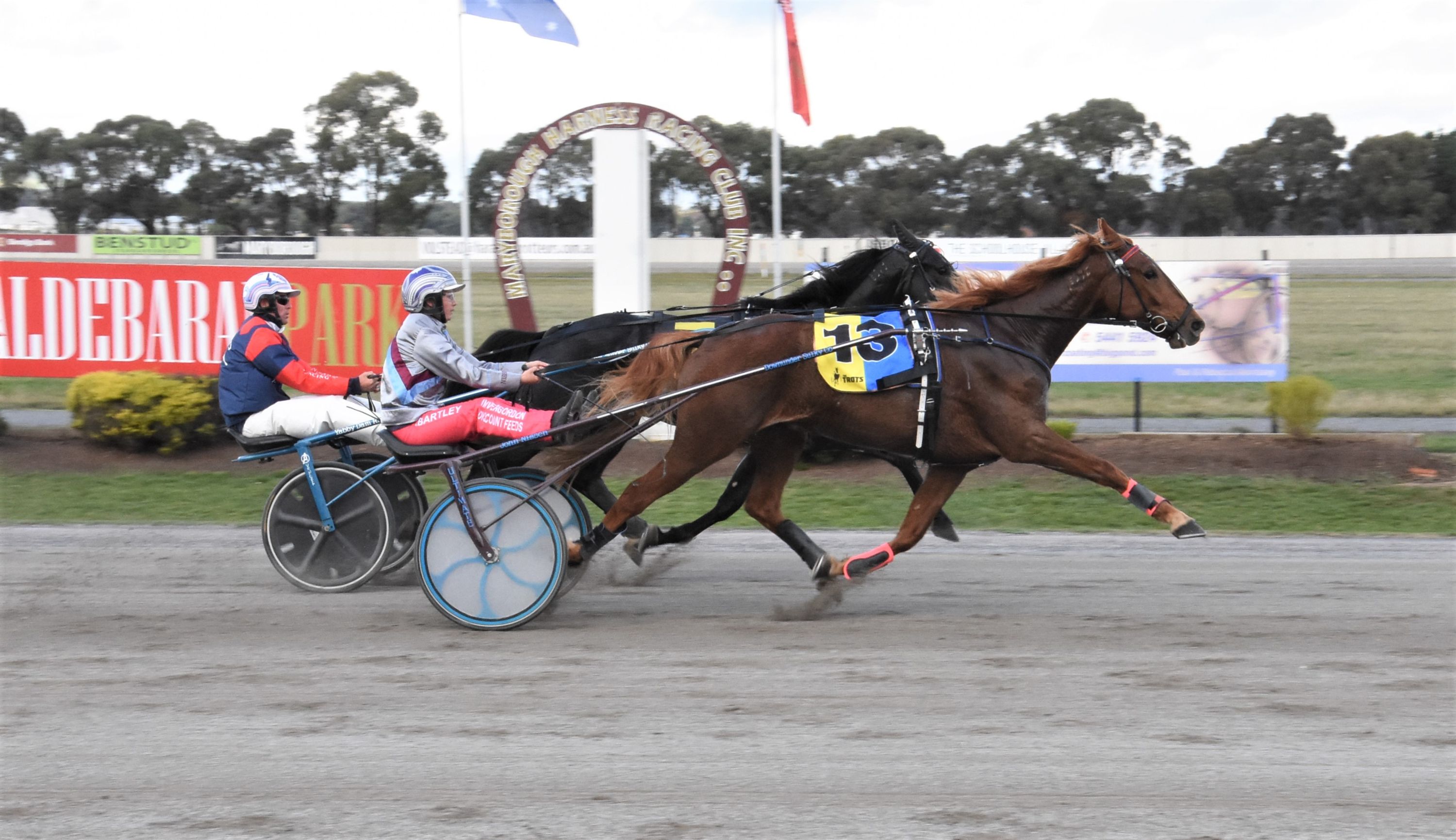 Locksley sheep and crop farmer and hobby trainer John Nissen has been involved in harness racing for almost 40 years.
During that time he has won around 70 races with his best winners being the multiple Moonee Valley winners Mighty Scotch and Wipem Dry.
However, prior to attending the Australasian Premier Trotting Sale at Oaklands Junction in 2019, Nissen had never laid hands on a straightout trotter.
The outlay of $22,000 for a chestnut colt by the champion French sire Love You out of The Redwood winner Elusive Charm, offered by Cranbourne identity David Scott, was to prove a game changer for the northern Victorian horseman.
"I thought he was the nicest looking colt in the sale. I thought he was cheap at the time," Nissen said.
Now racing as Locksley Lover, the trotter has won six of his 12 starts and is regarded as one of the best young trotters in the country.
He won three races as a three-year-old and finished fifth after sitting parked in Kyvalley Hotspur's record-breaking Victoria Derby.
"I spelled him over Christmas and brought him back in January and he hasn't looked back since," Nissen said. "He's now a more much mature horse."
Locksley Lover and his driver Bec Bartley are undefeated in three starts this season highlighted by a stunning triumph in a 1:58.1 rate over 2190 metres at Maryborough last weekend. After spotting the leaders a conservative 50 metres, the gelding was sent forward three-wide approaching the bell and raced without cover for the last lap before gaining the upper hand in the final few strides.
"This one looks like the best horse I have had," Nissen predicted.
Locksley Lover will next race at Melton on Saturday, June 4. He will likely be aimed at the big four-year-old features later in the year.
On the same card at Maryborough the three-year-old filly Used To Be A Maid completed a double for APTS sale graduates.
Other graduates to win this week have been Van Sank, who notched his fourth consecutive win at Albion Park, Im Above The Law and Maestro (both Cranbourne) and the Globe Derby Park victor Shezagem.