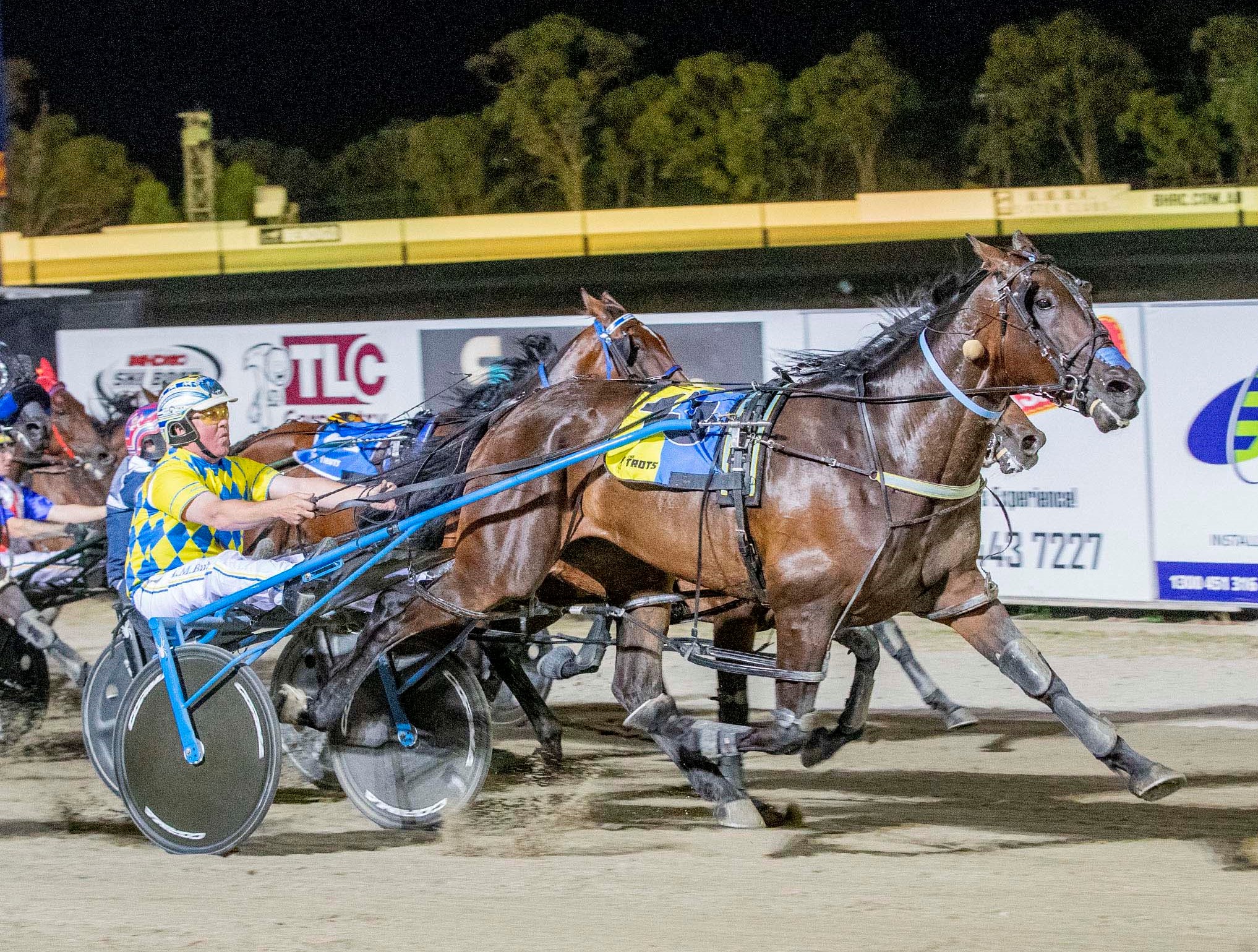 Co-trainers Anthony Butt and Sonya Smith took giant strides into the new Trots Country Cups Championship season with a picture perfect weekend, sweeping the Bendigo and Cobram double-header that signalled the launch to the great race series.
Wolf Stride burst past an even field to claim the Garrards Horse & Hound Bendigo Pacing Cup on Saturday night and then, on Sunday, Perfect Stride won an eventful Jim Phillips Memorial Pacing Cup, with Butt emerging from the fray at the bend to win by a head.
The Melton driver's success was also a memorable double for key backer, owners Emilio and Mary Rosati, who swept the respectively $70,000 and $35,000 cups, with more riches to come as the season continues with this weekend's Shepparton-Hamilton double-header.
"(Bendigo's) a great race," Butt told Trots Vision on Saturday night. "I've been coming here for quite a few years, especially when I was back in New Zealand, trying to win it. I think I've run second a few times. It's taken a while, but I finally got there."
He had to be patient to get his hands on the cup, with Wolf Stride's sitting at the rear or the field from his poor draw while leader Forty Thieves and second-favourite Our Uncle Sam dictated terms at the front of affairs.
When Greg Sugars began three-wide on Im Anothermasterpiece before the bell it provided Butt the perfect arm chair ride into the race, and then he advanced four-wide at the final turn off a 28sec third quarter.
While Emma Stewart's pair Fourbigmen (second) and Somewhere Secret (fourth) boxed on and Sirletic (third) flashed home, Wolf Stride was quickest to the line in the 28sec final quarter to register his 1.5-metre win.
"Good fields, very even, and when he drew out the back like that he was always going to need a bit of luck, but he's progressing really well," Butt said.
"He's going to have to keep improving to take on the big boys, but he's heading in the right direction at the moment."
Butt outlined an ambitious path for the five-year-old, who will now be directed towards the January 23 PETstock Ballarat Pacing Cup, a $110,000 classic that's likely to lure some of Australia's leading pacers.
"This year won't be easy for him, he will probably go to the Ballarat Cup now and the Hunter Cup, if he's good enough for them I wouldn't mind taking him up to Sydney for the Miracle Mile carnival," Butt said.
"I think this year will stand him in good stead for next season – it's always good to have a year on the Grand Circuit against the big boys. It toughens them up and if they're good enough they step up and put in a really good year next year.
"It's going to be a step up to Lochinvar Art, King Of Swing and those sorts of horses. He's at that grade now where you've got to take them on and he'll let us know if he's good enough."
There are also lofty aims for Perfect Stride, who reminded of his class with victory in Sunday's Cobram Pacing Cup, the 11th of the just-turned four-year-old's career.
Like his stablemate, he wouldn't find the front until the closing strides of what was a terrifically run Group 3 race, which was turned on its head when $1.60 favourite Western Sonador broke in the score up.
That left driver/co-trainer Rebecca Bartley playing catch-up from the back of the field, but with a mid-race moved she advanced to the lead ahead of Alpine Stride (leader) and tiring A Fair Ol Dance (breeze).
Butt had camped on Greg Sugars (Malcolms Rhythm) back in the running line and when an opening emerged at the final bend he pounced, grabbing lengths in the 28sec last quarter to win in a blanket finish.
Second-placed Malcolms Rhythm and third-placed Western Sonador finished within a half-neck while Always Fast flashed home for fourth and continues to look on the cusp of something special.
"I was keen to get on (Malcolms Rhythm)'s back early and just play it by ear, we ended up getting a really good run through sitting pretty close," Butt told Trots Vision post-race.
"(Perfect Stride)'s one of those horses who can follow speed, he's always raced well in good races. When he gets a better class of opposition it doesn't worry him, he's still got that fast quarter.
"He's a bit of an opportunist, needs things to go his way. First step up to this grade this year and he did a great job."
CLICK FOR INFO ABOUT SATURDAY'S SHEPPARTON CUP & SUNDAY'S HAMILTON CUP