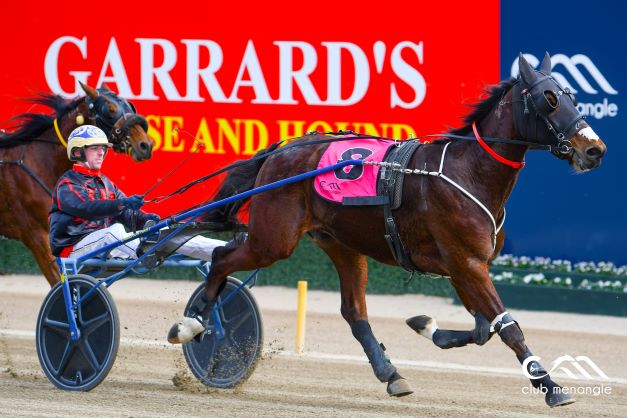 North-western Sydney couple Joe and Mary Rando, who have a grand record in producing smart young pacers and trotters, produced a promising three-year-old trotter at Menangle on Tuesday in Finn Runs Red.
Having his first outing since November and only his fourth lifetime start, the Trixton gelding worked to the front in the early stages and trotted flawlessly thereafter to win by open lengths in 1:58.2 for 1609 metres.
Joe Rando said Finn Runs Red had "always been a beautifully gaited trotter".
"We gelded him and turned him out for four months after his two-year-old campaign. His gait has strengthened right up," he said. "He has the makings of a nice horse."
Rando plans to race the gelding every fortnight.
"If he keeps on improving we may bring him down to Victoria for the Vicbred (Super) Series later in the year," he said.
Finn Runs Red was one of three Australasian Premier Trotting Sale graduates to win at Menangle.
The Aldebaran Park-bred gelding, a $51,000 buy for Lithgow enthusiast Rob Davis at the 2020 APTS sale, Agent Maori (2013) and Princess Faith (2017) made a clean sweep of the trotting races.
Other APTS sale graduates to win this week have been Constantinople (Geelong), Alpha Male (Ballarat) and Hammer's Law, who hoisted a new track record at Globe Derby Park.