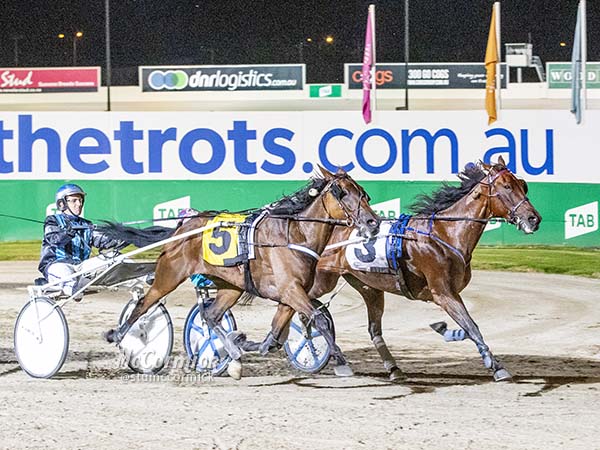 "It's almost to be good to be true," says Kate Gath after steering Tornado Valley to an historic second successive What The Hill Great Southern Star triumph.
"To win the heat and then win the final, it was almost like a comeback fairytale that doesn't really happen."
The brilliant nine-year-old bounced back from the cusp of retirement to shock the trotting landscape, first by holding out short-priced Majestic Man to win their second heat and then to zip down the sprint lane to claim the richest price in Australian squaregaiting.
"For him to do what he's done tonight, for Andy to train him like he does," Kate told Trots Vision post-race. "At the start of the week when I said to Andy, 'run this horse', I didn't expect him to come out and win it.
"Andy thought the heat was probably his grand final, because you just don't know when he's been out of the races for so long.
"To come back like he has ... I'd been saying to Andy for a little while, I think we should retire this horse. He just didn't feel the same."
But a change in preparation brought a new lease on life and tonight Tornado Valley's 37th victory in start 101 elevated him to the top tier of horses Kate said she had driven.
"He's just done the best job and these horses, they are probably like one in a million. You can't find them. For Andy to have found him and for Norm to have bought him, how lucky am I."
And he won despite some adversity.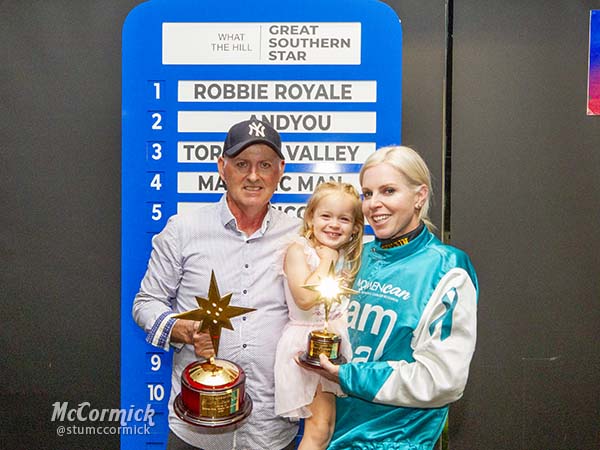 The speed map was thrown out when Magicool crossed both lightning quick beginners Majestic Man and Tornado Valley, leaving the latter on the leader's back while those in front clamped on the brakes in a 32.8sec second quarter.
"It was a tricky situation when Zac (Phillips) crossed me, I did have the opportunity to come back around and do a retake but Majestic Man was happy to sit there pretty quiet and I think that definitely changed the racing pattern," she said.
"We had earlier raced in one heat, the speed wasn't on and it turned out it was the best spot to be.
"He was travelling all right, but he wasn't bolting. He actually took a little while to come into the sprint lane. He ran out, and I was like, maybe we are not going to get him then when he took a little while.
"But it's Tornado Valley, he just loves to win and he just kept coming. It's probably the quickest quarter he's ever run."