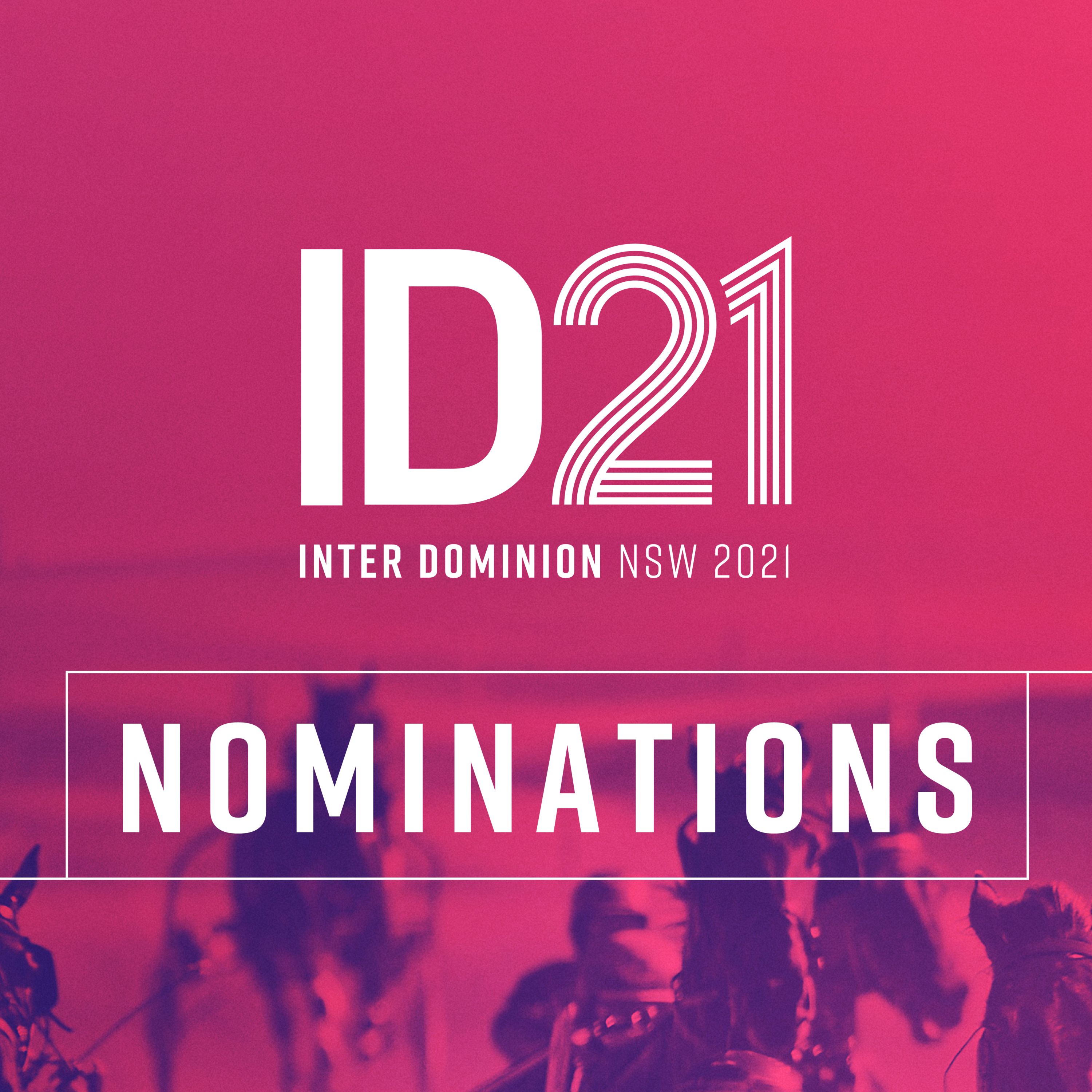 The heads of state have thrown their hats in the ring for ID21, with 103 pacing and 64 trotting nominations for Australasia's famed raced series.
To kick off at Menangle on November 27 and build up to the December 11 finals, the Inter Dominion nominations have a predominantly Australian flavour, but there's a sprinkling of New Zealand hopefuls.
Mark Purdon and Natalie Rasmussen have put forward Self Assured, Barry Purdon and Scott Phelan have nominated Bad To The Bone and Mark Jones has tossed Stylish Memphis's name into the pacing ring.
Of the trotters, Tony Herlihy's Bolt For Brilliance, Phil Williamson's Majestic Man and Mark Jones' Majestic Lavros are among nominees.
The host state has accounted for the bulk of the pacing nominations, with 63 put forward including eight from Belinda McCarthy's powerful stable. Among them are series favourite King Of Swing and the likes of Alta Orlando, Expensive Ego and Star Galleria.
Of the 25 Victorians, one nomination that will draw interest is Ride High, Clayton Tonkin's speed machine who's on the cusp of returning from an almost 12-month lay-off.
Queeensland accounts for six nominees, while trainers from Western Australia, South Australia and Tasmania have nominated one apiece.
Victoria's trotting might has come to the fore, with the state accounting for 38 of the nominated squaregaiters while the host state New South Wales has 19 and Queensland four. Among them are Andy Gath's stellar trio Majestuoso, Tornado Valley and McLovin.
Select Pacers or Trotters:
| Horse | Trainer | Location | Gait |
| --- | --- | --- | --- |
| | | | |
| SILENT MAJOR NZ | Aaron Dunn | Victoria | Pacer |
| MISTER BRAZIL | Adam Ruggari | NSW | Pacer |
| VINTAGE CHEDDAR (NZ) | Alister Black | NZ | Pacer |
| BUNDORAN NZ | Amanda Turnbull | NSW | Pacer |
| ELLMERS IMAGE NZ | Amanda Turnbull | NSW | Pacer |
| PACIFICO DREAM | Andy Gath | Victoria | Pacer |
| TANGO TARA NZ | Andy Gath | Victoria | Pacer |
| WOLF STRIDE | Andy Gath | Victoria | Pacer |
| BAD TO THE BONE NZ | B Purdon & S D Phelan | NZ | Pacer |
| MARATHON MAN (NZ) | B Purdon & S D Phelan | NZ | Pacer |
| ALTA ORLANDO NZ | Belinda McCarthy | NSW | Pacer |
| BRIGHT ENERGY | Belinda McCarthy | NSW | Pacer |
| EXPENSIVE EGO | Belinda McCarthy | NSW | Pacer |
| KING OF SWING NZ | Belinda McCarthy | NSW | Pacer |
| KINGMAKER NZ | Belinda McCarthy | NSW | Pacer |
| MAFUTA VAUTIN | Belinda McCarthy | NSW | Pacer |
| SPIRIT OF ST LOUIS NZ | Belinda McCarthy | NSW | Pacer |
| STAR GALLERIA NZ | Belinda McCarthy | NSW | Pacer |
| RONALDO NZ | Brad Hewitt | NSW | Pacer |
| SEND IT | Brad Hewitt | NSW | Pacer |
| I CAST NO SHADOW NZ | Brent Lilley | Victoria | Pacer |
| SICARIO | Brent Lilley | Victoria | Pacer |
| UROC SKINNY JEANS | Cameron Ross | NSW | Pacer |
| BLACKSADANCE | Chantal Turpin | Queensland | Pacer |
| WILL THE WIZARD | Chantal Turpin | Queensland | Pacer |
| APHORISM | Chris Frisby | NSW | Pacer |
| OUR UNCLE SAM | Chris Frisby | NSW | Pacer |
| RIDE HIGH | Clayton Tonkin | Victoria | Pacer |
| CANT REFUSE NZ | Corey Peterson | Western Australia | Pacer |
| LEFT TENNANT | D A McDowell, K L McDowell | NSW | Pacer |
| MAJOR OBAHMA | D A McDowell, K L McDowell | NSW | Pacer |
| ALPINE STRIDE | Darren Binskin | NSW | Pacer |
| LINE UP NZ | Darren Binskin | NSW | Pacer |
| WARFARE | Darren Binskin | NSW | Pacer |
| MALCOLMS RHYTHM | David Aiken | Victoria | Pacer |
| MAX DELIGHT | David Aiken | Victoria | Pacer |
| REACTOR NOW | David Aiken | Victoria | Pacer |
| SIRLETIC | David Aiken | Victoria | Pacer |
| ROCKIN MARTY | David Hewitt | NSW | Pacer |
| ABOUTTIME | Emma Stewart | Victoria | Pacer |
| BE HAPPY MACH | Emma Stewart | Victoria | Pacer |
| MACH DAN | Emma Stewart | Victoria | Pacer |
| OUT TO PLAY | Emma Stewart | Victoria | Pacer |
| ROCK FISHERMAN | Gemma Hewitt | Queensland | Pacer |
| COLT THIRTY ONE | Grant Dixon | Queensland | Pacer |
| POWER OF RED | J A Rando, M J Rando | NSW | Pacer |
| BALRAJ NZ | Jack Trainor | NSW | Pacer |
| MASTER CATCH | Jack Trainor | NSW | Pacer |
| MIGHTY FLYING DEAL NZ | Jack Trainor | NSW | Pacer |
| POCKET OF TERROR | Jack Trainor | NSW | Pacer |
| IGNATIUS | James Rattray | NSW | Pacer |
| ROSSINI | James Rattray | NSW | Pacer |
| STAR MAJOR | James Rattray | NSW | Pacer |
| ESCALERA NZ | Jarrod Alchin | NSW | Pacer |
| MY ULTIMATE STAR | Jarrod Alchin | NSW | Pacer |
| BONCEL BENJAMIN | Jason Grimson | NSW | Pacer |
| CLOUD NINE NZ | Jason Grimson | NSW | Pacer |
| MAJESTIC CRUISER | Jason Grimson | NSW | Pacer |
| RUSTY CRACKERS | Jason Grimson | NSW | Pacer |
| TERRYRAMA | Jason Grimson | NSW | Pacer |
| THE STUNNING NUN NZ | Jason Grimson | NSW | Pacer |
| TRIPLE EIGHT NZ | Jess Tubbs | Victoria | Pacer |
| GOLDEN YEAR | Joe Conolly | NSW | Pacer |
| ITS BACK IN THE DAY NZ | John Nicholson | Victoria | Pacer |
| MONA MIA | Kari Males | Victoria | Pacer |
| FEAR CRUISIN NZ | KerryAnn Morris | NSW | Pacer |
| ZIGGY ROCKS | KerryAnn Morris | NSW | Pacer |
| ARDEN MESSI NZ | Kevin Pizzuto | NSW | Pacer |
| BURNHAM BOY NZ | Kevin Pizzuto | NSW | Pacer |
| LOORRIM LAKE | Kevin Pizzuto | NSW | Pacer |
| VINCENT VAN GONE NZ | Kevin Pizzuto | NSW | Pacer |
| SELF ASSURED NZ | M Purdon, N C Rasmussen | | Pacer |
| CODE BAILEY NZ | Margaret Lee | Victoria | Pacer |
| JILLIBY CHEVY | Margaret Lee | Victoria | Pacer |
| LACEYS LAD NZ | Mark Callaghan | NSW | Pacer |
| ROYAL GAMBLE NZ | Mark Callaghan | NSW | Pacer |
| FATHER BOB | Mark Fletcher | NSW | Pacer |
| STYLISH MEMPHIS NZ | Mark Jones | New Zealand | Pacer |
| FOUROEIGHT | Mat Rue | NSW | Pacer |
| DEMON DELIGHT | Matthew Craven | Victoria | Pacer |
| AMAZING DREAM NZ | Nathan Purdon | Victoria | Pacer |
| WRANGLER NZ | Paul Cavallaro | South Australia | Pacer |
| ZEUSS BROMAC NZ | Paul Fitzpatrick | NSW | Pacer |
| MACH DA VINCI NZ | Peter Hanson | NSW | Pacer |
| ALWAYS ROCKIN | Peter Russo | NSW | Pacer |
| JIMMY LOCKE | Peter Russo | NSW | Pacer |
| PACMAN HAMMER | Peter Russo | NSW | Pacer |
| BLACK HAWK JOE | Rickie Alchin | NSW | Pacer |
| KID MONTANA | Rickie Alchin | NSW | Pacer |
| ROBYNS PLAYBOY (NZ) | S R & C J Wilson | NZ | Pacer |
| PITCH PERFECT NZ | Roy Roots Jnr | NSW | Pacer |
| THE BLACK PRINCE NZ | Roy Roots Jnr | NSW | Pacer |
| PERFECT STRIDE NZ | Russell Jack | Victoria | Pacer |
| SAN CARLO | S J O'Donoghue, R K Bartley | Victoria | Pacer |
| WESTERN SONADOR | S J O'Donoghue, R K Bartley | Victoria | Pacer |
| PUMP THE BRAKES | Sean Grayling | NSW | Pacer |
| KANENA PROVLIMA | Shawn Grimsey | Queensland | Pacer |
| ATOMIC RED | Steve Turnbull | NSW | Pacer |
| FIRESTORM RED | Steve Turnbull | NSW | Pacer |
| MY ULTIMATE FELLA NZ | Todd Day | NSW | Pacer |
| HARJEET | Todd Rattray | Tasmania | Pacer |
| JAZZY STAR NZ | Trevor Munday | NSW | Pacer |
| MAKE MINE MEMPHIS | Vicki Rasmussen | Queensland | Pacer |
| HUMBLE LADD NZ | Alex Ashwood | Victoria | Trotter |
| SLEEPEE | Alison Alford | Victoria | Trotter |
| WOBELEE | Alison Alford | Victoria | Trotter |
| HAVEHORSEWILLTRAVEL NZ | Andy Gath | Victoria | Trotter |
| MAJESTUOSO NZ | Andy Gath | Victoria | Trotter |
| MCLOVIN NZ | Andy Gath | Victoria | Trotter |
| TORNADO VALLEY NZ | Andy Gath | Victoria | Trotter |
| ALDEBARAN KIRI | Anthony O'Connor | Victoria | Trotter |
| CALIGULA NZ | Blake Fitzpatrick | NSW | Trotter |
| GIMONDI NZ | Blake Fitzpatrick | NSW | Trotter |
| ONE MAJIC KENNY NZ | Blake Fitzpatrick | NSW | Trotter |
| GIL FAVOR NZ | Brent Lilley | Victoria | Trotter |
| KYVALLEY CHIEF NZ | Brent Lilley | Victoria | Trotter |
| ROBBIE ROYALE NZ | Brent Lilley | Victoria | Trotter |
| STRESS FACTOR NZ | Brent Lilley | Victoria | Trotter |
| GENTLEMAN SIR NZ | Brian Kiesey | Victoria | Trotter |
| MAJESTIC SIMON NZ | Chantal Turpin | Queensland | Trotter |
| ANYWHERE HUGO | Chris Svanosio | Victoria | Trotter |
| BRANDLO PRINCE | Chris Svanosio | Victoria | Trotter |
| CUCHULAINN NZ | Chris Svanosio | Victoria | Trotter |
| IMPERIAL WHIZ NZ | Danny Mullan | Victoria | Trotter |
| SIR FAHRENHEIT NZ | Daren Garrard | Queensland | Trotter |
| DROP THE HAMMER | Darren Hancock | NSW | Trotter |
| ALDEBARAN CRESCENT | David Aiken | Victoria | Trotter |
| MAORI LAW | E Brosnan, R J Brosnan | Victoria | Trotter |
| ALPHA MALE | Emma Stewart | Victoria | Trotter |
| COVER OF DARKNESS | Emma Stewart | Victoria | Trotter |
| ORLANDO STORM | Grant Forrest | NSW | Trotter |
| SALLY EM | Grant Forrest | NSW | Trotter |
| GEE UP NEDDY NZ | Hayden Barnes | Queensland | Trotter |
| ALEPPO MURPHY | J A Rando, M J Rando | NSW | Trotter |
| CHAMPAGNE PRINCE NZ | J A Rando, M J Rando | NSW | Trotter |
| CONON BRIDGE NZ | J A Rando, M J Rando | NSW | Trotter |
| EMPIRE BAY | J A Rando, M J Rando | NSW | Trotter |
| REVY JAY | J A Rando, M J Rando | NSW | Trotter |
| RUNAWAY SUCCESS | J A Rando, M J Rando | NSW | Trotter |
| SOBOMBA | J A Rando, M J Rando | NSW | Trotter |
| TIMOTHY RED | J A Rando, M J Rando | NSW | Trotter |
| CHISSY | Jason McNaulty | Victoria | Trotter |
| TRAVEL BUG | Jason McNaulty | Victoria | Trotter |
| ONE OVER DA SON NZ | Jodi Quinlan | Victoria | Trotter |
| HATCHBACK | John Justice | Victoria | Trotter |
| RED HOT TOOTH | Kari Males | Victoria | Trotter |
| FUNKY MONKEY NZ | KerryAnn Morris | NSW | Trotter |
| NEPHEW OF SONOKO | Leigh Graham | Victoria | Trotter |
| KEAYANG LIVANA | Margaret Lee | Victoria | Trotter |
| MAJESTIC LAVROS (NZ) | Mark Jones | NZ | Trotter |
| LOTAMUSCLE NZ | Matthew Craven | Victoria | Trotter |
| PINK GALAHS | Matthew Craven | Victoria | Trotter |
| IS THAT A BID | Michael Hughes | Victoria | Trotter |
| JUST BELIEVE | Michael Hughes | Victoria | Trotter |
| ENHANCE YOUR CALM NZ | Nathan Purdon | Victoria | Trotter |
| ROYAL CHARLOTTE | Paul Males | Victoria | Trotter |
| MAJESTIC MAN NZ | Phil Williamson | New Zealand | Trotter |
| LE CHATILIER | Polly Downing | NSW | Trotter |
| THE PENNY DROPS | Ray Harvey | Victoria | Trotter |
| INDEFENSIBLE | Rickie Alchin | NSW | Trotter |
| TOUGH MONARCH | Rickie Alchin | NSW | Trotter |
| MAGICOOL | Rob O'Connell | Victoria | Trotter |
| MAJESTIC COURTNEY NZ | Sonya Smith | Victoria | Trotter |
| BOLT FOR BRILLIANCE (NZ) | Tony Herlihy | NZ | Trotter |
| ILLAWONG STARDUST | Tony Peacock | Victoria | Trotter |
| RED CASTLETON NZ | Trent Lethaby | Queensland | Trotter |
| CELTIC CASH | Troy Williams | NSW | Trotter |