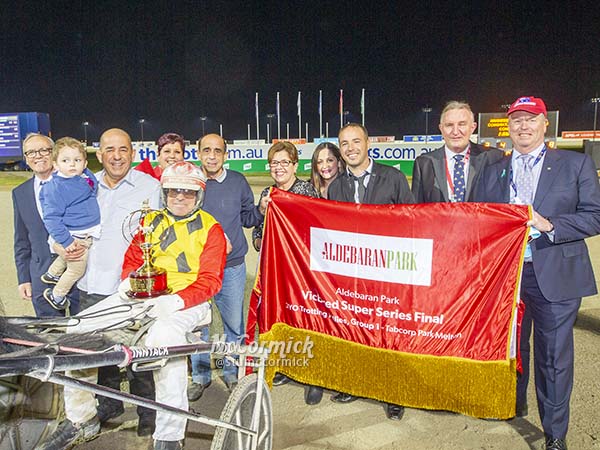 Trainer Joe Vassallo is working towards a long-awaited return to the races with two-time Group 1-winning mare I Am Pegasus.
The five-year-old, who won the 2019 Vicbred Super Series 3YO Fillies Final and 2020 Lyn McPherson Memorial Breed For Speed Gold Series Final, last raced in May of 2020 when she pulled up lame.
The long road back to the track gained momentum when she made an appearance at the Tabcorp Park Melton trials on Monday night, and while it was a "below par" last placing in a field of four, the Toolern Vale trainer still managed to find some positives.
"She was a bit fresh and got a bit fierce," Vassallo said.
"At the last preparation she'd lost her gait, so it was more about how she trotted yesterday. We were happy with the way she was trotting.
"The focus has been more about getting her gait right at this stage, and now hopefully if we've got that sorted, we can start working on her tractability."
Vassallo said a significant muscle issue had been discovered after I Am Pegasus' last racetrack appearance, which forced his stable star out of action for a long period of time.
"We turned her out for a spell and then she had an aborted campaign late last year because she wasn't right," he said.
"We had her vetted and we identified a pelvic muscle strain, so she went out for a four-month spell. It's been a slow build-up to get her back to the trials.
"It just required rest. We had her vetted again before the start of the preparation and only a couple of weeks ago. Basically, she's as good as she can be from where she was."
Vassallo seemed optimistic about getting I Am Pegasus back and competing against the top level squaregaiters in coming months.
"I think the ability is there. I think she can match it with the good horses on her ability, it's a matter now that we've just got to work on her racing manners," he said.
"Obviously, she's in a class now where you can't make too many mistakes.
"We wish that she'll be good enough to go in the good races later on in the season. Fingers crossed we can get her there."
Vassallo said more work would be done at home with the mare, who is likely to go back for more trials before she returns to the races.
I Am Pegasus, a bay mare by Pegasus Spur, has won 10 of her 19 starts for more than $125,000 in prizemoney.
WATCH I AM PEGASUS WIN THE VICBRED SUPER SERIES FINAL BELOW: