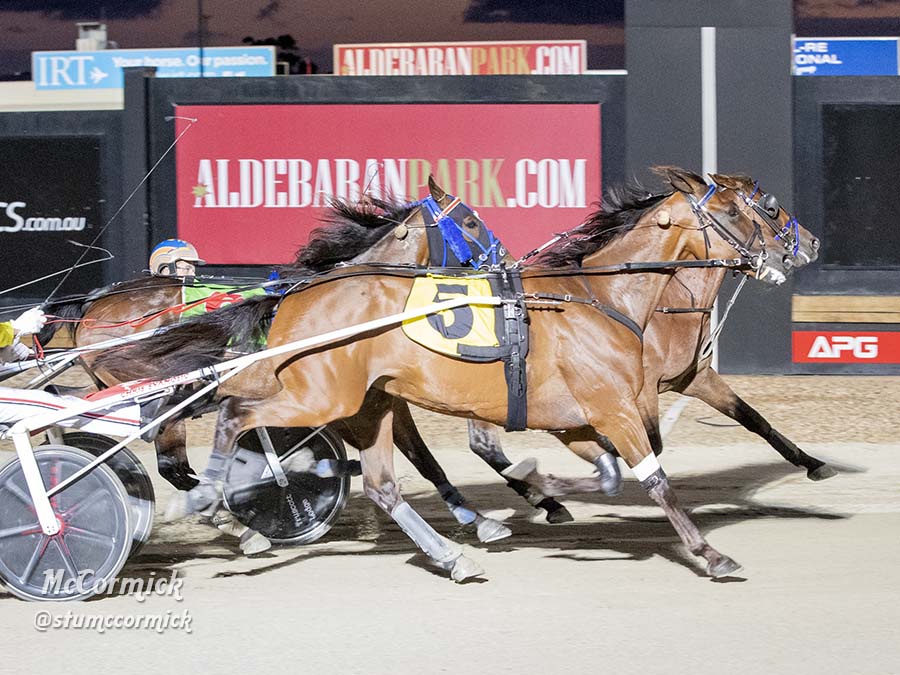 Having won his first Group 1 on Australian soil just a week earlier, Tough Monarch tonight claimed a second when he lived up to his name to win the Aldebaran Park The Knight Pistol.
A tense wait for the photo finish produced the desired result for reinsman Chris Svanosio and trainer Rickie Alchin, with Tough Monarch beating Sundons Courage by a short half-head to claim the bulk of the $50,000 prize.
"I thought he might have beaten me on the line, Kate (Gath on Majestuoso) was in between us," Svanosio said. "I wasn't sure, there wasn't much in it and you don't know with the angle here. I'm just glad he had his nose stuck out."
And with that Tough Monarch became a three-time Group 1 winner, having first broken through in the 2019 NZ Trotting Free For All and then just last week led all-the-way to win the first What The Hill Great Southern Star heat.
Tough Monarch got the job done in similar fashion again tonight, with Svanosio finding the front from gate five ahead of Sundons Courage and Big Jack Hammer, while Majestuoso sat in the breeze until Majestic Man advanced to the front of the running line with a tick over a lap to go.
Svanosio was able to dictate terms, keeping the challengers at bay with a 57.5sec last half enough to grimly hold out Sundons Courage, who looked on the cusp of delivering reinsman Ryan Duffy a first Group 1.
"He travelled terrific out in front," Svanosio said of the winner. "Rickie said to keep them rolling along if I led and make it hard for Majestic Man and that to get into it.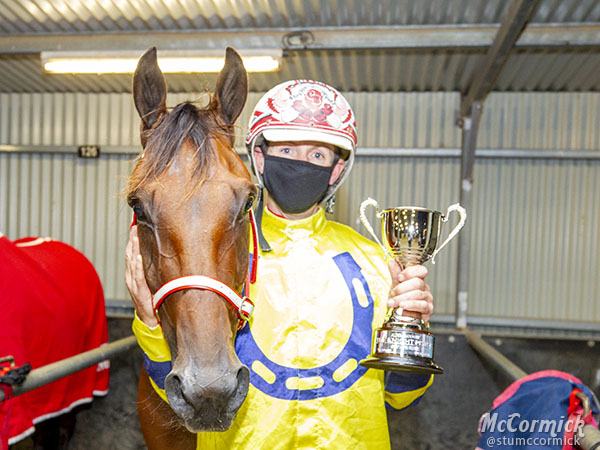 "I thought maybe I'd slightly overdone it (and) Sundons Courage was maybe going to grab me, but he was tough enough to hold on."
The result signals a fourth Victorian Group 1 win in eight days for nine-year-old trotters, with Tough Monarch adding to Tornado Valley's miracle comeback in last Friday's Great Southern Star.
"To be winning the two big races, two nine-year-olds, it shows the longevity of these trotters," Svanosio said.
"Rickie's just done the best job with him. He didn't start racing until he was four or five, even as a seven or eight-year-old he kept giving him time, and he's kept improving every time he brought him back for another prep.
"To go to New Zealand last year and win a big race over there and go so well in their races, then to come back – not many horses can do it, keep backing up year after year and he's just been terrific."
And they'll hope to keep the good times rolling into the $100,000 Australian Trotting Grand Prix at Tabcorp Park Melton on February 27 as the brilliant summer of trotting, the Aurora Australis series, continues.
The victory was Svanosio's second of the night, having earlier won with President Roydon in the TAB Long May We Play Trot, a third straight win for the lightly-raced seven-year-old who looks on the verge of dicing with the squaregaiting heads of state.
It was also a lucrative night for Team Teal, with Kate Gath winning the first two races before being pipped by Jodi Quinlan in the third.
Gath's winners included Australian debutant Majestic Hurricane, who's a little half-sister to President Roydon, with both being out of Roydon Lodge Stud's Sundon dam Dear Diedre.