It's the night dreams are realised, reputations are made and champions emerge: the Alabar Farms Vicbred Super Series pacing finals.
Soak up the six Group 1 titles that will be bestowed on trainers, drivers, owners and breeders through our live blog, as the powerhouse Emma Stewart chases a night to remember and rivals eye their own trip to the winners' circle.
9.15pm: Kualoa wins the Vicbred Super Series 3YO fillies' final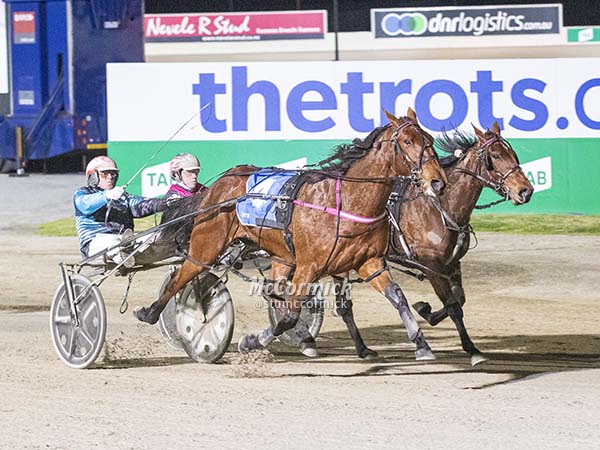 An extraordinary fourth trifecta amid five Alabar Farms Vicbred Super Series wins for Emma Stewart's stable was capped with Kualoa's victory in the last of the weekend's 12 Group 1s, the Vincent three-year-old fillies' final.
Bruce and Vicki Edward's Art Major filly out of Hawiian Hottie had perhaps her most stern test of this series when stablemate Looking Fabulous emerged from her back to run her within 1.2 metres at the line, but Kualoa had the answers for reinsman Chris Alford and saluted in the special VSS silks.
"The other one gave her a bit of a fright halfway up the straight but she held it the last 50 pretty good, she just gets a bit casual in front some times," Alford told TrotsVision. "She's still got the Breeders Crown coming this year and will go on to bigger and better things.
"It's great being part of the (Stewart) stable, their horses are just awesome. I've had two wins, a second (and) a third tonight, so they've all raced to the top of their game. To have such a big team and to have them all turn up right on these nights is a super effort."
8.50pm: Out To Play wins the Vicbred Super Series 3YO colts and geldings' final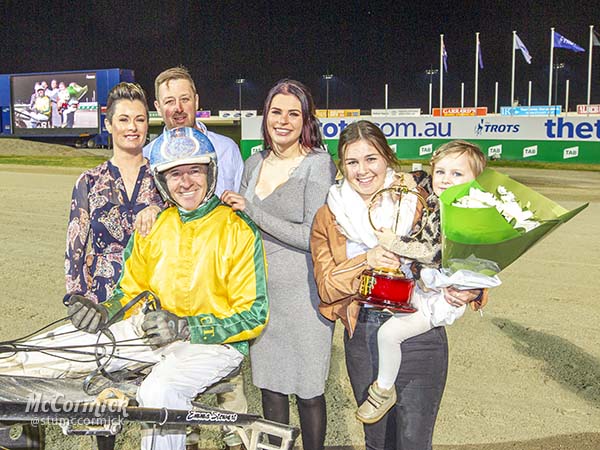 If there was any suggestion that Out To Play's barnstorming win in the Vincent Vicbred Super Series semi-final for three-year-old boys was a fluke that was put to bed when he repeated the dose in tonight's final.
Reinsman Gavin Lang didn't have to reach as deep into his bag of tricks to pull this one out, with stablemates Hurricane Harley (leader) and Demon Delight (breeze) driving the field to the final turn when Out To Play stepped off the leader's back and left them all in his wake.
"Last week he put the writing on the wall, maybe if it was one of his more illustrious stablemates they would have been $1.50 off that barrier, but he's a horse going places," Lang told TrotsVision.
"This horse still had to hold his position and that takes a bit of effort to do that, a couple of the stablemates of this one have great records already and this one is heading down the same track I'm sure of that. Twenty-six and a half last quarter, he's probably gone closer to 26 to get over them, speaks volumes for how good this horse can be."
He won by four metres from Demon Delight with Fourbigmen and Hurricane Harley closing out the all-Stewart first four, continuing an outstanding night for the team. It was also a pleasing result for Emma's father, Warren, who owns a half-share with the breeder of the Art Major colt, Peter Gleeson.
8.20pm: Pistol Abbey wins the Vicbred Super Series 4YO mares' final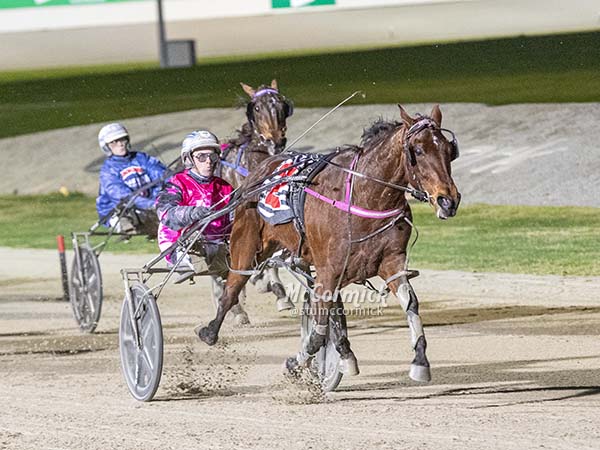 A few nervous moments aside, the war out front was just what the doctor ordered for brilliant sit-sprinter Pistol Abbey and her reinsman David Moran, who capped a faultless Ultimate Machete Vicbred Super Series with a win in the mares' final.
It was a third straight win for Emma Stewart's stable, who also placed second in each of the three titles.
On this occasion Nostra Villa held the front after being initially pressed by Passions Delight, the early thrust enabling Pistol Abbey to slide on to leader's back. New South Wales semi-final winner Bronski Belle advanced to the breeze and her and Nostra Villa would hold the front to the final turn despite pressure first from Frankincense and then from Major Occasion, who led the three-wide train for more than a lap.
Pistol Abbey got to the sprint lane without any further attacks from out wide and the Lauriston Bloodstock owned mare did the rest, clearing out from a brave second-placed Nostra Villa to win by 10 metres off a 55.9-second last half.
"I was a little bit unsure how it was going to pan out at the start, there was a little bit of speed out wide and a little bit of speed inside, it all ended up working out well," Moran told TrotsVision. "We took the risk of dropping where we did (leader's back) and it paid dividends.
"(Pistol Abbey's) a pretty tractable little girl, but she's got a big ticker and a lot of speed, so if she's thereabouts she's pretty dangerous. Generally (the Emma Stewart) horses are 120 per cent, so it makes it a lot easier when you are a driver, you can point them in the right direction, put them in the right spots and the best horse generally wins."
7.50pm: Tam Major wins the Vicbred Super Series 4YO entires and geldings' final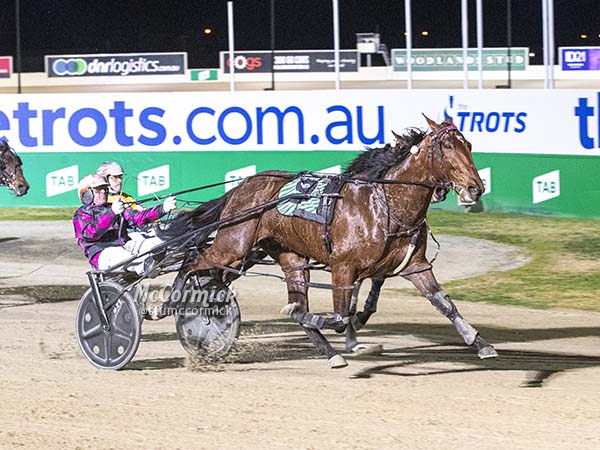 Drawn gate eight was a big concern for champion reinsman Chris Alford, who said pre-race he'd love to be able to get Tam Major to the pointy end of the field before favourite Rackemup Tigerpie, but it was hard to see how he could do it.
However, the window opened early in the Rock N Roll Heaven Vicbred Super Series final and Alford strode through, grabbing the race by the throat and recording another Group 1 win for trainer Emma Stewart, who produced a race-to-race double .
"The one on the outside (Brackenreid) just couldn't quite keep up early and we were able to get off at the winning post, which was a good thing," Alford told TrotsVision. "Once the speed settled we were able to get around. When Mick (Stanley on Rackemup Tigerpie) come to put the pressure on I went to the front and he just kept on running.
"(Tam Major) just loves to get out there and race. He had a good one (Rackemup Tigerpie) staring him down the back straight, but he fought him off, and he had another good one (Major Times) on his back. He just sort of half waited for them, but when you ask him he just keeps going."
Tam Major held off stablemate Major Times by 2.3 metres to win for owner-breeders Bruce and Vicki Edward, who will be hoping to make it a double when Kualoa steps out short-priced favourite in the three-year-old fillies' final.
7.20pm: Maajida wins the Vicbred Super Series 2YO fillies' final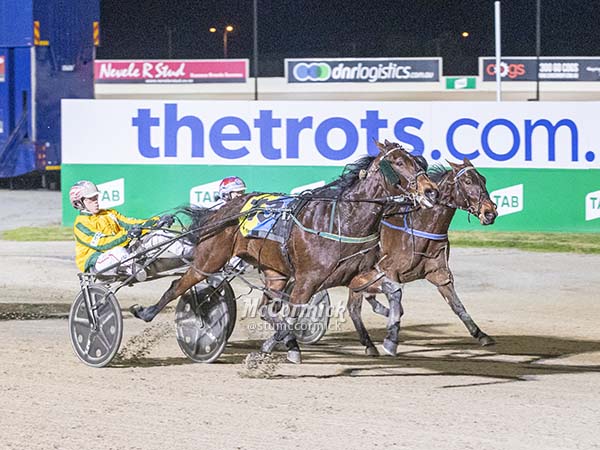 An enormous result for owner-breeders Gary, Ian, Steve and Leslie Johnson, with their fantastic filly overcoming her outside the back row draw to salute in her Art Major Vicbred Super Series final.
The win meant plenty for Leslie Johnson in particular, a trots owner-breeder of more than 50 years, who savoured his first Group 1 win courtesy of trainer Emma Stewart, reinsman Greg Sugars and Somebeachsomewhere filly Maajida.
Sugars advanced on the favourite to the breeze and she toughed it out outside stablemate Jemstone (third) and then held off fast-finishing Amelia Rose (second) to take a big cut of the $130,000 prize.
"I'm just so grateful to be able to drive such quality horses for the Emma Stewart stable," Sugars told TrotsVision. "Leading into both (two-year-old) races I was pretty happy that I was probably on the best horses in each category, but the draws were always going to be a big factor and hard to overcome.
"Unfortunately Mirragon, he wasn't able to overcome it tonight (in the 2YO boys), but he went down fighting and ran a terrific race so we are very proud of him. This filly's done a super job to come from the extreme outside draw, circle the field, run away from them and hold off a fast challenger (Amelia Horse), who's a very smart horse in her own right. Very, very happy to be a part of the team and I'm sure the owners will celebrate hard with this win."
6.45pm: Yejele Hammer wins the Vicbred Super Series 2YO colts and geldings' final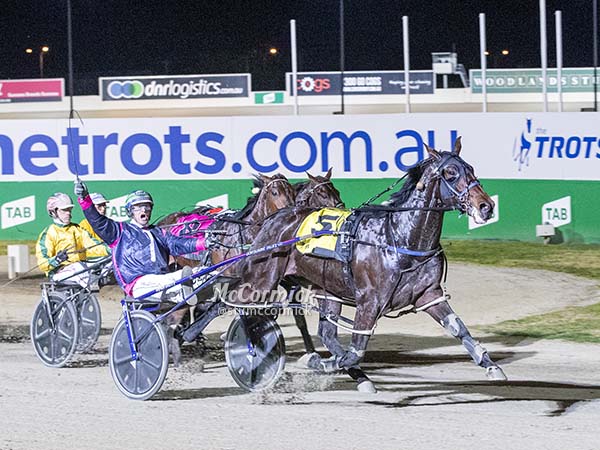 The Alabar Farms Vicbred Super Series kicked off with an almighty "wooooooooooooo" as passionate owner Dom Martello served up a custom Ric Flair celebration, having snapped up the 2YO boys $130,000 Group 1 with Yejele Hammer.
Trainer-driver Michael Stanley was aggressive early and then lay in waiting as Emma Stewart's trio Pandering, Mirragon and Beale Street took control at the head of affairs, with Yejele Hammer pouncing late to win by 4.5m.
"He is a really nice horse and as Dom (Martello) just said he just won his Vicbred bonus, what a beauty to go on top," Stanley told TrotsVision. "He went through the (Australian Pacing) Gold, ran second, he came back from Queensland and had to truck down, so I was really quiet on him. I knew he would just keep getting better and better as the series went on and we just needed a little bit of luck.
"This horse, he doesn't have a lot of point to point speed but the harder they go the better he is and the race was just run beautifully for him. I knew if we could be aggressive early and get to where we wanted to be this could definitely happen."
Breeder Rick Hasty paired mare Pride Kept Me with sire Somebeachsomewhere to produce the colt, which Martello snapped up for $31,000 at the APG sale.
"I was just standing up the back of the yearling sales, Dom walked past and we were just having a chat and (the horse) came in under the lights and Dom said, 'oh jeez, what's that one?'," Stanley said. "I said I've got no idea. He opened his book, next minute he's bought him with one bid. So it's a great story and probably one of the best purchases he's made."
As mentioned, tonight's win snapped up not only $65,000 to the winner but the $7000 first win Vicbred bonus.
"I was pretty excited," Martello said. "I didn't think he'd win today to be honest, I was going to be happy if he could run third, fourth or fifth, and the race panned out the way we needed it to pan out I guess. He got the luck and it happened."
5pm: Get ahead of the game at the Punters' Paradise
A powerhouse of works has been poured into Punters' Paradise by Jason Bonnington, Blake Redden and Tim Hallett to give trots fans every chance to be a part of the Vicbred Super Series winning.
Exculsive heat replays with comment, gate speed maps and analysis, race-by-race breakdowns and expert tips are only a small smattering of the offerings that will keep you coming back throughout the weekend.
Every horse, every run rated in #VSS19 ☑️
Video speed map analysis ☑️
Video previews ☑️
Gate speed ratings ☑️
Selections & punting plans ☑️
Prices ☑️
Heaps more! ☑️
Free! ☑️
Check out #GoodForm Punters Paradise now @TheTrotsComAu

Check it out here ➡️ https://t.co/ASpb2NRLFc pic.twitter.com/qR1nCzYkvS

— The Trots (@TheTrotsComAu) July 5, 2019