An extraordinary 100th Group 1 win to champion Victorian reinsman Chris Alford and a multitude of camps who celebrated wins-of-a-lifetime shared the headlines in tonight's Aldebaran Park Vicbred Super Series trotting finals.
Relive the magic from Tabcorp Park Melton as it happened with thetrots.com.au VSS19 live blog.
9.50pm: Moonlight Dream wins the Vicbred Super Series final for four-year-old mares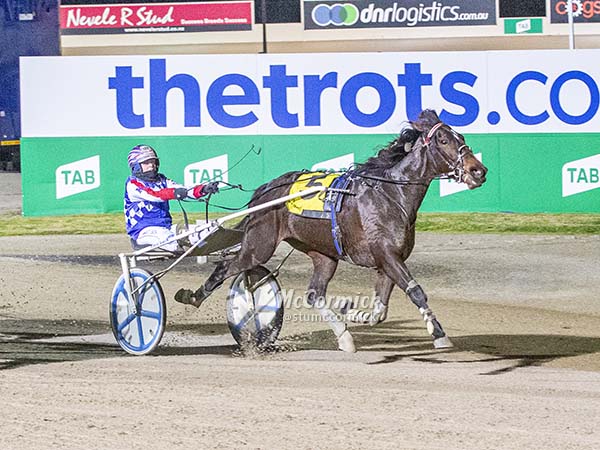 It didn't look like it was going to happen until it did, but it was the result connections deserved says reinswoman Kate Gath after Moonlight Dream swooped down the sprint lane to win her Aldebaran Park Vicbred Super Series final.
Having finished third and some 11.5 metres off Aleppo Jewel (third tonight) and Lucinda Mac (second tonight) in last week's Vicbred heat, the Andy Gath-trained Angus Hall mare turned the tables to record the Group 1 win for owner Colleen Fryar.
"A couple of weeks ago she got pretty crook then at Kilmore she was just not quite at her best when she got up the fence to qualify, but tonight she's just bounced back and did a terrific job," Kate Gath told TrotsVision.
"I obviously thought the one horse (Aleppo Jewel) was probably hard to beat and once it led it would probably win, but the quick back straight quarter makes all the difference and that really brought us into it then.
"(Moonlight Dream)'s been busting to win a Vicbred or a Breeders Crown, she's been so close in the past two years, so I'm so happy for the owners and so happy that she could finally get one, which she thoroughly deserves."
9.10pm: I Am Pegasus wins the Vicbred Super Series final for three-year-old fillies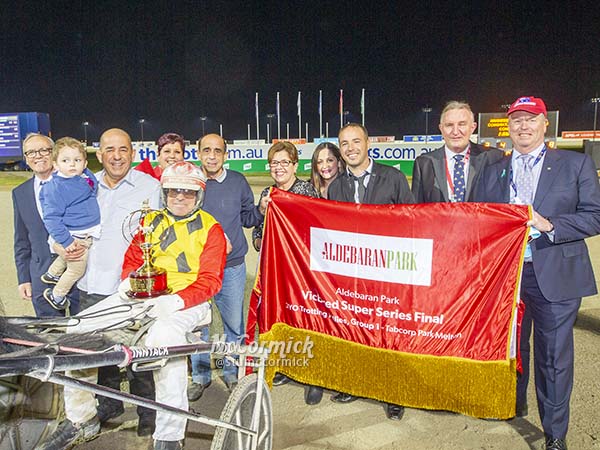 "We've just had a few horses knock around the country most of the time and if you have one just good enough to come here (to Tabcorp Park) it's fantastic, but to get a Group 1 winner, well, that's the stuff of dreams."
They were the words of owner-trainer-breeder Joe Vassallo who was celebrating I Am Pegasus's dominant win in the Aldebaran Park Vicbred Super Series final for three-year-old fillies, which he shared with his brother and fellow owner-breeder Sam.
Reinsman Chris Alford found the front from his advantageous draw and had a firm grip on the race throughout, separating from the chasers with a 28.4-second third quarter and sealing the 15.5-metre win with a 29.8 final quarter.
"I drove her first start and she just didn't like racing that much early, we just had a chat about things and she's gone on in leaps and bounds," Alford said. "I'm rapt for Joe and his brother and the whole crew. I heard a fair bit of yelling and screaming coming down the straight, that might have been them."
8.45pm: Kyvalley Finn wins the Aldebaran Park Vicbred Super Series final for four-year-old trotting entires and geldings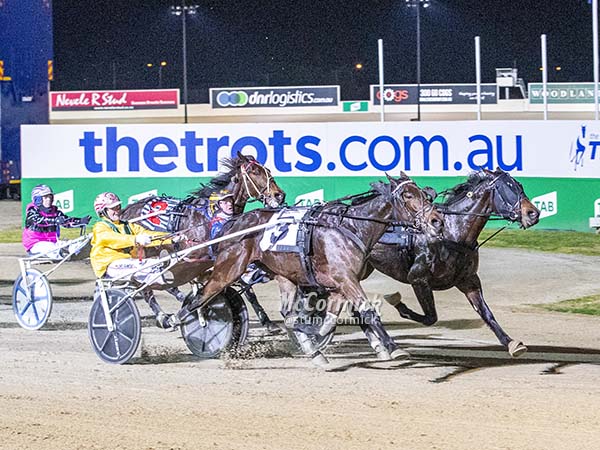 Having quite often had to settle for second in the past, tonight Kyvalley Finn was king for trainer-driver Chris Svanosio and owner-breeder Jim Connelly.
The Skyvalley gelding, the first foal of mare Kyvalley Paris, was perfectly poised behind highly-fancied frontrunners Chief Runningcloud (lead) and Majestic Player (breeze), swooping late to salute by a head.
"It's great for him to finally win a good race," Svanosio said. "Kyvalley Finn was terrific last season and I remember how disappointed I was when we ran second in the Derby, but it makes up for it tonight."
A 31.7-second first quarter appeared to play into the leaders' hands, but Svanosio remained optimistic throughout.
"He relaxed good, so I wasn't too worried - it couldn't have panned out any better," Svanosio said. "I was hoping Kate (Gath on Chief Runningcloud) would be able to hold Majestic Player out and that gave us our chance. I've probably never got him that close before in a decent race without doing too much work and he was good enough at the finish.
"I followed Jason (Lee on Majestic Player) all the way and didn't have to go until the top of the straight, so it all panned out perfect. I thought I was just going to get there all the way up the straight, but you just never know until they stick their head in front. I'm glad he did."
8.20pm: McLovin wins the Noopy Kiosk Trotters Free For All
It may be the final run of McLovin's extraordinary first Victorian season and he's put a stylish exclamation mark on it with a big three-wide run and victory in the Noopy Kiosk Trotters Free For All.
Andy and Kate Gath's former Kiwi has only missed a placing in one of his 13 starts since making his Australian debut on February 9, notching nine wins for owner Norm Jenkin.
"It was a big win," reinswoman Kate Gath said. "I was thinking that Gav (Lang on Save Our Pennys) would probably get the front with a lap to go and I was going to hook around then. Then he didn't get it, I probably should have got up there a bit sooner when they were going a bit slower.
"When we pulled out, they got running up the back (straight). He felt like he was going to get them, he just made me work a little bit.
"He's such a strong horse. Super performance. To come from back in the field (over the short distance) is really tough, it takes a horse of his ability to be able to do it."
Gath said McLovin had earned a rest.
"I think he'll go for a spell now, he's done a pretty good job. (Star stablemate) Tornado Valley's nearly ready to trial, so it will work out well."
7.55pm: Chris Alford registers Group 1 win number 100 as Kyvalley Clichy wins an eventful 3YO trotting colts and geldings title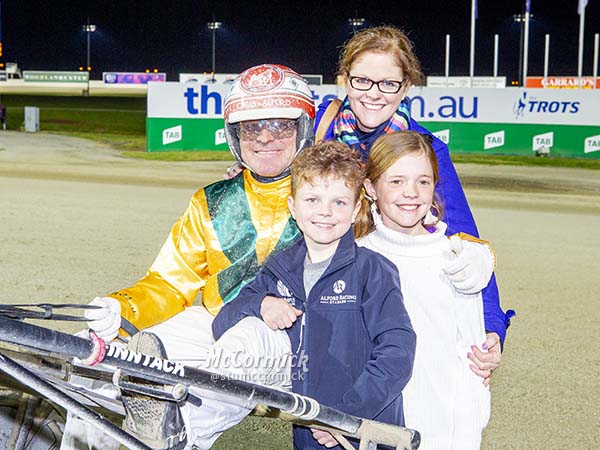 The will he or won't he wait is over as star reinsman Chris Alford crashes through for a remarkable, unprecedented 100th Group 1 win with Kyvalley Clichy in the Aldebaran Park Vicbred Super Series final for three-year-old trotting colts and geldings.
The countdown has been a few months in the making and it was extended again tonight by a succession of false starts, but by start three it was all go and the Brent Lilley-trained entrant was faultless.
"(False starts) are not ideal, but (Itsarapt) was having his second race start so it was a big occasion, then when he was crashing into the gate a few more got stirred up," Alford told TrotsVision. "It didn't help the situation but thankfully we got around and got there in the end."
Kyvalley Clichy was well placed throughout, settling in the running lane and then launching from the one-one in the final quarter.
"My early thought was to try and get forward and get up the front, but they were going pretty solid and I got a good trail," Alford said. "When Nephew Of Sonoko come around the speed went on again, luckily the horse in front of me was able to drop in behind the leader, which gave me the perfect spot.
"I still probably had to come out a little earlier than I wanted at about the 400, but he felt really good and he ran to the line well."
Kyvalley Clichy ran past leader Scruffy Doolan to salute by 5.7 metres, with Archleo finishing well for trainer Barry Beasley and reinswoman Jackie Barker to finish second.
The Angus Hall colt, who was bred from mare Modern Maori by Louise and Neville Pangrazio, is owned by Jim Connelly's KPC Racing Group and Blundell Family Trust.
7.15pm: Powderkeg wins the Vicbred Super Series 2YO trotting colts and geldings' title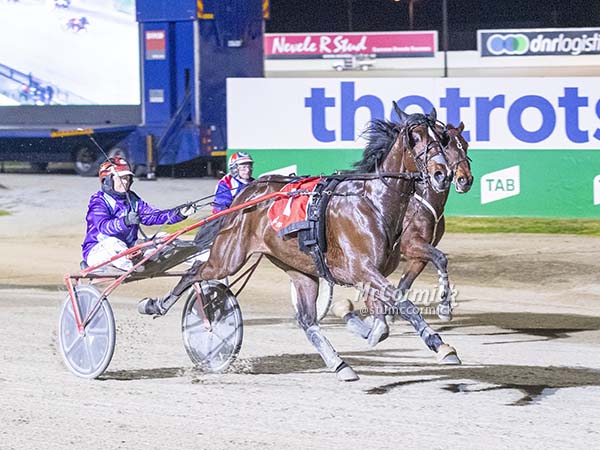 That win meant plenty for trainer-driver Lisa Miles and owner/breeder Geoff Easom of Wyndown Stud as their two-year-old Muscle Hill colt let down in the straight and snapped up a 6.5m Aldebaran Park Vicbred Super Series Group 1 win.
"He was fantastic at Maryborough, like I've always said, I don't want to put too much expectations on him, but he is a ripper," Miles told TrotsVision.
"I can't thank Geoff enough for his support and all my very good mates in South Australia too. (Powderkeg) and I didn't get along really from day one, he's very much a boy with his attitude, but he's done nothing but impress me ever since. I'm a very lucky girl."
Saluting ahead of favourite and leader Andover Sun, Powderkeg is out of Sparks Ignite, a 10-time winner for Mr Easom.
"This horse's mum is my favourite horse, she's an absolute sweetheart and to get a winner out of her is an absolute bonus," he told TrotsVision.
6.50pm: Jaxnme wins the Vicbred Super Series 2YO trotting fillies' title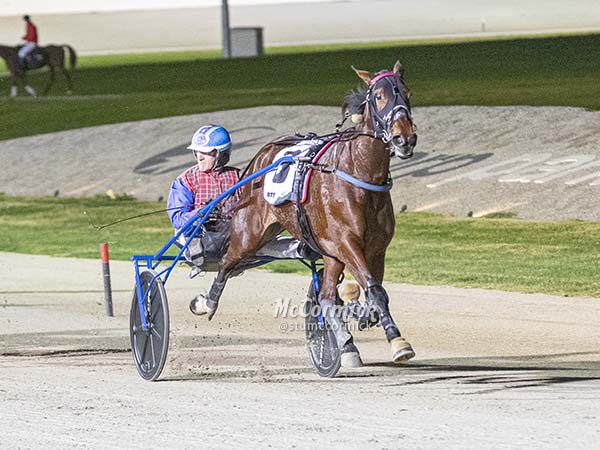 The first Group 1 crown has been captured with Gavin Lang steering Jaxnme to the front and producing a mistake-free run to salute in the Aldebaran Park Vicbred Super Series two-year-old trotting final for colts and geldings.
While others made mistakes around him, including favourites Dizzysjet and Pink Galah in the final's early stages, Jaxnme showed no such flaws, winning from The Best Dream for owner/breeders Graeme Love, Brocq Robertson and Debbie Jack.
"Manners are important," Lang told TrotsVision after the $100,000 win, which he claimed by 6.2 metres after a succession of even quarters and 2:00.2 mile rate. "If Shepparton's any indication she's a better horse following the speed, but in the young races being in front is a good place to be."
It was a fourth straight win for the Andover Hall filly, who's the first foal out of unraced Muscle Hill mare I Am Who I Am.
6.15pm: Just Believe wins the Vicbred 3YO Silver Trot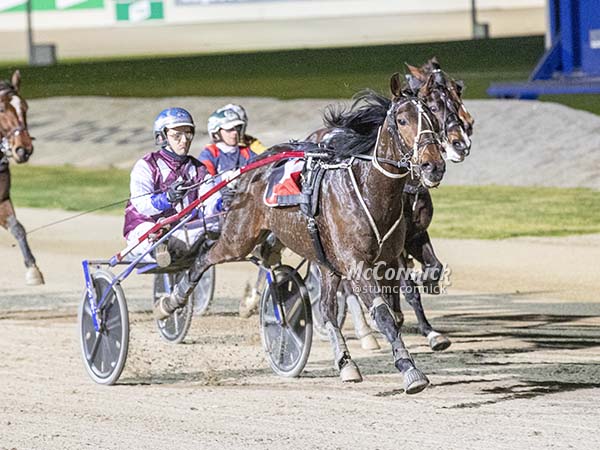 It didn't all go to plan after a costly heat gallop ruled Just Believe out of the big dance, but Michael Hughes' trotter showed his true ability with a scintillating finish to win the Aldebaran Park Vicbred Super Series 3YO Silver Trot.
Reinsman Zac Phillips was glowing of the possibilities in the path of the Orlando Vici trotter, who is out of Heavenly Above and is a half-brother to Heavenly Sister ($129,745) and Shared Interest ($102,035).
"This little horse, he's got a really bright future," Phillips told TrotsVision. "I unfortunately galloped him out at Geelong because he would have been a great hope in the final if he had have got a run.
"Mick and the team at home have done a terrific and got his manners in order. His ability shone bright tonight. Apart from making a mistake at Geelong he's got really beautiful manners and (is) a lovely gaited trotter to sit behind. He's a horse of the future.
"The scary part was he let down for probably 50 metres and the last 100 he had his ears pricked and was going half-speed. He's still got a bit to learn but I think he's going to have brilliant high speed when he learns what he's doing."
5pm: Get ahead of the game at the Punters' Paradise
A powerhouse of works has been poured into Punters' Paradise by Jason Bonnington, Blake Redden and Tim Hallett to give trots fans every chance to be a part of the Vicbred Super Series winning.
Exculsive heat replays with comment, gate speed maps and analysis, race-by-race breakdowns and expert tips are only a small smattering of the offerings that will keep you coming back throughout the weekend.
Every horse, every run rated in #VSS19 ☑️
Video speed map analysis ☑️
Video previews ☑️
Gate speed ratings ☑️
Selections & punting plans ☑️
Prices ☑️
Heaps more! ☑️
Free! ☑️
Check out #GoodForm Punters Paradise now @TheTrotsComAu

Check it out here ➡️ https://t.co/ASpb2NRLFc pic.twitter.com/qR1nCzYkvS

— The Trots (@TheTrotsComAu) July 5, 2019