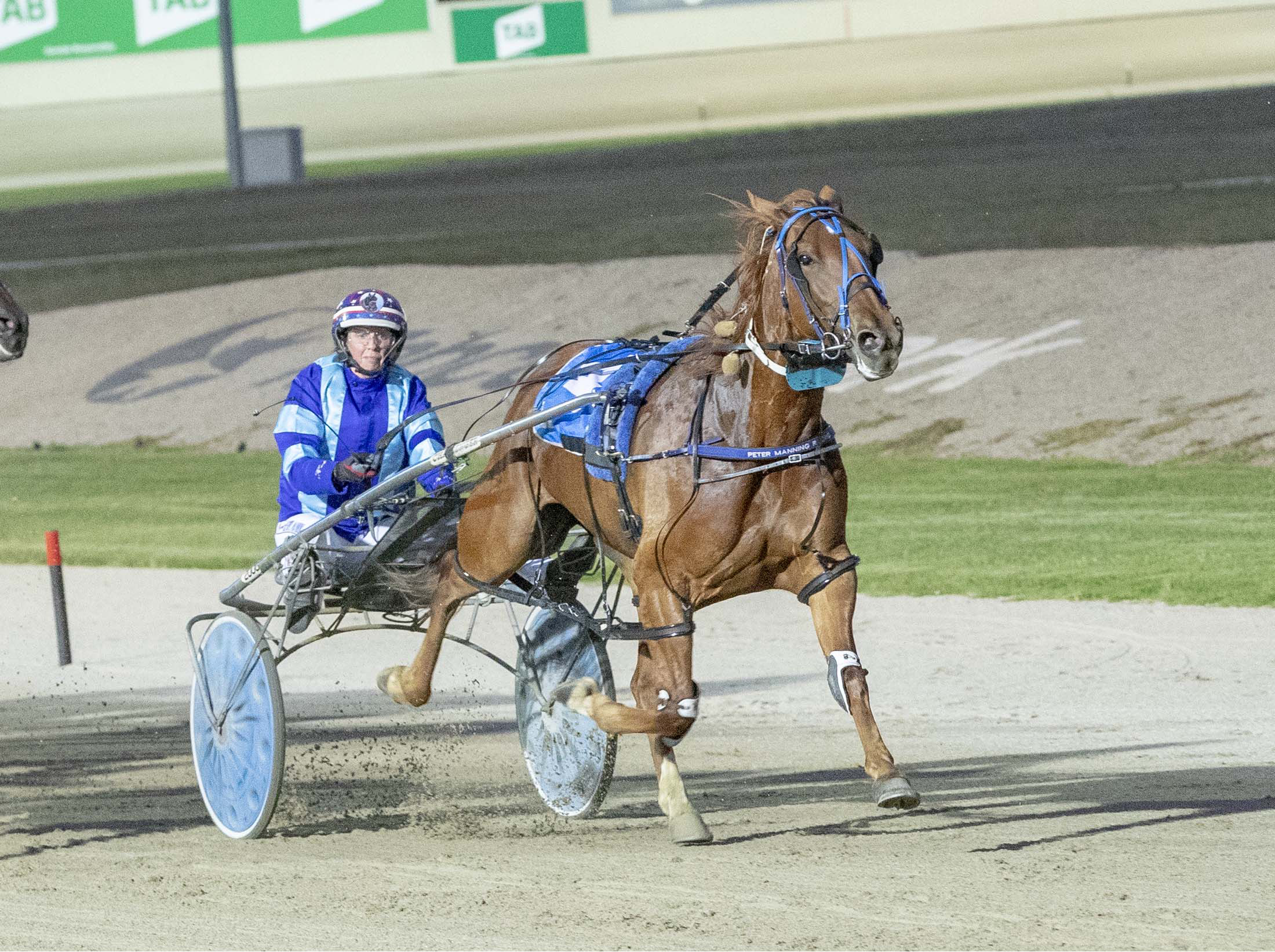 Reciprocity will get a rare chance to use her impressive gate speed in Saturday night's Benstud Queen of the Pacific and her trainer Peter Manning hopes it can help score the five-year-old mare's first Group 1 success.
The $100,000 feature will be the first race the five-year-old scores up on the front row since she won at Tabcorp Park Melton five starts ago.
In that race she had to storm home from the back of the field to score after racing roughly at the start but Manning hoped the mare had more than enough tow – as shown when eventually leading from gate six two starts before – to find the lead.
Manning said Reciprocity, known around the stables as 'Ginger', had been "going really well".
"She's led quite a few times, she's quick out," Manning said. "But she hasn't had a chance to show it in her last (few) starts."
Reciprocity has enjoyed a great season, winning seven of her 16 starts – and $80,000 in prizemoney – since joining Manning's Great Western stables in December.
Manning said he was confident Saturday night's 2760m trip on Saturday wouldn't faze her after she won a heat and finished third over 2600m in the recent Mildura Pacing Cup series.
"I reckon most of the in the field would never have run over that journey … except for the real fast-class ones like Makes Every Scents and Berisari," he said.
2000
May-13
Angelique Club Cup
Tailamade Lombo
May-20
Ladyship Cup
Tailamade Lombo
Jun-03
Queen Of The Pacific
Jilliby Gold
2001
May-12
Angelique Club Cup
Lombo Rapida
May-19
Ladyship Cup
Dancingonmoonlight
May-26
Queen Of The Pacific
Twinkletoes
2002
May-04
Ladyship Cup
Mother Courage
May-11
Angelique Club Cup
Mother Courage
Jun-01
Queen Of The Pacific
Champagne Party
2003
May-03
Angelique Club Cup
Nolarama
May-17
Ladyship Cup
Nolarama
May-24
Queen Of The Pacific
Edna Bromac
2004
May-06
Angelique Club Cup
Nolarama
May-13
Ladyship Cup
Party Date
May-27
Queen Of The Pacific
Gipsys Return
2005
May-06
Angelique Club Cup
Golden Flyin
May-13
Ladyship Cup
Golden Flyin
May-27
Queen Of The Pacific
Golden Flyin
2006
May-05
Cinderella Stakes
Chilled Sanction
May-12
Ladyship Cup
Molly Darling
May-26
Queen Of The Pacific
Mi Coconut
2007
May-04
Graham Goffin Memorial
Good Lookin Girl
May-11
Ladyship Cup
Vixen Hanover
May-25
Queen Of The Pacific
Artificial
2008
May-16
Graham Goffin Memorial
Mesmerizing
May-23
Ladyship Cup
Miss Hazel
May-30
Queen Of The Pacific
Good Lookin Girl
2009
May-15
Cinderella Stakes
Pacific Charm
May-22
Ladyship Cup
Jazzam
May-29
Queen Of The Pacific
Dance Of Life
2010
May-14
Cinderella Stakes
Make Mine Cullen
May-21
Ladyship Cup
Broadways Best
May-28
Queen Of The Pacific
Ananz
2011
May-13
Cinderella Stakes
Broadways Best
May-20
Ladyship Cup
Talaspring
May-27
Queen Of The Pacific
Life Inthefastlane
2012
May-11
Cinderella Stakes
Make Mine Cullen
May-18
Ladyship Cup
Make Mine Cullen
May-25
Queen Of The Pacific
Make Mine Cullen
2013
May-17
Cinderella Stakes
Real Bonus
May-24
Queen Of The Pacific
Our Sixpence
2014
May-09
Make Mine Cullen
Forever Gold
May-16
Angelique Club Pace
Baby Bling
May-23
Queen Of The Pacific
Gumdrops
2015
May-08
Make Mine Cullen
Frith
May-15
Angelique Club Pace
Berisari
May-23
Queen Of The Pacific
Steam Washed
2016
May-17
Make Mine Cullen
Gumdrops
May-13
Angelique Club Pace
Gumdrops
May-21
Queen Of The Pacific
Nike Franco
2017
May-06
Make Mine Cullen
The Orange Agent
May-12
Angelique Club Pace
The Orange Agent
May-20
Queen Of The Pacific
The Orange Agent
2018
May-05
Make Mine Cullen
Berisari
May-11
Angelique Club Pace
Berisari
May-19
Queen Of The Pacific
Ameretto
2019
May-04
Make Mine Cullen
Tell Me Tales
May-11
Angelique Club Pace
Berisari
May-18
Queen Of The Pacific
Pistol Abbey