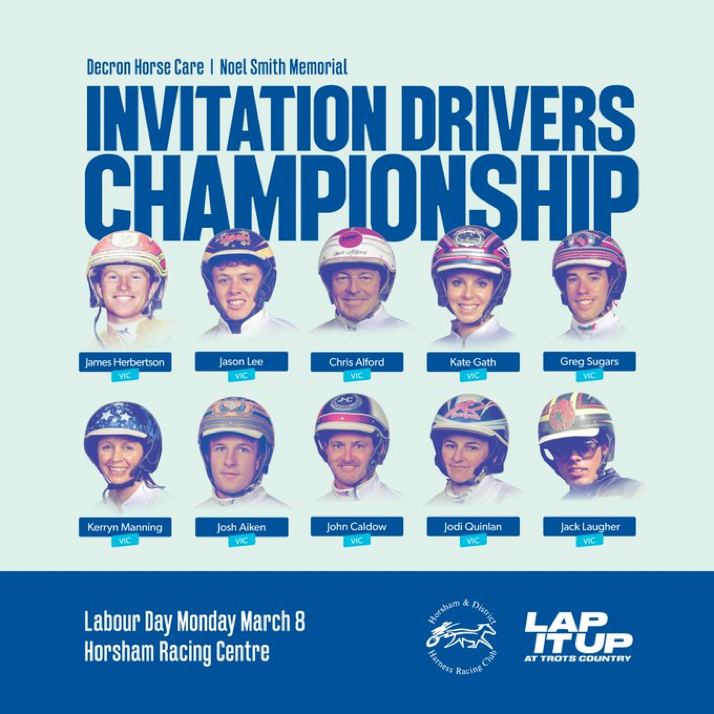 Jodi Quinlan returns to Horsham on Monday afternoon, looking to snare her second Decron Horse Care Noel Smith Memorial Invitation Drivers Championship.
Quinlan took out the title in 2005 and has fond memories of back-to-back Horsham Pacing Cup victories with Christian Melody (2010) and Glenferrie Alexis (2011).
The talented horsewoman has driven more than 2000 winners since posting her very first at Cranbourne with six-year-old gelding Zephyr Lad for uncle/trainer Gary Quinlan.
She took the time to answer some questions ahead of Monday's big race meeting.
GREATEST STRENGTH AND WEAKNESS? Determination and feeling sorry for people.
QUESTION YOU HATE ANSWERING? How old are you?
STRANGEST THING YOU'VE EVER EATEN? Crocodile.
YOUR HERO/HEROINE? Pink.
FAVOURITE AND LEAST FAVOURITE WORDS? Okaaay and swearing.
HOW IS YOUR GLASS? Half full.
IF YOU WERE ABLE TO SPEND A DAY WITH A CELEBRITY, WHO WOULD IT BE? Brad Pitt.
YOUR GUILTY PLEASURES? Coke and chocolate.
IF YOU HAD TO RETIRE TOMORROW, WHAT WOULD YOU DO? Farm cattle.
FAVOURITE READS, WATCHES OR LISTENS? Movie "Legends of the Fall".
IF YOU COULD BRING A FAMOUS PERSON BACK TO LIFE, WHO WOULD IT BE? Elvis for my Mum.
IF YOU JOINED THE CIRCUS, WHAT WOULD YOU DO? Lion tamer.
LAST TIME YOU RAN OR JOGGED? Six months ago.
A BAD HABIT? Chewing my fingernails.