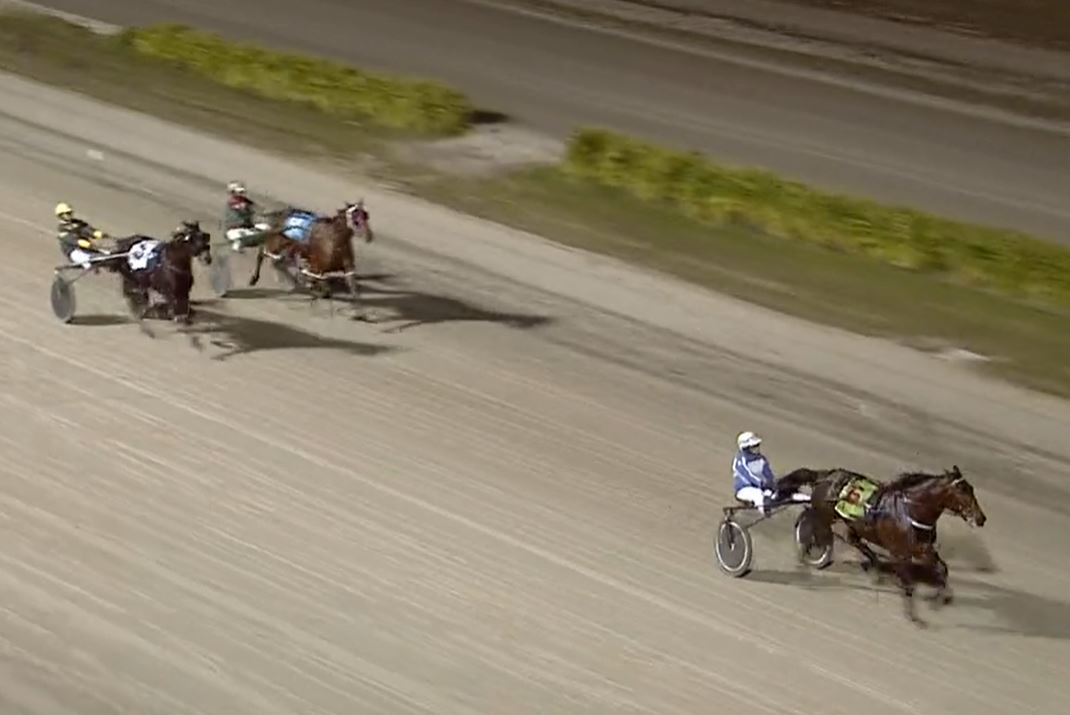 Saturday's chill took no heat out of the rise and rise of Ride High at Bray Raceway tonight, with Clayton Tonkin's pacer setting a new last 800-metre track record with cruise control locked on.
Kima Frenning and her five-year-old freak, who's now won 13 of his 14 starts, covered the third and final quarters in 26.9 and 26.5 seconds respectively, breaking the track record for quickest last 800 metres and quickest third quarter over 1710 metres.
And, according to Tonkin, he did it easy, with the trainer explaining to Trots Vision post-race why the Art Major entire didn't go faster.
"He's pulled up terrific," Tonkin said. "It wasn't a real hard night out for him, but it's quite cold here tonight and the track seems like it has got a bit of sand on it."
While the 1:53.6 mile rate is 'only' the equal 10th quickest mile rate at Ballarat over the 1710, he again proved himself a master of the last half, having gone 0.4 seconds quicker than the previous best – Wrappers Delight in an Inter Dominion pacing heat.
And he had plenty left in the tank.
"You get a cold night, the track's pretty deep – it wasn't a night to really open him up and go anything crazy," Tonkin said. "It is one of those races, it was a bit of a procession for him, but I think once we get better races and the weather gets a bit better that's more time to really cut him loose."
Ride High has won by 28.9, 12.8 and 13.5 metres in his three runs this season and Tonkin said he was "quite an intelligent horse" who needed to be kept on a tight rein at home due to his want to "dig in".
"We work him by himself a fair bit," he said. "Three days out (from a start) we always work him with a pacemaker, and he knows when one is going in front of him he's on and you think, 'hang on a minute'. You don't want to go too crazy with him. He gets a run and he wants to be off.
"He's a great track worker and a big strong colt, so he cops plenty of work. Biggest thing is you just don't want to let him overwork because everything you ask of him he's got a little bit more. We just don't want him breaking down. The times he can run at home are pretty crazy."
While Victoria has returned to region-based racing to help combat covid-19 and protect participants and essential staff, trots fans will continue to be able to enjoy Ride High, who was raced every fortnight since his June 20 return.
"We'll give him a race every couple of weeks," Tonkin said. "I really want to take him up to Menangle for a trip away, but with the borders closed and having to go into isolation for two weeks if you go across, it's just going to be a big ordeal to get him there. We will just have to sit and see what happens with the way everything goes."
CLICK BELOW TO SEE RIDE HIGH'S WIN AND HERE FROM KIMA FRENNING: