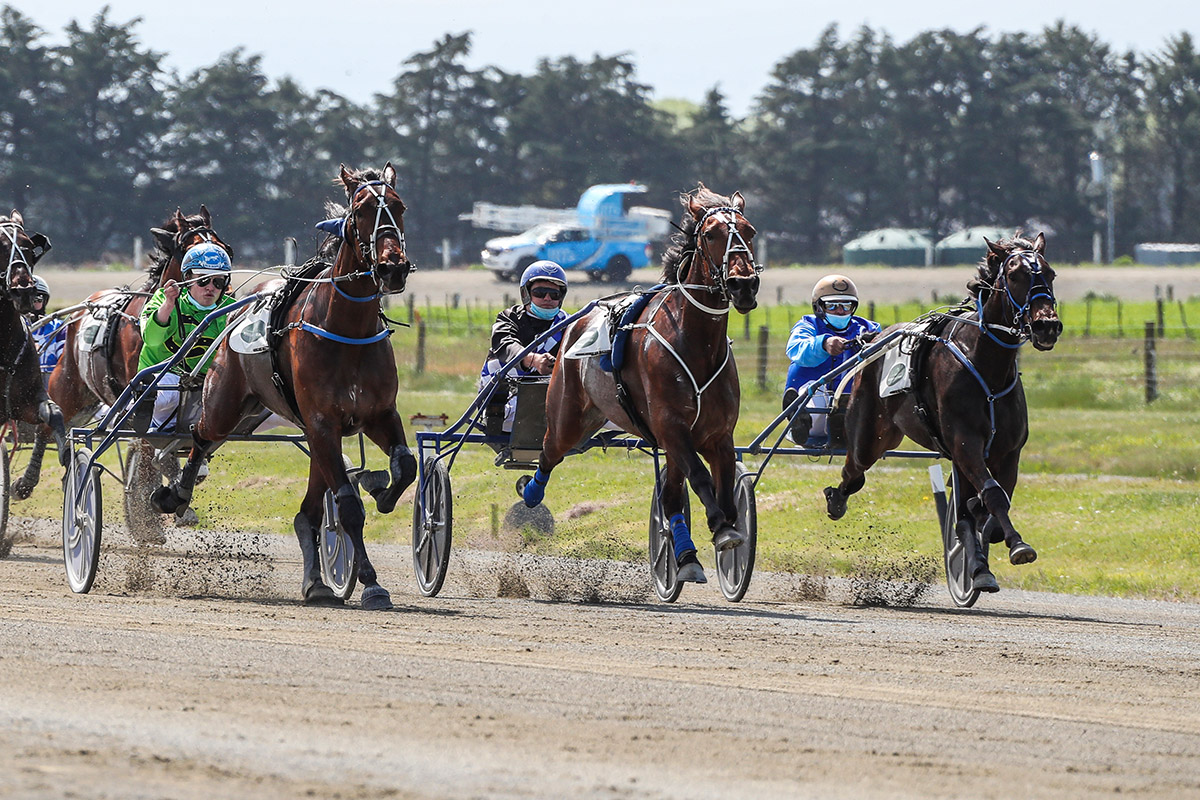 Muscle Mountain was so crushing at Ashburton on Monday he may have earned himself a busier November workload than was intended.
But co-trainer Greg Hope believes after the way he won the "What The Hill" Flying Sprint on Monday, the big fella can handle a bit more racing in this stunning crop of open trotters.
Muscle Mountain was only in the race after blowing the start at his seasonal debut at Addington last time, but he reminded everybody in harness racing just how good he is by sitting parked outside Majestic Man to grind him down in the straight.
The winner's stablemate Midnight Dash was close up in third, while Oscar Bonavena only battled into fourth and Bolt For Brilliance was never a chance after going back to last early on a day when the times were supersonic. None were more so than Muscle Mountain's 1:53.2 mile rate for the 1700m, with the last 800m in 54.4 seconds and the dash up the straight in 26.2.
It wasn't just time but the nature of the win that suggests Muscle Mountain is better than last season and Hope is willing to test that out.
"He has pulled up so well after that he will go to the Kaikoura meeting at Addington next Monday," he said.
"He will likely be up against Sundees Son and back to a standing start, but it will be good to test both of those things out before Cup week the week after."
While Muscle Mountain heading to the Kaikoura meeting is no shock - especially as standing start practice could be crucial for the Dominion 11 days later - what is slightly more unexpected is Hope's open mind about Cup week.
"Originally I didn't think he could start twice during the week, but I wouldn't rule it out now," he said.
"So, we will see how next Monday goes but I wouldn't rule out him starting in the Free-For-All on Cup day before the Dominion because he is that much stronger than last campaign.
"Ben (son and driver) said he just jogged it today and could have gone a bit faster."
The big trotter really is a family affair, with co-trainer and wife Nina spending up to an hour-and-a-half some days massaging Muscle Mountain's huge frame.
"We can tell he is a better horse than he used to be because when he was young the racing took so much out of him. He would be buggered for a few days after," Greg said.
"But now he seems to come through the races so much better and hopefully that gives us options."
The win saw Muscle Mountain into $3.2 second favouritism with the NZ TAB for the Dominion on November 12, with Sundees Son drifting slightly to $1.70 to accommodate the percentage change.
---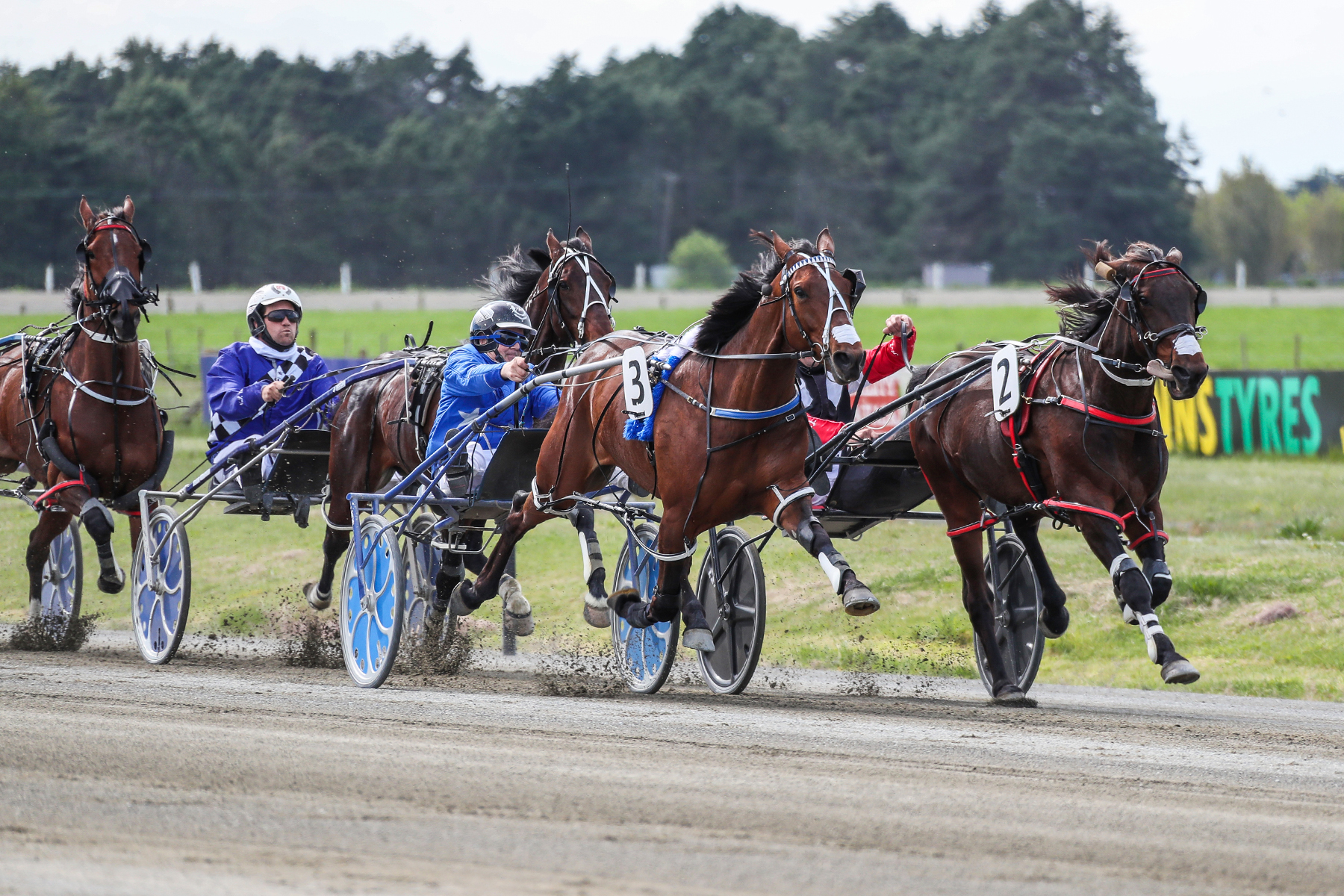 Self Assured ticked almost every box he could in the Flying Stakes at Ashburton on Monday, but the IRT New Zealand Cup picture didn't feel any clearer.
Because while his manners, times and most importantly race result were all what his connections would have wanted, it was hardly the domination punters would have been expecting after just 100m.
The hot favourite stepped away beautifully (big tick) in the 2400m standing start and was immediately gifted the front by Classie Brigade, putting Pembrook Playboy three back and effectively handing the race to Self Assured.
Or that was how it looked until Classie Brigade burst up the passing lane and headed the favourite at the 100m mark before Self Assured fought back.
Pembrook Playboy was never really clear in third, while Laver was enormous in fourth thanks to a smart drive from Gerard O'Reilly.
Krug, who started eye-poppingly short in his first open class run in NZ, settled back and was never a chance so his run was best forgotten.
It was hard to know what to make of the win because Self Assured did everything right, but he would have been expected to race clear and cruise home. Maybe that is harsh on him, especially considering he paced the last 800m in 53.2 seconds and the final 400m in 25.7, so it is hard to go much quicker.
Had Self Assured paced those times and won by three lengths we would be engraving his name on the NZ Cup again already, but the margin suggests there is still life in the Cup build-up yet.
Purdon said after the race Self Assured didn't see Classie Brigade - whose own performance shouldn't be underestimated - until it was almost too late, but he regathered himself and dug deep just in time.
The performance suggested both mentally and physically he needs another outing before the Cup in two weeks, with Purdon saying the Cup trial on Wednesday week is more likely than the Kaikoura Cup next Monday.
With South Coast Arden heading there, Copy That staying home to catch the plane south on Thursday week and Bad To The Bone possibly heading to the Sales race at Addington instead of the Kaikoura Cup, the favourites for the great race could be arriving at Cup day via very different paths.
While Self Assured opened the door of doubt for the Cup, his stablemate Franco Indie left no doubt who should be pre-draw favourite for the Sires' Stakes Final when he came from last to smash his heat rivals on Monday.
He was aided by being out of the early burn, but still looks imperious and paced a 1:51.9 mile rate, his final 400m after sitting parked in 26.8 seconds.
That saw him tighten to $1.85 for the final with the NZ TAB and that could be even shorter come raceday if he draws better than Republican Party, who missed Monday and is out to $2.70 in a contest the bookies are pricing as a race in two.
Later in the card, Adore Me's little girl Darling Me paced a national record 1700m in a cracking mare's race, with her 1:51.4 mile confirming as all Monday's sprints did that the move from 1609m to 1700m for Ashburton has been a smart one.