An Inter Dominion Championships campaign is at the forefront of Stawell hobby trainer Ray Harvey's mind with tough-as-nails squaregaiter The Penny Drops after his third-successive country cup triumph on Sunday.
The gutsy five-year-old gelding backed up his Kilmore and Swan Hill wins with a fighting display in the TAB Maryborough Trotters Cup, which helped him climb to second on the Maori's Idol Trotting Championship standings.
Driver Grant Campbell parked the son of Danny Bouchea outside leader Robbie Royale for much of the 2690m trip, and despite looking beaten approaching the turn, he rallied again and wore down his main rival to win by a half-neck.
It was a fighting and admirable success off the 10m handicap and cemented Harvey's charge as one of our brightest trotting prospects.
"Probably before today, my job has been pretty easy (in) the first two (cups). Today was a little bit harder...," Campbell said.
"There's nothing glamorous about him at all to look at on paper before he ever raced, but Ray has just taken his time with him. He was always a very big, gangly lad.
"When you look at him now, you can excuse him for all the little idiosyncrasies he's had during his career. He still showed them again today - he hung in quite bad around the home turn - but he was under a lot of pressure.
"I think the fact that Ray has just taken his time with him, the horse has now fully developed and he's just a magnificent stayer... loves the trips."
>> READ MORE: Patient Ray's home-bred gun worth a pretty Penny
The Penny Drops' winning mile rate of 2:02.8 was just a shade outside Down Under Muscles' track record of 2:02.5, which has stood since 2011.
Campbell said it was Harvey's dream to get the horse to New South Wales for the Inter Dominion carnival during November and December.
"That series will probably suit him," Campbell said.
"The distances of the heats probably doesn't in one way - I think there might be a 2100m heat and a mile heat - but the 3000m final, he would love it. Especially around Menangle I think. But you've got to get there.
"COVID is one big thing, qualifying for the final is another big thing, but Ray is really keen to get him there if he can."
The Penny Drops trimmed Well Defined's lead in the Maori's Idol Trotting Championship to 16 points with Sunday's success, which has taken his career record to 14 wins from 50 starts.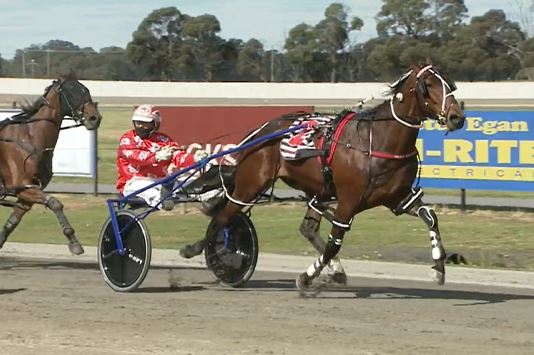 Fresh off a Group 1 victory the night before at Ballarat, champion reinsman Chris Alford was back clutching the silverware again after partnering the exciting Willie Go West in the Community Bank Maryborough Gold Cup.
Alford sent the Dean Braun-trained gelding to the front from barrier two and that's where he stayed for the entire 2690m journey, dashing home in final quarters of 27.2 and 28.7 to record a mile rate of 1:55.8.
Emma Stewart's Our Millionaire trailed Willie Go West in the run and was beaten 3.3m in second, with fellow peg line runner Boots Electric (Russell Jack) finishing third.
"He's always had that raw ability, just been a bit funny in his gait and a bit moody maybe, but he's really starting to hit his straps now," Alford said.
"He got very fired up today when the challengers kept coming, but to run out the 2600m the way he did shows the stamp of a really good horse."
Willie Go West, who was nominated for the Pryde's EasiFeed Victoria Cup but missed a start in the Grand Circuit classic, has now won eight of 17 starts.
WATCH WILLIE GO WEST'S WIN BELOW:
WATCH THE PENNY DROPS' WIN BELOW: