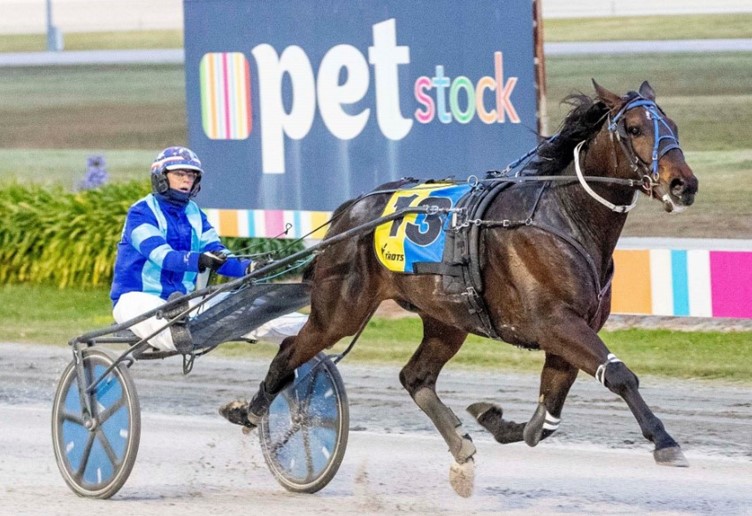 Gifted squaregaiter Plymouth Chubb is all systems go for his Interdominion campaign next month – although Victorian trainer Peter Manning admits he might not get the opportunity for what he considers an ideal preparation.
The brilliant but injury-plagued four-year-old has had just five starts this season, and could possibly head to Queensland with just two starts under his belt in this campaign.
Plymouth Chubb stormed back into calculations for the Inter Dominion with an eye-catching fourth beaten five metres on comeback at Maryborough on Redwood Day (Oct 29) and the master Great Western trainer said he'd pulled up well from the run.
He had the gelding penciled in for Saturday night's (Nov 11) Free For All at Melton, but with a bare minimum of nominations, it's by no means certain the race will go ahead when fields are released at 11.30 this morning (Nov 8).
"It's a pity the nominations are pretty light on – but there are three Inter Dominion horses nominated in that race, so we can only hope," Manning said.
"I'm really pleased with the way he's come on after Maryborough, and he pulled up really good from his fastwork this week but I was really hoping for another run before the Breeders Crown (Melton November 18) and then going up for the Inter Dominion," he said.
Plymouth Chubb is currently sitting at 10 on the Trotters' Inter Dominion rankings, but also nominated for the Saturday night Melton fixture are Just Believe (ranked 1), also resuming after his successful European campaign, and Caligula (number 21).
Plymouth Chubb was a revelation in his two-year-old season, winning 14 of his first 15 starts, including the Gr 1 Vicbred Super Series and Breeders Crown.
But he was struck down with a fractured pastern that emerged in trackwork just days after his Vicbred triumph and spent eight months on the sidelines.
In his return campaign Plymouth Chubb scored victories in a heat of the Great Southern Star and in the Gr 2 Knight Pistol in February this year before being forced into another extended layoff when a problem occurred with a screw inserted to repair the original fetlock injury.
But Manning says his star is healthy and ready to go – but would certainly benefit from an extra run on Saturday night.
"He seems great and looks terrific but I just wish he wasn't so fat – I'd rather have him looking like a racehorse than a show horse!" Manning laughed.
"I think in the four months spell he about doubled his weight – and we've got about half of it off him! But you've got to just go with what you can do, and if it doesn't go ahead on Saturday night, there's nothing I can do about that."
The third round of Inter Dominion rankings is due to be released today.