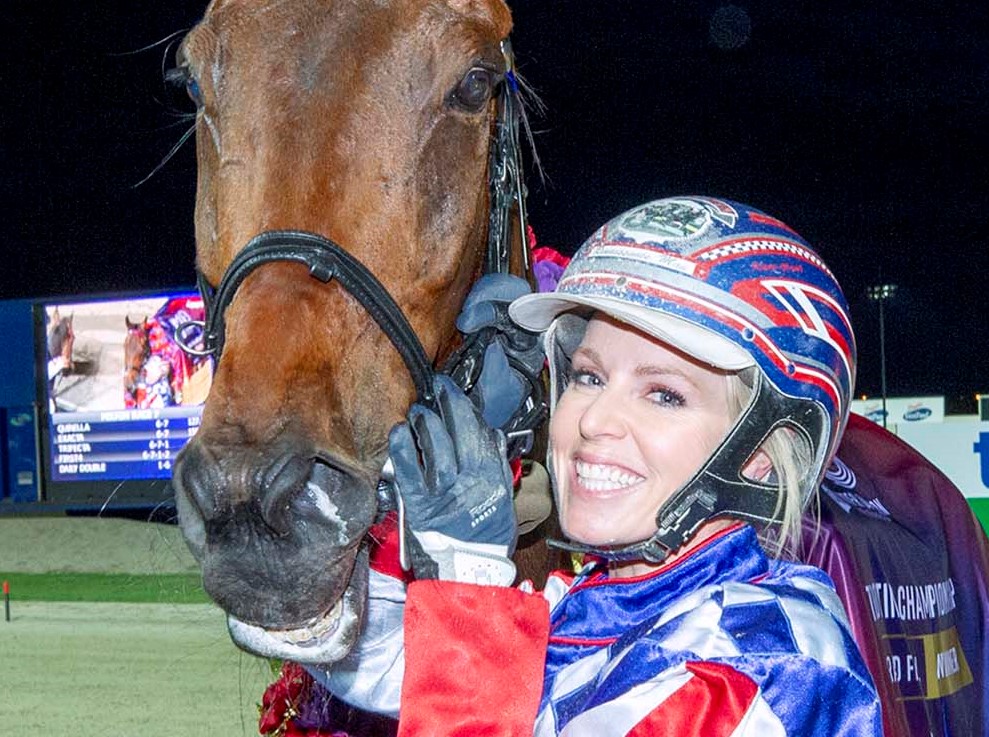 Kate Gath has been selected for the hottest seat in harness racing with the talented reinswoman chosen to drive Ride High, beginning with Saturday night's $30,000 short-course pace at Terang.
Trainer Clayton Tonkin and co-owner Peter Gleeson have entrusted the speed machine with Gath, with the reinswoman telling Gareth Hall on RSN927 she was "thrilled" to get the call up.
"I only found out about 8.30 this morning," she said. "I just received a phone call, it was completely out of the blue for me – I didn't expect it at all, not even remotely.
"I'm incredibly grateful for the opportunity through the owners and Emma and Clayton and really looking forward to it. He's a once in a lifetime horse, I'm incredibly fortunate to be able to sit behind him and I can't wait to get out there."
Gath replaces Kima Frenning, who has steered Ride High throughout his outstanding campaign that's broken records and produced five wins from as many starts amid a 10-race winning streak.
Frenning announced on Twitter she was stepping "away from driving to focus on training and pre-training horses", thanking those who had supported her across 1400 career starts that yielded 325 wins and 387 placings.
The batten has now been passed to Gath, beginning with the Christians Bus Gammalite Pace at 6.02pm on Saturday night, when despite being the only horse of the back row Ride High's been installed a $1.04 favourite.
The price comes as no surprise to Gath.
"(He's been) up there with the most astonishing performances I've seen," she said. "They don't really do what he's been doing.
"I was there at Bendigo and was sitting in the grandstand, it was only Andy and I sitting there, and we just got goose bumps with him coming up the home straight. He's probably one of the most exciting prospects we've seen for a while.
"To be able to sit behind (him) is something I didn't expect and am incredibly appreciative off."
Not only is Ride High a short price for Saturday night but he's also a $2.10 favourite for the Pryde's EasiFeed Victoria Cup.
However, Gath said she would take the expectations in her stride, having been there done that when steering About To Rock to victory in the 2006 Hunter Cup, Caribbean Blaster in the 2012 Victoria Cup and 2012 Chariots Of Fire, both Glenferrie Typhoon (2017) and Tornado Valley (2020) to Great Southern Star wins and Tornado Valley to the 2018 Inter Dominion Trotting Championship.
"There will be (pressure), because he's so good," Gath said. "I've never really felt pressure too much throughout my career, but probably never had horses in big races that are favourites either. Tornado Valley during Inter Dominion, he was just expected to win with his gait speed, so you felt a little bit more there as opposed to when you can (get up in) the big races without necessarily anyone expecting you to.
"I will just take it as it comes. At the moment it's excitement and something that I am hugely looking forward to."
CLICK BELOW TO LISTEN TO THE FULL INTERVIEW: