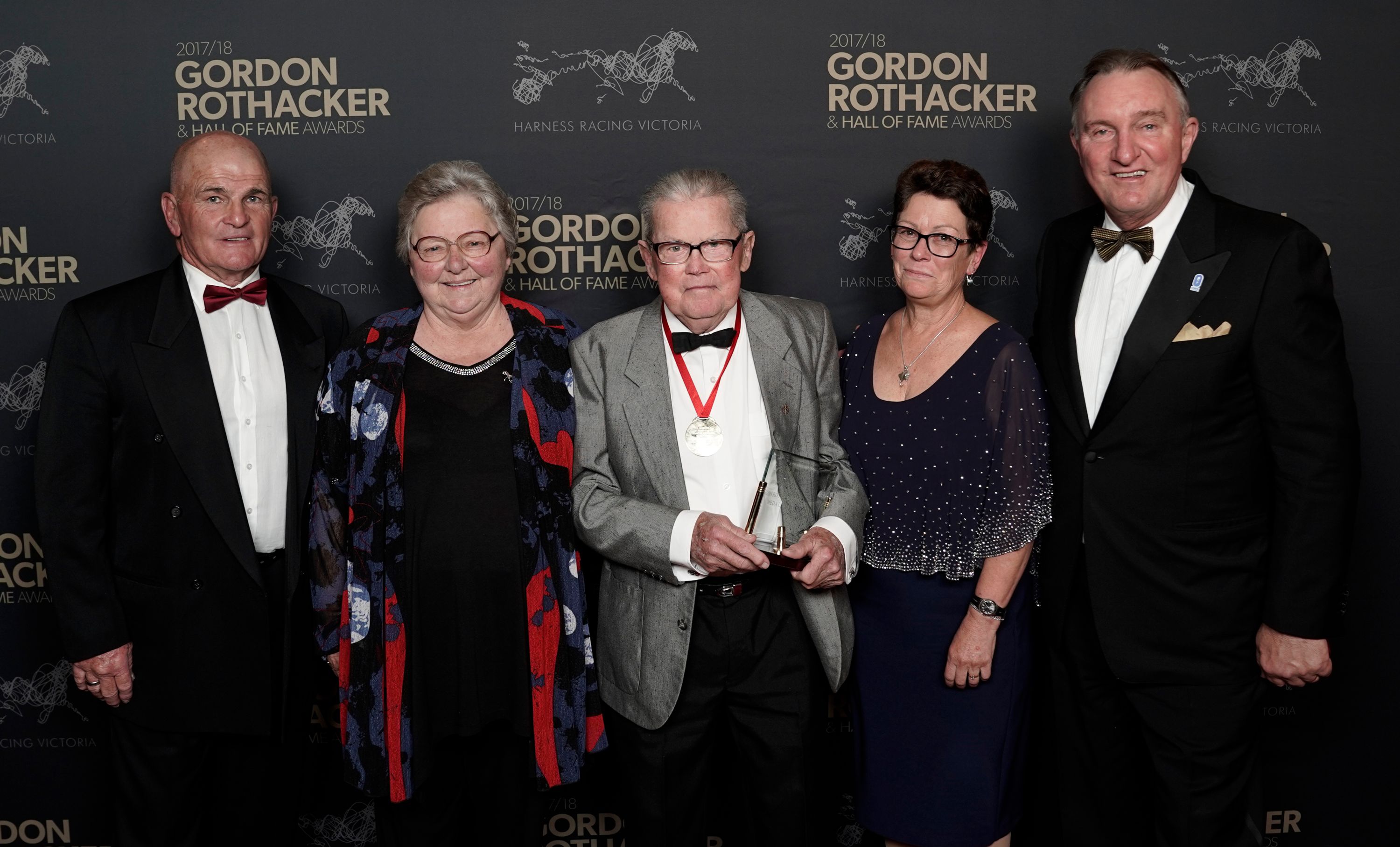 The trots industry is given an almighty tip of the cap to outstanding participants and contributors in both season 2017-18 and over a lifetime at Harness Racing Victoria's Gordon Rothacker Medal night.
It was great to hear from the following winners who were on hand to accept their awards at the Palladium at Crown.
Gordon Rothacker Medal: Dick Lee
The most important award in Australian harness racing, the Gordon Rothacker Medal.
A prolific Group 1 winning trainer and driver, successful breeder and owner are credits that tell only a small part of the tale that belongs to the 18th recipient of the Gordon Rothacker Medal.
An international and trotting pioneer, outstanding administrator and tireless volunteer are further distinctions that rest comfortably on the shoulders of this trots enthusiast, who first sat in the sulky as a schoolboy and would become a horseman of 70 years and counting.
The son of a soldier-settler was a track ranger at the Melbourne Showgrounds before accepting a position as a private trainer in the emerging trotting industry in Wales, taking a team of horses to the UK where his first season would produce 105 drivers for 29 wins. The adventure would also see him compete in Holland, Germany, Sweden, Belgium, Russia and the US, always with trotters.
He would reportedly return to Australia in 1970 with a wife, a trainer-driver premiership, half-a-dozen miniature Irish donkeys and a horse in tow. The horse, Hermes, would sire 1976 Melbourne Cup winner Van Der Hum.
But it was trotting, not gallops, that was the passion of I. R. Lee, otherwise known as Dick, who served 12 years as president of the Victorian Square Trotters Association to advocate for the gait, with his committee a hotbed of ideas that would spur trotting's resurgence.
Among those were for a two-year-old trotting Classic, which would come to fruition in 1985 and be named after the association's first president Hugh Redwood. Some 11 years on the Redwood Classic would become part of Dick Lee and his persistent committee's grand want – an all-trotting card. In 1996, Redwood Day was formed and would be a celebrated annual fixture of the Victorian season.
Dick Lee would have also plenty of success on the track, including with Australian Trotters of the Year Hampdens Pride and Game Ebony and, perhaps most famously, Rufus Youngblood, whose racing career included 32 wins, 23 seconds and 18 thirds from 139 starts, including in 1987 becoming the first Australian-bred horse to win four Derbies. Rufus Youngblood was named Australian Horse of the Year in 1987.
A tireless volunteer and administrator, talented horseman and respected gentleman, I. R. Lee is a worthy recipient of the 2018 Gordon Rothacker Medal.
Dick Lee: "I'm never speechless, but I almost are tonight. I'm just so humbled to have this medal around my neck, baring the name of a man who was an inspiration to so many of us. I think this medal, I would like to share it with the original committee of the Victorian Square Trotters Association. The association was formed in '79 and it was formed because the trotter was going down the gurgler. We approached clubs, we have the Oaks run, which were never run before, and we invented the Redwood. I represented the association on the industry advisory council that Ian McEwan set up and, as we were sitting around the table at Moonee Ponds, he looked across the table at me and said 'will it be a goer'. I said 'yes'. He said 'it had better be or you won't get another chance'. And it was a wonderful day and now it's probably the biggest provincial day in the land. I love the trotter. I believe in the next eight to 10 years on a 10-race program we will have eight trots and two pacing races. None of us could have achieved what we have without the help of our wives, our husbands and our staff at home. I'd like to thank all of those behind the scenes who make this game of trotting what it is."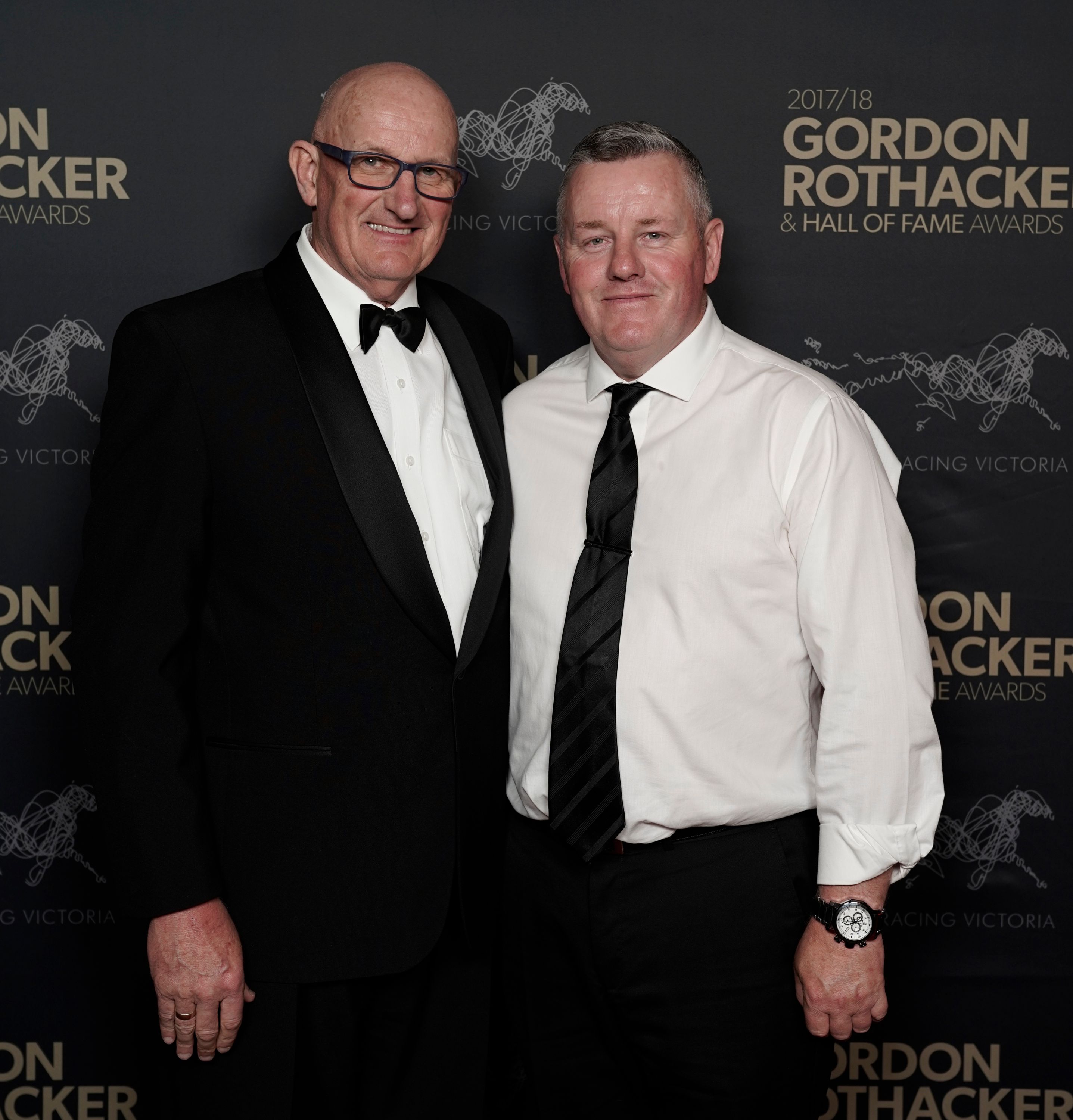 Distinguished Service Medal: Paul James
Four decades in the industry, including helping transforming Ballarat and District Trotting Club and helping rising stars of the industry.
Paul James: "It's been a very long journey. I feel embarassed to accept this because it doesn't matter what organisation you are in you won't find anyone who can do it alone. I would like to honour the Minister and to Harness Racing Victoria. I have been blessed for the friendships I've been able to make over that period of time. Administration is a passion of mine and so is bringing young people through. I'm more than happy to accept this on behalf of everybody in the room."
Pearl Kelly Award: Kate Gath
Kate has been a harness racing driver since age 16 and is an integral part of the successful team with trainer and husband, Andy Gath. She has driven more than 1300 winners, including 20 Group 1s. The Pearl Kelly Award ackowledges outstanding contribution to the sport by a woman.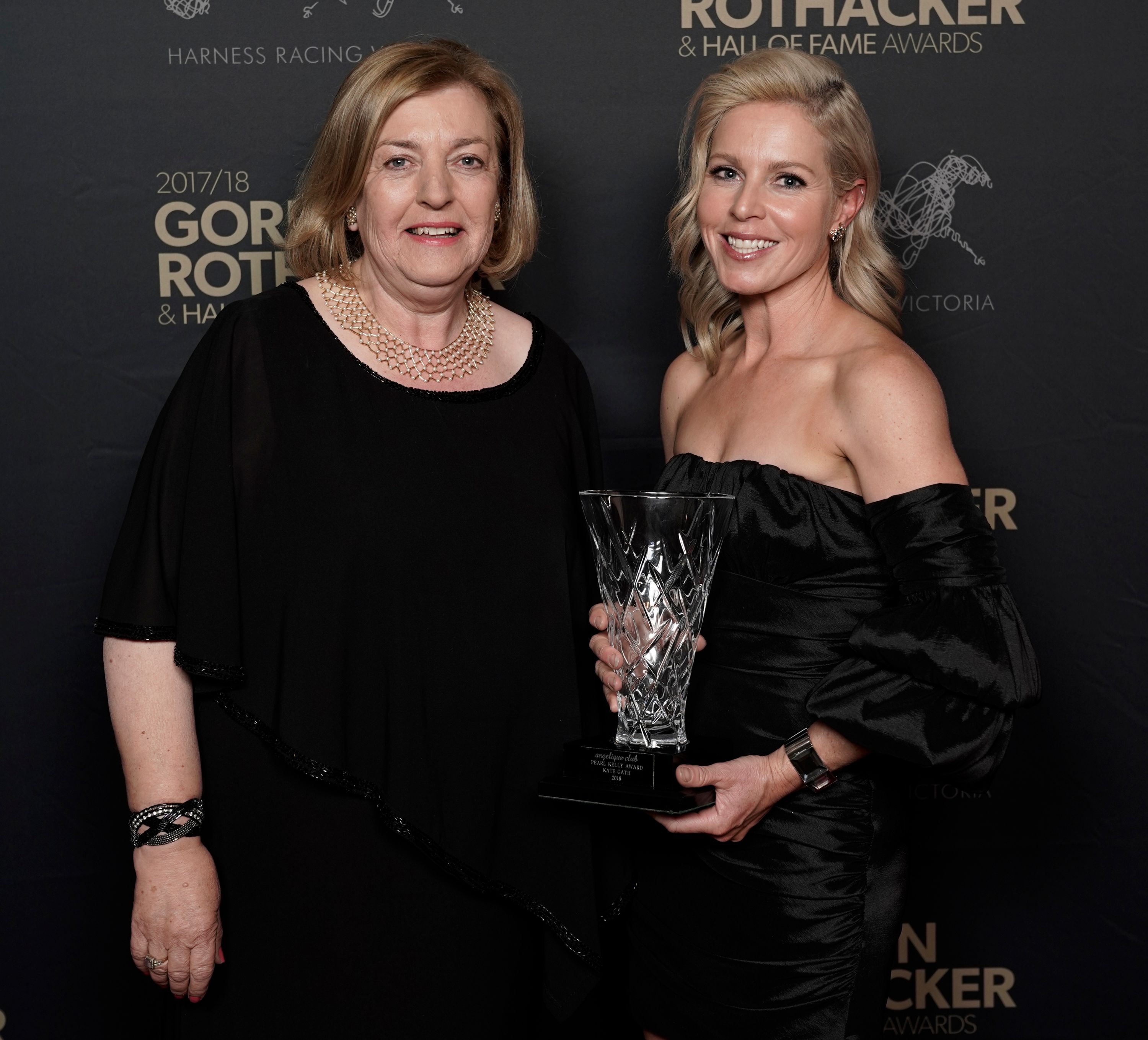 Kate Gath: "It's a thril to win this award and I'm very grateful. Everything has to evolve and we have to get out there to do what we can to make the sport better and bring the spotlight on the sport. Dad (Peter Thompson) started everything going, taught me a lot, and I was really lucky to meet Andy."
VHRSC Owners of the Year: Merv and Meg Butterworth
Merv Butterworth: "I can't believe that we won this. I want to thank Kerryn (Manning) and Grant (Campbell) for their great job in preparing our horses. Most of them race under the Butterworth syndicate, which is Meg and I and no one else. We do it for fun, we don't do it for business, and if there's a quid at the end then that's good."
Alabar Victorian Concession/Young Driver of the Year: Jason Lee
Jason Lee: "You are always learning, every time you go out there you get something different chucked at you. I'm very lucky to have won this award on so many occasions, it's good to see so many good young drivers out there. Without the family I'd never be in this situation - a big thanks to Mum and Dad, the four uncles and Nana and Pop who kicked everything off."
Aldebaran Park Leading Monte Rider: Jackie Barker
Jackie Barker: "It's not so much different to driving a race, you've got to have that race sense. The key to driving a monte is getting away to a good start and being in a good position."
As part of the award, courtesy of Aldebaran Park, Jackie recieves a return flight to experience Europe's great trots racing.
"It's so exciting, I don't know what to say. Aldebaran Park has been a huge support throughout the course of the season and I want to thank all the trainers who have given me such great rides throughout the season."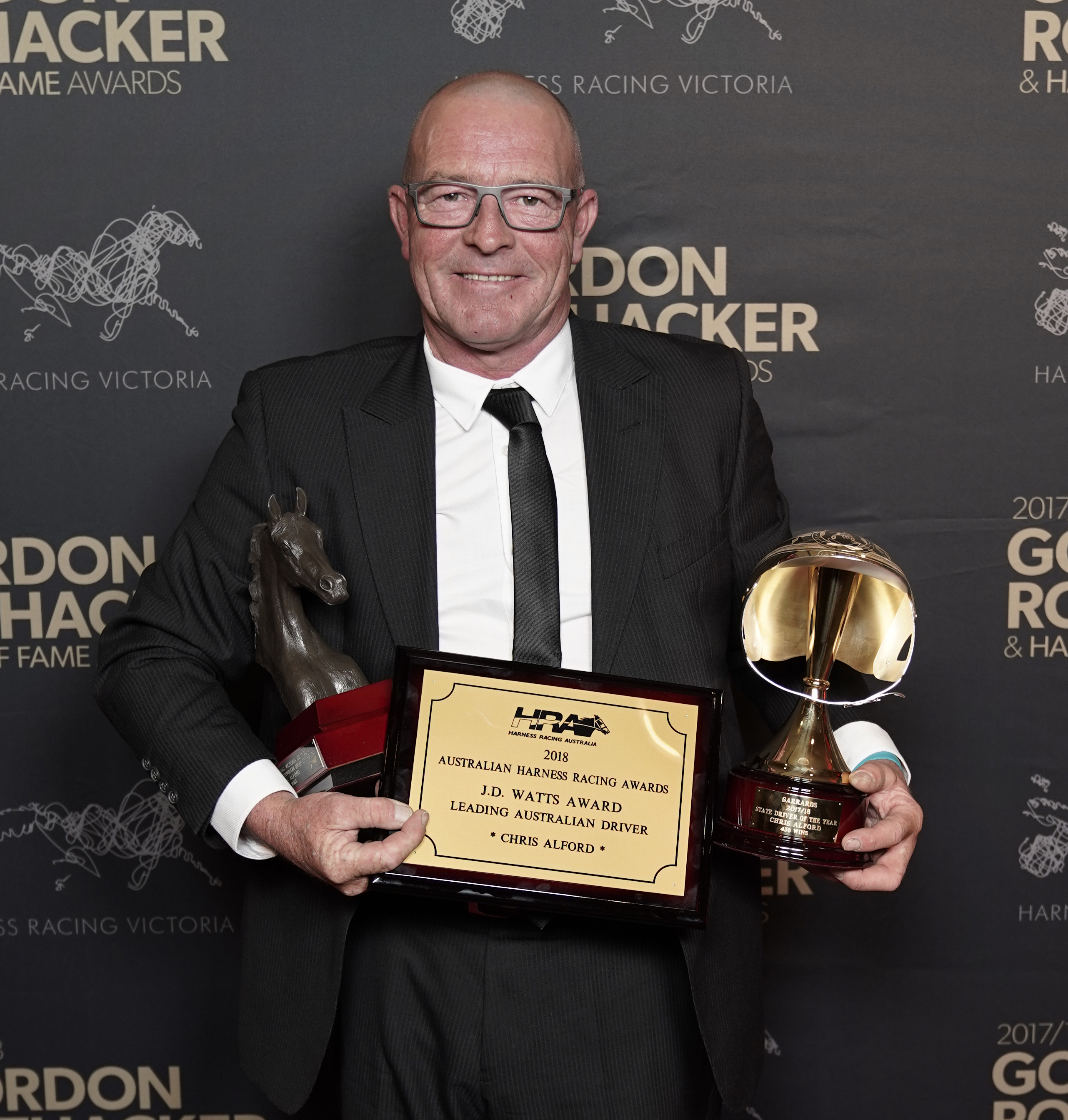 SBG Accountants Metropolitan AND Garrards Saddlery State Driver of the Year and Australian Driver of the Year: Chris Alford
Chris Alford: "We started off really well, usually in September we try and get away for a holiday, but something happened and we just kept racing. I got to 200 and 300 and then I thought I might be able to give Darryl Doulgass's record a crack. Then I got to 400 and just kept rolling to 457. I doubt I'll break it, it takes a heap of support from a lot of trainers and also the owners. It will get broken one day as long as harness racing keeps building."
Taylors Metropolitan AND Renown Silverware Victorian Trainer of the Year and Australian Trainer of Year: Emma Stewart
Emma Stewart: "Clayton (Tonkin's) the most driven person you will ever see, I'm hoping he slows down, I'm hoping last year will be enough but I doubt it. He's the driving force behind it. Without our terrific owners and Chris (Aflord) and our great staff we wouldn't be able to do it. Tomorrow we have off, which is unsual, tonight's the night everyone lets their hair down. This is the night we aim to be at. The future's exciting."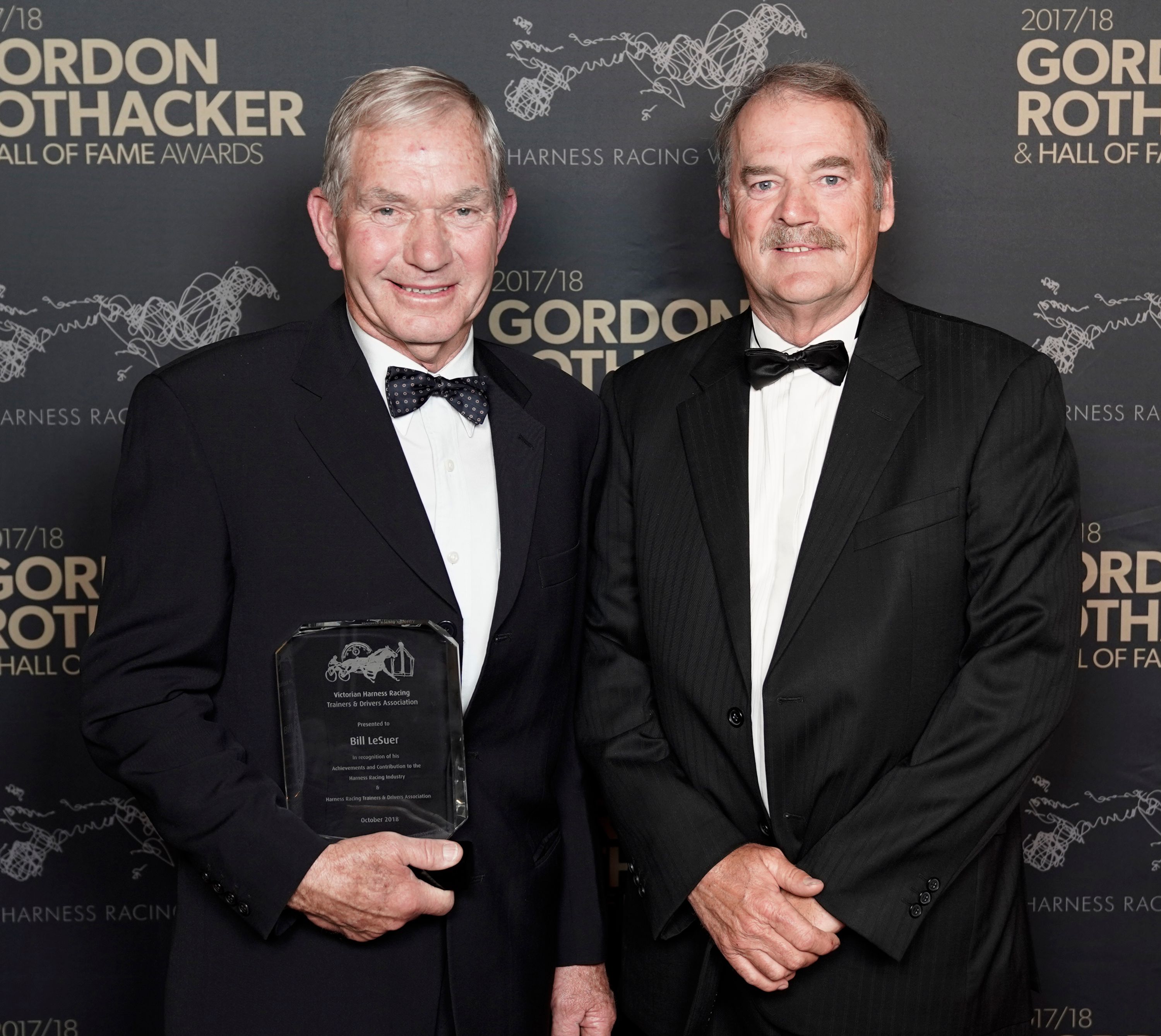 VTDA Victoria Trainer/Driver Award Bill Le Sueur
Bill Le Sueur: "Unbelievable, I had no idea. They conned me into coming. I just can't believe it, I appreciate what they've done. We just slogged on over the years, we just did everything we had to do. Thoughout the industry there have been people who have come and gone and meant a lot to me."
Benstud Standardbreds Victorian Pacing Broodmare of the Year: Pixel Perfect (Rob Watson):
Sue Markwell on behalf of Rob Watson: "I'm so pleased for Rob. She's a beautiful broodmare and done a fantastic job and today we've found out she's in foal to Betting Line."
Niota Bloodstock Victorian Trotting Broodmare of the Year: Tupenny Bit (Colin Murphy)
Mare of Pound Foolish, Save Our Pennys and Wobelee. Colin Murphy: "Wobelee will take quite a bit of time to get back to the races, he's had a fracture in the knee so he will take some time."
Woodlands Stud Victorian Breeder of the Year: Anne and Bill Anderson of Lauriston Bloodstock
Anne Anderson: "We've been so fortunate this year - Poster Boy, Speak No Evil, who's my favourite, and Hurricane Harley who finally got it all together for Breeders Crown. We have wonderful people work for us at Lauriston Bloodstock. We love to go up there and see happy mares and happy horses all looking so well. It's a very special award, you put a lot into it, there are good times and bad times - you do lose mares, you do lose foals, and it takes some time to recover from that. We love them all. It's a great award to receive."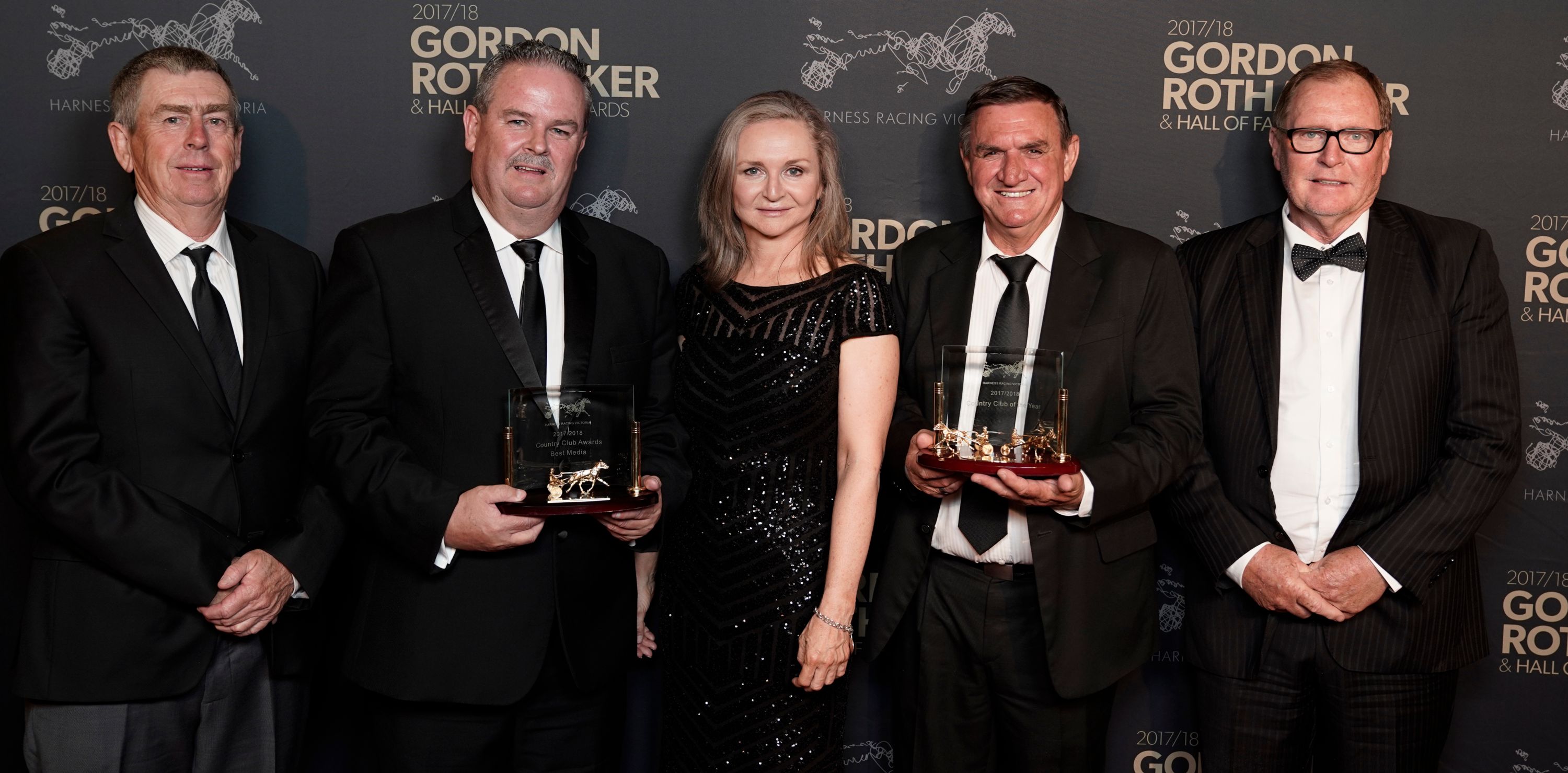 Country Clubs - Best use of Media: Mildura Harness Racing Club
Country Club of the Year: Mildura Harness Racing Club
Tim Scala: "We've been lucky. People in the past have set up activities, where we have good coverage in the newspaper and we've continued that on. On radio we have a really good event that promotes trotting in the district.
"It helps when you have a great committee behind you who spend a lot of timing coming up with new ideas. Their work behind the scenes as volunteers helps the whole club work their initiatives through. The club is going forward, we are doing a lot in the community and we are driving up turnover."
Country Club - Event of the Year: Charlton Harness Racing Club
Joe Thompson: "It was a lot of hard work by all of our committee, particularly our marketing girl Andrea O'Gorman."
Country Clubs - Best Presented Track/Venue: Stawell Harness Racing Club
Lisa McIlvride: "We had a pretty rough go at Stawell for a little while and when we redid the track, it's just been amazing."
Frank Watson Memorial Secretary of the Year: Bob Watson (Cobram)
Bob Watson: "I'd like to thank my wife, Margaret, who does a huge share of the work. The commitee work very hard."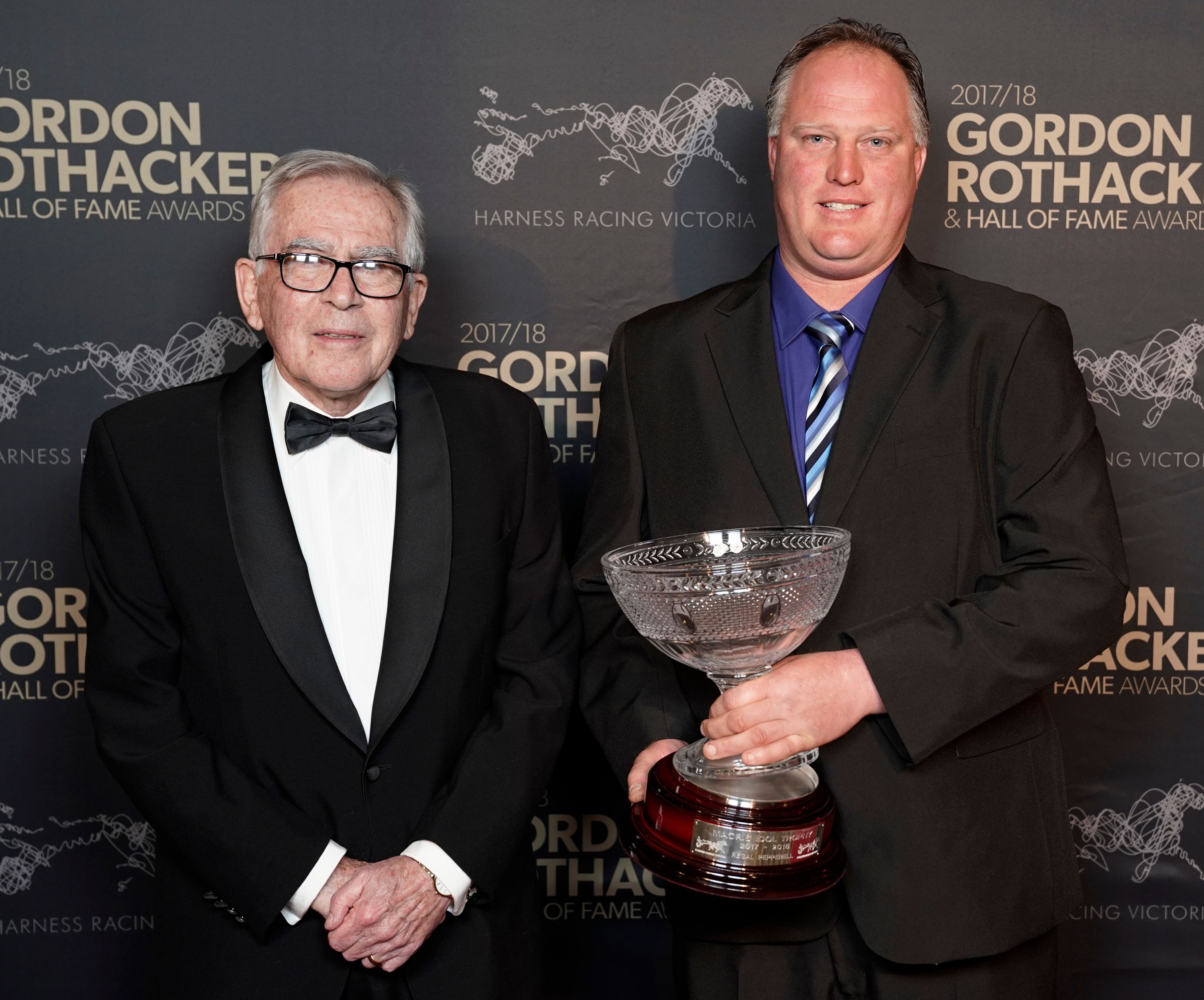 Maoris Idol Trotting Championship: Regal Pepperell (trainer Michael Barby)
Owner Geoff Hood: "She's one of the worst gaited horses we've ever had. She was likely to gallop at most of his starts, and I feel so sorry for Anne-Maree Conroy who drove her. Mick Barby has turned her around and sorted her out. At one stage I said to Mick we should retire her, but Mick said no and he's turned her around. We'd like her to get to (the Inter Dominion)."
Trots Country Cups Championship: Shadow Sax (Pam and Russell Hockham)
Pam Hockham: "He's wonderful. He's a beautiful horse. I just love him and thanks to Emma and Clayton and Peter and all the staff. Definitely he is (a grand circuit horse), we are looking forward to the Inter."
Trots Clubs Victoria Volunteer Service Award: Ian Purdey
Ian Purdey: "I am overwhelmed. We started in 1969 at Kyabram with a big clay patch and built a track the size of Moonee Valley and built some barns. Today we've got a very proud club and have done wonderful things for trotting in that area."