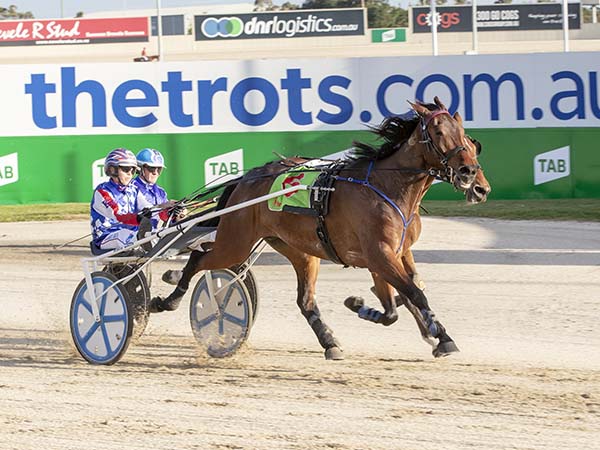 Andy Gath's biggest name blows back into the trotting conversation this Saturday night, when Tornado Valley returns to contest the Group 3 Touch Merchant Trotters Free For All.
However, trots fans will have to wait a little longer before Gath's latest Norm Jenkin-owned Kiwi steps out, with Everybody Knows scratched today after tying up after fast work, something which has plagued his time in the new camp.
The Quite Easy eight-year-old was set to make his Australian debut from gate one on Saturday night, but the camp will reassess after this latest setback.
"(Everybody Knows) tied up again after fast work unfortunately," Gath said this morning. "He can't race with that (resultant) treatment. It has been an issue the whole time we've had him, it's a bit of a concern."
Much of the spotlight will instead turn back to Inter Dominion champion Tornado Valley, whose last start ninth placing in the March 9 Australian Trotting Grand Prix was his only miss this season, when he's hit the line first nine times.
Gath joined RSN 927's Gait Speed this week to preview the reigning Victorian Trotter of the Year's return.
"Obviously he's the best horse in the stable and when you have the best horse back to the races it's something to look forward too," Gath said.
His return coincides with stablemate McLovin heading for a well-earned spell, having won nine of 14 starts since his Australian debut on February 9. At the prompting of hosts Jason Bonnington and Blake Redden, Gath said he didn't think "there's too much between them".
"McLovin is probably a little bit stronger and Tornado Valley is probably more brilliant, obviously gate speed will take him a long way, but whoever drew good out of both of them would probably beat the other one home. We will find out down the track when they clash again."
Speaking ahead of today's scratching, Gath also gave some insight into expectations for Everybody Knows, whose record over the Tasman included 2015 and 2016 metropolitan wins ahead of the likes of Courchevel, Kingdom Come and Il Parata, with the latter two now also in the Gath stable.
"He's probably the best performed trotter I've bought from New Zealand," Gath said. "He's won $150,000, he's been placed in a fair few Group 1s, so he's a lovely little horse.
"He went back up north (of New Zealand) and was racing a fair bit out of form, so we could get him fairly cheap. He's probably a more sit-sprint type horse, but he can have quite a good career while he's here in Australia I think."
CLICK BELOW TO TUNE IN TO GAIT SPEED: