Here it is, the first edition of the new-look The Score Up column, wrapping up news and views from the trots at the weekend with an obvious Victorian flavour and throwing out some topics for discussion for this week.
Contributions via social media are welcome. Use the hashtag #TheScoreUp on Twitter and tag me in (@CodyWinnell) or HRV Trots Media (@TheTrotsComAU) so we see it.
Obviously not going to guarantee including every tweet that comes our way, but if it works and fits into the column we'd be happy to promote it. And we'll look to reward some of the best contributors from the Word on the Tweet (let's call it that!) down the track come carnival time. We'll have some pretty cool prizes... so watch this space and get tweeting.
Righto, let's roll.
Patience pays off for Professor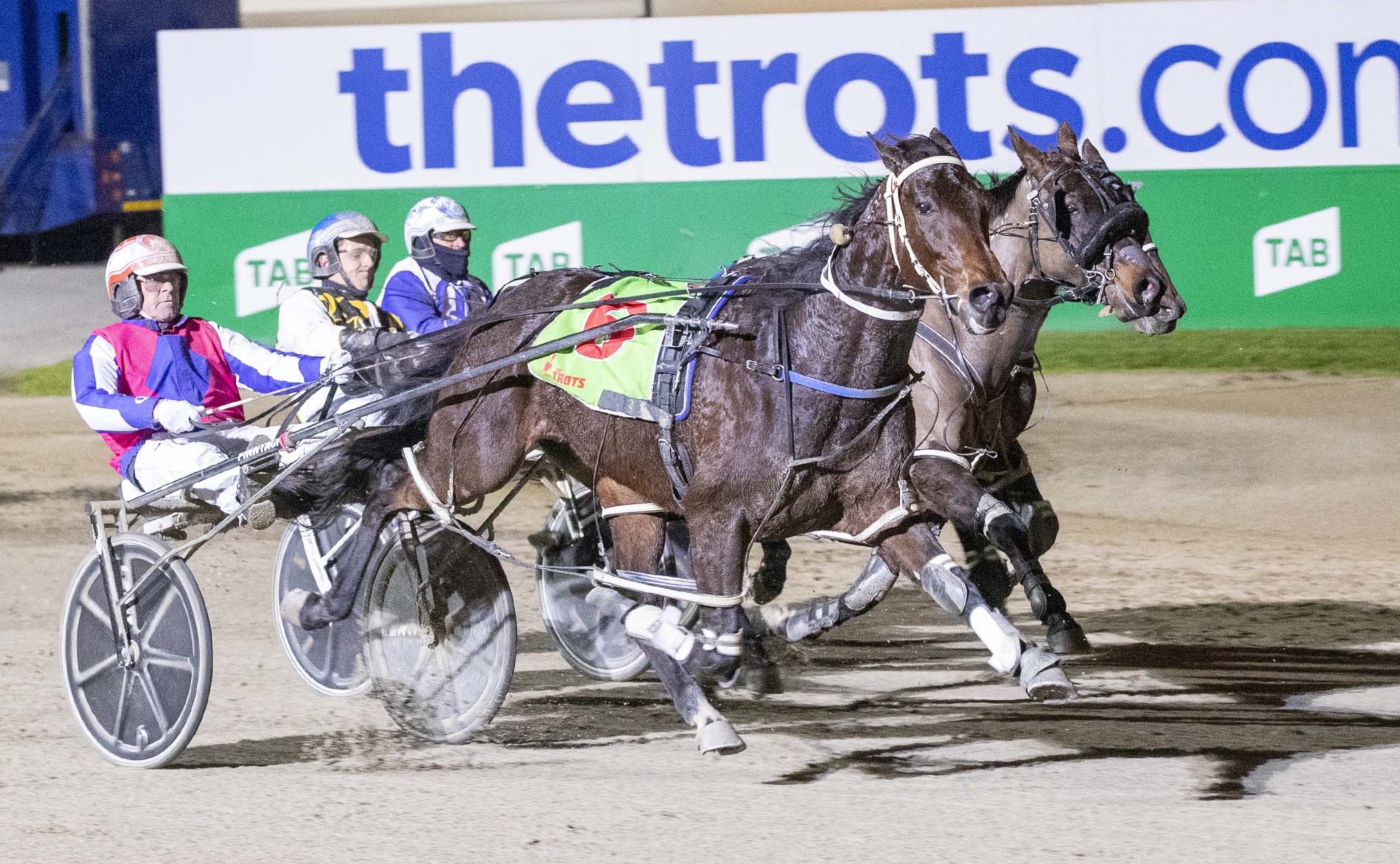 The patience and persistence of Gary and Debbie Quinlan is paying off with their smart six-year-old pacer Professor Tom (pictured right by Stuart McCormick).
Once considered by Gary "potentially a country cups horse", a run of setbacks almost cost the son of Art Major his leg and obviously his career.
However, the co-trainer says he's changed his view on the height of the horse's potential ceiling in recent times due to a new-found burst of speed that has "seemingly come out of nowhere".
The Quinlans are now taking aim at a trip to Sydney later this month for the $100,000 Len Smith Mile at Menangle.
Professor Tom made it three straight wins on Saturday night at Tabcorp Park Melton with victory in the feature race, the Italian Cup.
"Deb spoke to a few smart people there and they've said we should enter for the Len Smith Mile. I think if we're going to have a crack we have to do it now while he's sound and good," Gary said on Sunday evening.
"If like in years gone by there had been a Lennytheshark or something like that there we probably wouldn't bother."
Professor Tom's 1:56.8 win was especially impressive in that he was able to sprint by the slick-moving Magical Marn and hold off the fast-finishing – and very much in-form – Bernie Winkle at the end of the 2240-metre trip.
"Early on in his career he relied on the tempo of races to do his best. Just recently he's developed a bit of speed seemingly out of nowhere," Quinlan said.
"To do it like he did last night was really encouraging. I think Menangle will definitely suit."
Can only hope Soho Tribeca is ok after dropping out in Italian Cup. In happier news Professor Tom is fast developing into a proper open class animal. Always shown stacks of ability and looks to have taken the next critical step.

— Jason Bonnington (@JasonBonnington) June 15, 2019
Professor Tom's health issues came shortly after his 2017 Vicbred Super Series second placing behind Soho Tribeca.
First his front pastern was strangled by a rug strap, resulting in a "touch-and-go" battle to save the pacer's leg. Then he developed bone disease in one of his back legs and fell victim to an infection following a gelding operation.
Quinlan said it had all turned sour very quickly.
"We were watching it every day (the leg) and when you do that you think to yourself, 'will it ever get better'? But luckily it did and now he's sound and pain-free and he's found that new speed."
Soho Tribeca showing signs of virus but importantly leg is A-OK
The Italian Cup favourite, Soho Tribeca, came in last on Saturday night after leading in the run.
At his first run back from a long spell after recovering from a career-threatening broken leg, Soho Tribeca was basically eased out of the race in the home straight triggering an outpouring of worry on social media.
Stanley allayed the fears of fans afterwards, tweeting: "At this stage Tribeca has pulled up with an elevated heart rate and mucus on the lungs. Structurally he has come through fine so we will get further tests to follow up."
Stanley said today that Soho Tribeca had eaten well last night and looked brighter in himself this morning, which is obviously good news.
At this stage Tribeca has pulled up with an elevated heart rate and mucus on the lungs,
Structurally he has came through fine so will get further test to follow up.

— Michael Stanley (@mickstanley80) June 15, 2019
McLovin is 'taking it up a notch'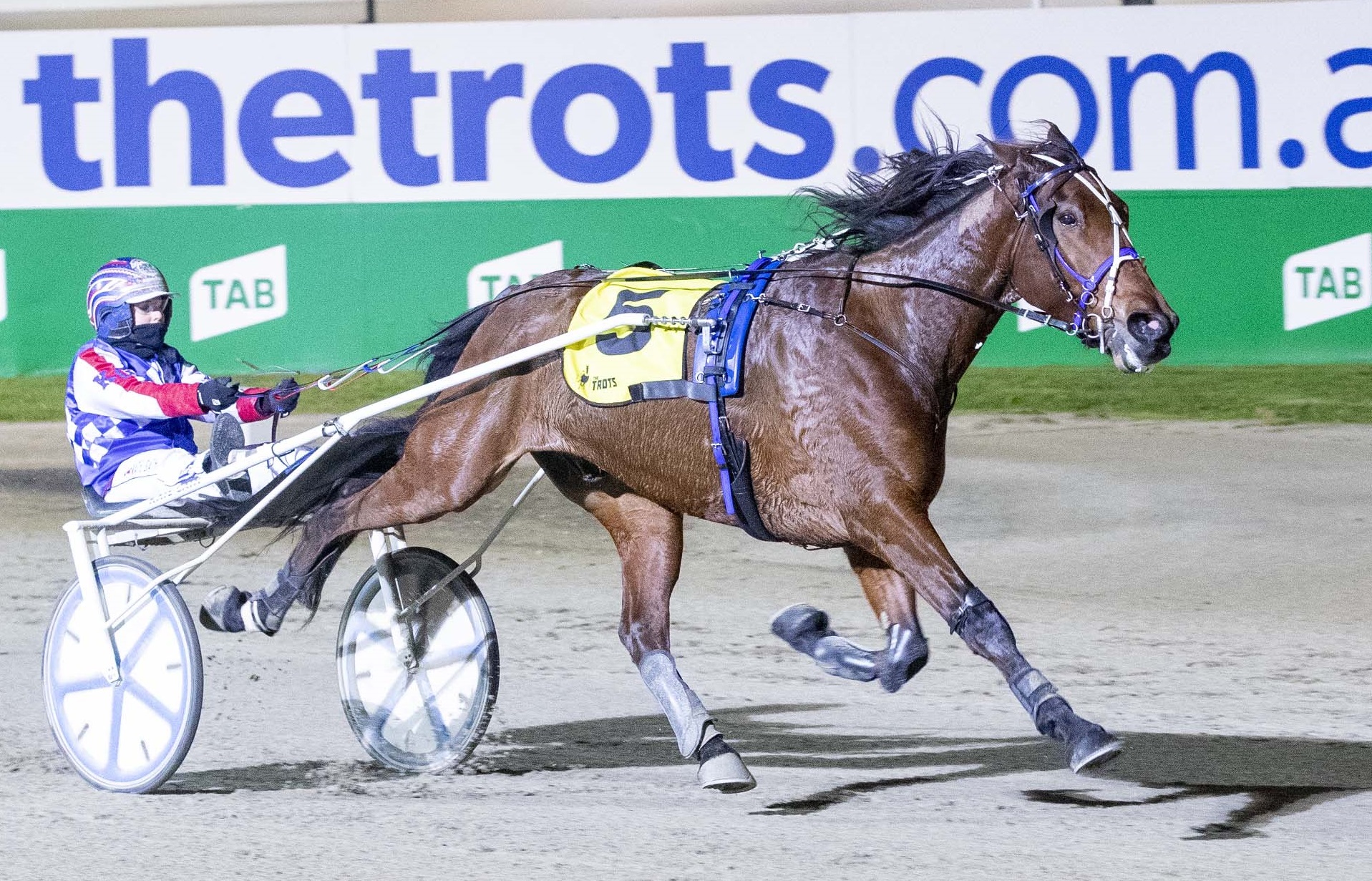 Whoever draws better out of McLovin (pictured winning at the weekend by Stuart McCormick) and Tornado Valley would probably win that particular race, surmised trainer Andy Gath when quizzed about which of his two big guns was currently the stable's alpha trotter.
On ability there may not be much between them and McLovin's record just keeps on improving, adding the Wagon Apollo Trotters Free-for-All to his trophy cabinet on Saturday night at headquarters.
Tornado Valley of course dominated the Inter Dominion in December, so Kate – the stable driver – and Andy Gath's Long Forest operation appears well-placed when the big feature races come around next season.
Andy did delve a little deeper into trying to compare the pair: "Tornado Valley is probably more brilliant, while McLovin is more workmanlike," he said.
Of McLovin, Gath said the six-year-old son of Monarchy had "taken it up a notch" of late (notably, that's actually a double Seinfeld reference from one of the biggest fans of the show about nothing).
Meanwhile, stablemate Chief Runningcloud also won for the Gath camp on Saturday night at HQ.
"He's developed great manners from the stand and Peter Goudie has had a fair bit do to with that so should be taking the credit," Gath said.
Chief Runningcloud will head towards the Aldebaran Park Vicbred Super Series for four-year-olds.
Veteran going great guns
So it turns out you can teach an old horse new tricks, just ask Allan McDonough who has his nine-year-old gelding No Apachemee in golden form at nine years of age.
"He seems to have added a new string to his bow. He's sit-sprinting now, whereas in the past he's been known as a speedster off the arm," McDonough said last night following the claiming win of No Apachemee on Saturday.
Well done Allan! No Apachemee NZ won the Bolinda Audio Claiming Pace tonight

@stumccormick pic.twitter.com/S9rXVVljnB

— TonkinStewartRacing (@TonkinStewart) June 16, 2019
McDonough added that he was not surprised his veteran son of Tomahawk was racing so well because "he has shown before with the mile rates he can cut out that he's up to it … if anything he's lacked a bit of consistency in week-to-week performances but he seems to be putting it together now."
Greg Sugars piloted No Apachemee home at Melton to a strong win over another old marvel in With Gusto.
No Apachemee will try his luck in an M0 next.
Century for Barker
The successful Barker harness dynasty continues in south-west harness racing with Jackie Barker driving her 100th career winner yesterday at Horsham.
In fact the granddaughter of Gordon Rothacker medallist Jim Barker and daughter of veteran reinsman Rod Barker also piloted her 101st winner, notching a double.
Barker, who hails from Hamilton, said her family was on hand to celebrate the milestone, which fittingly came aboard Showem Shifty – a 10-year-old son of Life Sign which she also owns.
"I couldn't be happier to reach the 100 on my own horse and with all the family there too," she said.
"It's just the perfect way to do it. He's a very special little horse (Showem Shifty). Even though he's no champion he has the greatest nature and tries his hardest every time he hits the track.
Well done @jackiebar96 on hitting the big century at Horsham. Seems fitting that she would get it on showem shifty.

— Xavier O'Connor (@XavierVOConnor) June 16, 2019
"He's a pleasure to have around the stable and as I own him myself he's naturally my favourite, but everyone who meets him seems to take a liking to him as well. He's just an easy horse with his own quirky personality."
Barker thanked all the stables that have helped her reach 100 wins and said she hopes to keep making the most of her opportunities.
Barker's other winner yesterday was aboard Marjorie Jean for trainer Owen Martin.
Trots Vision for Vicbred Super Series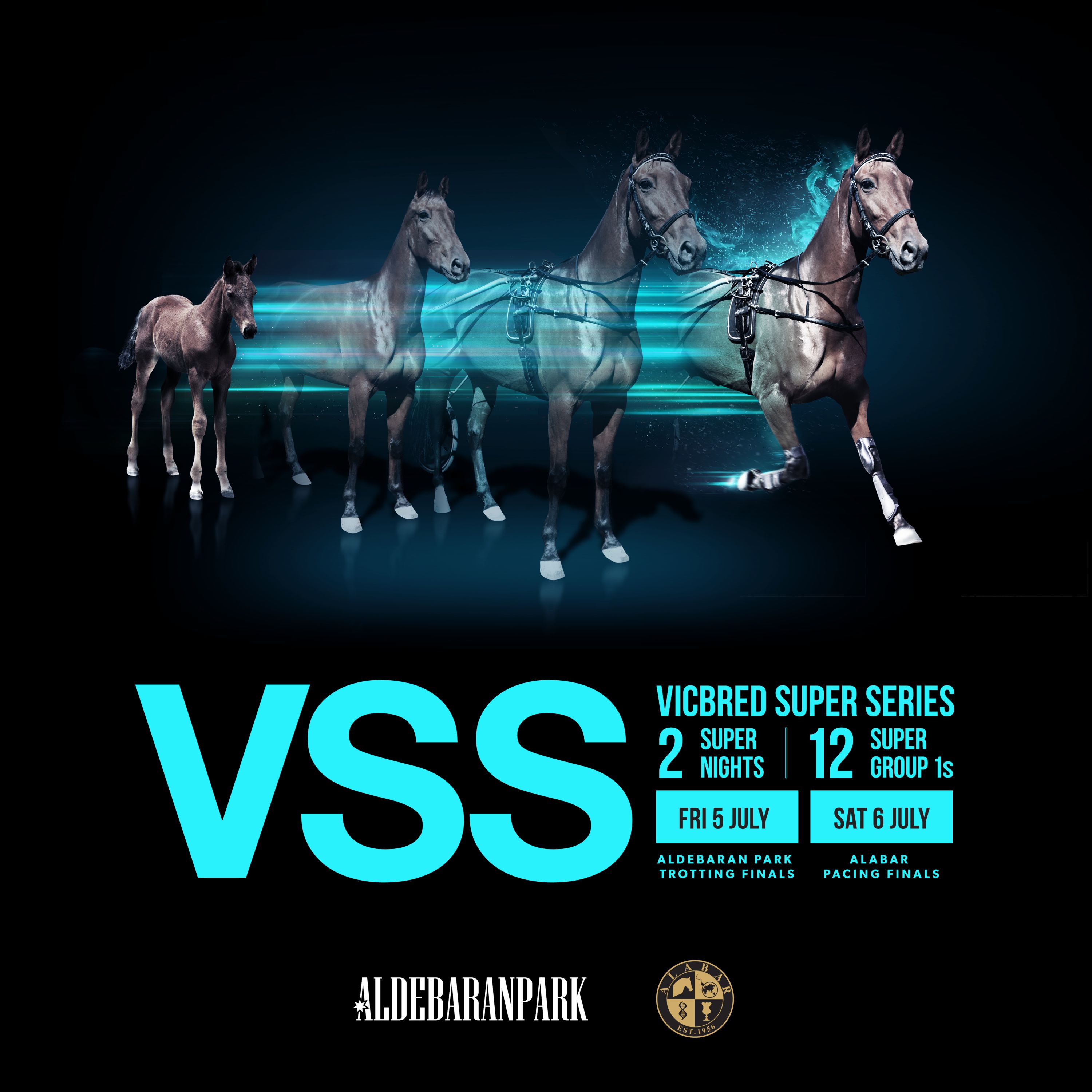 Good news for fans of Trots Vision as the Alabar and Aldebaran Park Vicbred Super Series races get under way tomorrow night.
Every VSS19 race meeting – including all heat nights – will feature a Trots Vision host conducting interviews with winning drivers post-race and delivering insights pre-race.
HRV has worked collaboratively with the clubs to ensure Trots Vision viewers are receiving premium coverage of our home-grown futurity series live and free.
In addition to the extra Trots Vision on-track interviews of all the drivers, I'm looking forward to being joined by Toby McKinnon and Michael Howard for the live barrier draw coverage on Semi-Final night to run alongside the Trots Vision race night coverage, featuring Dan Mielicki, Jason Bonnington, Rob Auber and Blake Redden.
More details on that in coming days, but save the date (Saturday June 29).
Breeders Challenge Wrap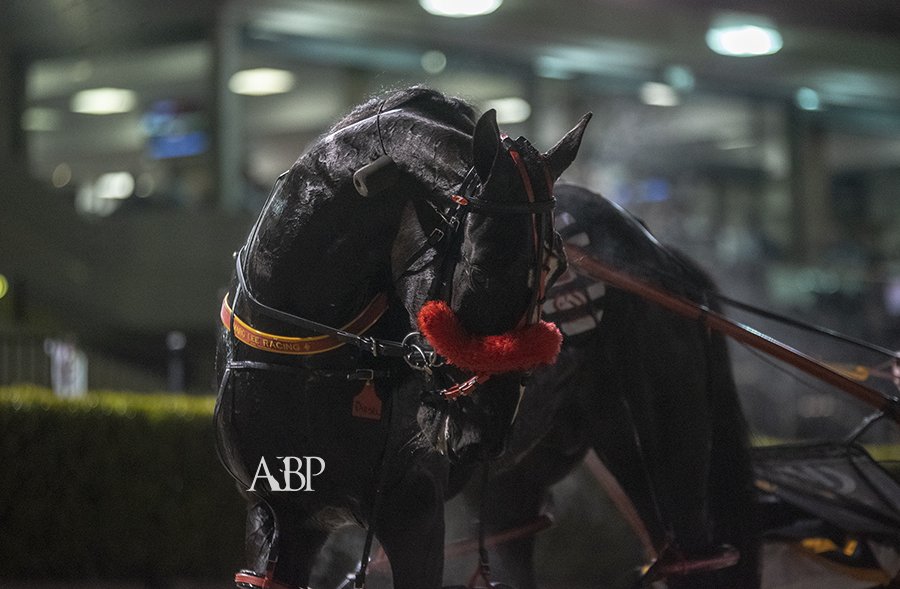 Victorians shone under the Menangle lights on Saturday night.
None were brighter than Jilliby Nitro (pictured right by Ashlea Brennan Photography), Marg Lee's exciting son of Bettors Delight, who gapped his rivals in the 2YO Colts and Geldings Alabar Breeders Challenge second semi-final.
Driven by Glen Craven, Jilliby Nitro controlled the race from the front over a mile and sprinted hard inside the final furlong under very little to no urging. He paced 1:52.3.
Emma Stewart won the other 2YO boys' semi with Be Happy Mach, which scored a 1.3m victory in 1:52.7.
Goodtime Heaven made it 11 wins from 15 starts taking out the 4YO mares' Breeders Challenge semi-final for trainer Courtney Slater, securing reinsman Craven a winning double.