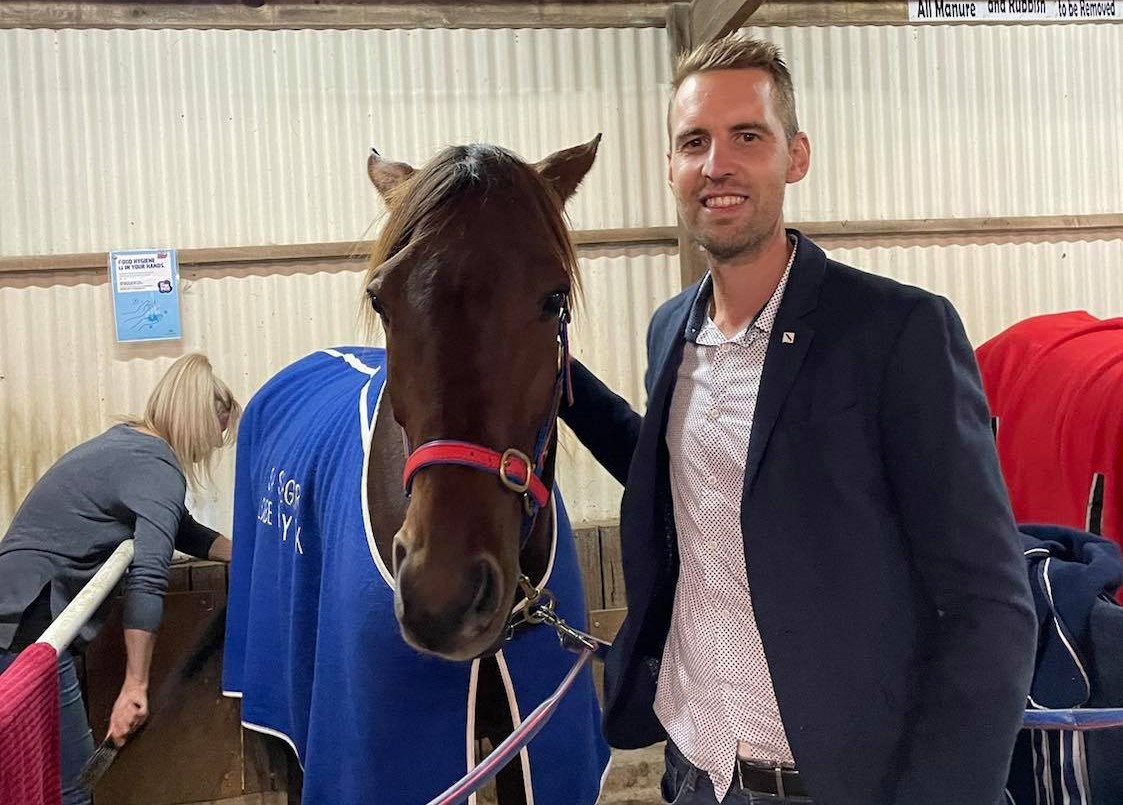 For many of us, it's hard to pinpoint the exact moment or reason we fell in love with harness racing.
But Tim Sander's introduction to the sport is crystal clear. He can remember the horse, the race, the year and how it all played out.
Sander was asked by his father to watch the 2013 SA Cup and was stunned by what he saw. Of course, that was the classic battle between Smoken Up and Caribbean Blaster, when Lance Justice's champion lifted off the canvas to secure a fourth victory in the race.
"It turned out to be an absolute cracker of a race," Sander, from South Australia, said.
"I was never interested in the trots and didn't even know they existed. I watched this race and I was like wow, what a performance by Smoken Up! He got headed and then he ended up fighting back and winning.
"I didn't know who he was, I didn't know who Lance was, I didn't know anything. But I was just so taken by this horse.
"Ever since then, I just started watching the trots religiously. I just could not get enough of them after that."
One day, Sander decided to "Facebook stalk" Justice and quickly formed a friendship with the master trainer-driver, which eventually led to him travelling to Victoria for stints working in the stable.
Justice then introduced Sander to South Australia-based horseman Scott Ewen, and it was then that he became familiar with one of the yard's favourite pacers, Bulletproof Boy.
Sadly, the horse's owner and breeder Charles "Chook" Okmasich passed away shortly before the son of Art Official was able to win the 2019 Gawler Cup. But when the opportunity became available for an ownership share in Bulletproof Boy, Sander jumped at it. And ever since, he, his wife and parents have enjoyed the thrills of racing a highly-talented pacer who just keeps on chalking up wins. Among those has been a race named after the horse that started it all for Sander, the Group 2 Smoken Up Sprint.
So.. I have just won The Smoken Up Sprint as an owner. Smoken Up was the horse that got me involved in harness racing. Lance Justice introduced me to Scott Ewen who introduced me to Bulletproof Boy!! This ones for you Chook!!

— Tim Sander (@TimSander) October 2, 2021
"It was incredible," Sander said of the Smoken Up success on October 2.
"The only other race I want to win really as an owner at the moment is the SA Cup for sentimental reasons, because it's the first race I ever watched.
"It has really brought us together as a family, and then obviously all of our friends and family are super excited every time he races.
"We all get together at home and we watch TrotsVision, put it on to the big screen."
Bulletproof Boy, a winner of 29 races and over $240,000 in prizemoney, will tackle another big race feature this Sunday when he lines up off the back row in the Group 3 Community Bank Maryborough Gold Cup.