The Catch-Up returns for 2019 with the review of the weekend trots action from around the country.
Following the success of the TAB ID18, the spotlight now turns towards the TAB Summer of Glory and a host of top-class country cups just around the corner.
FRIDAY
TABCORP PARK MELTON
Adam Kelly and Zac Phillips combined for a double courtesy of Ranga Roc (Stunin Cullen-Uroc On) in the VHRSC Provincial Pace Final and Vee Rock (Universal Rock-Annie Teaghan) in the Join the VHRSC Pace.
Vee Rock sprinted sharply in the last 200m after a box seat trip to pip Rishi by 5.7m, the fourth quarter 27.5secs and the last half 55.8secs.
It was Vee Rock's second win from two starts this time in, following on from an impressive Geelong victory first-up.
Dikerry was ultra-game in third for the Andy and Kate Gath combination after parking throughout.
Burrumbeet's Michael Stanley and Great Western's Kerryn Manning also scored winning doubles at HQ.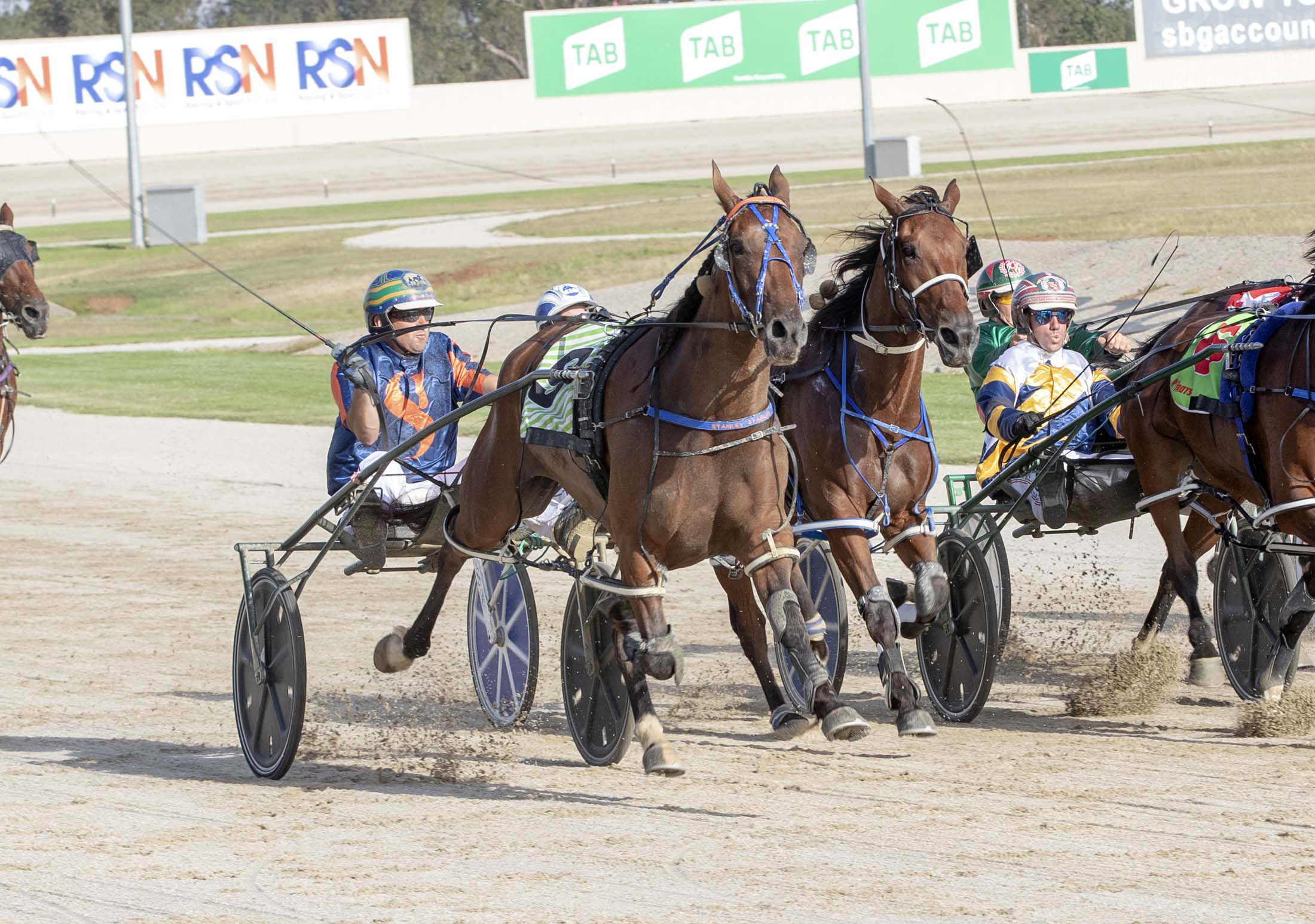 Stanley (fifth on the Taylors Metropolitan Trainers' Premiership, the SBG Accountants Metropolitan Drivers' Premiership and the Renown Silverware State Trainers' Premiership and ninth on the Garrards State Drivers' Premiership) guided Macey Jayde (Shadow Play-Armbro Sharon) home in the DNR Logistics Pace to break that mare's metro maiden status.
Stanley bided his time aboard the four-year-old mare at the back of the field from a back-row draw, eventually tagging Ozzie Bogan into the action inside the final 600m before sweeping home out wide.
Macey Jayde rated 1:55.1 for the 1720m trip and has won eight races from 32 starts for over $80k in stakes.
Later in the VHRMA Graham Goffin Memorial Stanley and Soho Burning Love (Auckland Reactor-Soho Bordeaux) registered her third win on the spin in style.
The four-year-old mare strode out boldly at the finish of the sprint trip race after working early to find the lead, eventually romping home by 6.4m in 1:53.4.
"She's a great mare. Through her three-year-old career she was just that unlucky not to win a Group 1. She ran four Group 1 placings. She's come back really well … and we'll look towards the Ladyship Cup coming up," Stanley told Trots Vision.
Manning only had two drives at Melton and finished with a 100 per cent strike rate; winning with smart four-year-old Village Jolt-Melody Stride mare Imprincessgemma for the training partnership of Leroy and Danny O'Brien in the Woodlands Stud Great Southern Star 2019 Pace, and the exciting Reciprocity (Panspacificflight-Weka Lass) from the Peter Manning stable.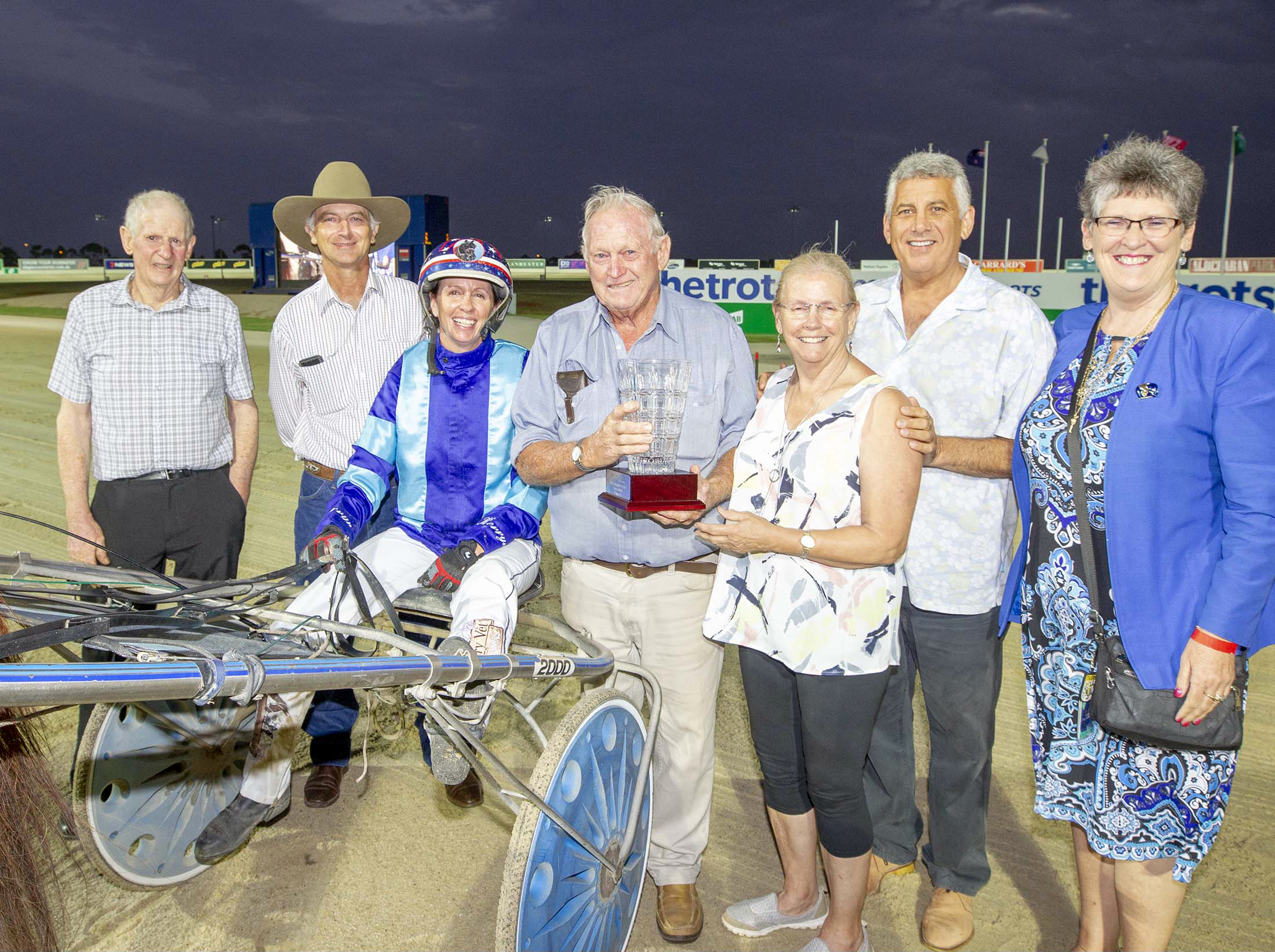 Reciprocity is a five-year-old mare whose career began in New Zealand and continued in New South Wales before relocating to Victoria's south-west.
"You can't knock what she's done and you'd think there'd be better things in store," Kerryn Manning told Trots Vision.
Owner Henry Campbell, a retired farmer from Tamworth who made his first trek to Melton to watch his mare win, was clearly elated. (Check out the interview on Trots Vision conducted by Rob Auber).
Popular Jodan (Sportswriter-Trudee) was claimed from the TAB Multiplier Claiming Pace when he won for AJ and Beau Tindale at Melton.
The seven-year-old posted a 1:56.7 mile rate win with Jason Lee in the gig, defeating Classy Western and Presidentialsecret.
Jodan will now be based in Leeton.
Just when you thought Savannah Jay Jay from down town had the race in its keep, leader Ball Park kicked on late in the Aldebaran Park Vicbred Trot at Melton. However, then along the sprint lane, Desert Flyer (Pegasus Spur-Desert Chase) bloused them all.
Driven by 20-year-old Darby McGuigan (sixth on the Garrards State Drivers' Premiership with 37 wins and second on the Alabar Concession Drivers' Premiership), the Danny and Gillian Norris trained seven-year-old mare has now won 15 races and over $125,000 from 103 starts to date.
Matthew Craven ventured to Melton for one drive, in the last race, aboard Ashleigh Herbertson-trained Steel Screens (Rock N Roll Heaven-Massimo Miss).
And the trip paid off, with the four-year-old gelding gapping his rivals in the $10,000 Empire Stallions Vicbred Platinum Country Series G Final.
The lightly raced pacer was having just his fourth start and now boasts a 50 per cent winning strike rate courtesy of the 45.4m win.
Steel Screens' chances were enhanced when the favourite Better Than Heaven had to be pulled out of the race with a flat tyre, while the second-favourite Im Very Willing galloped out of contention early.
ALL CLEAR: CLICK BELOW TO HEAR FROM THE WINNING DRIVERS AT MELTON
ELSEWHERE
In Newcastle it was the Shane and Lauren Tritton team to the fore with a winning treble courtesy of Bridget Blue Chip (Santanna Blue Chip-Kates Rocket), Handsome Hero (Courage Under Fire-Famous Lover) and Iona Diamond (Rock N Roll Heaven-Lindsey Leigh).
Lachie Manzelmann, 19, drove all three winners for the Tritton camp. The young gun is ranked eighth on the state NSW metro drivers' premiership and seventh on the concession drivers' table.
A great start to the year continued with a treble last night at Newcastle, all with Lachie Manzelmann in the cart!

Congratulations to the connections of all 3 winners! @ashbrennanphoto pic.twitter.com/3wp7OEpkAI

— TEAM TRITTON (@Tritton_Team) January 5, 2019
Dylan Egerton-Green and Mark Reed doubled-up with wins at Gloucester Park on Friday night.
Egerton-Green is ranked fifth on the WA state driving table, while Reed rounds out the top 10.
Egerton-Green's winners were Chiaroscuro (Art Major-Kelty Star) and El Jacko (Elsu-Exposay), while Reed steered Garden State (Big Jim-Presidential Affair) and Maczaffair (Mach Three-Presidential Affair) home for trainer Mike Reed.
Former Victorians Stefsbest (Sportswriter-Smyrna Duruissea) and Sun of Anarchy (Sundon-Niamey) were also victorious in the west.
At Launceston former Victorian trainer Ben Yole finished with a winning double on Friday night with Iam Aw Sam (American Ideal-Screen Idol) and Good Feelings (Mr Feelgood-Good Lookin Girl) both saluting, while reinsmen Troy McDonald and Rohan Hadley also notched doubles.
Yole leads the state trainers' title with 53 wins, and has had 10 times more starts than the second placegetter in that race Bianca Heenan.
SATURDAY
BENDIGO
San Carlo (Mach Three-Bridge Player) won Saturday night's feature race, the Petstock Bendigo Pacing Cup, to move four points clear on the Trots Country Cups Championship.
The high-class eight-year-old was returning to the track since finishing 10th in the TAB Inter Dominion Final and found plenty when challenged boldly by Let It Ride and Stroke Of Luck, rating 1:55.4 (55.8secs last half).
Trained by Steve O'Donoghue and driven by Bec Bartley, the $39,900 first prize cheque took San Carlo's career stakes earnings to over $352k, with over $111k of that being achieved in nine starts this season.
San Carlo will be aimed at the $500,000 Del-Re National A.G. Hunter Cup next month.
Tornado Valley (Skyvalley-Begin) may be bound for the 2019 Elitloppet in Sweden after yet another Group 1 success, this time in the Aldebaran Park Maori Mile.
For trainer Andy Gath and driver Kate Gath, the win was their second in this race following the success of Glenferrie Typhoon in 2016.
Kate is third on the Garrards State Drivers' Premiership and second on the SBG Accountants Metropolitan Drivers' Premiership with 18 metro wins and 50 all up this season to date.
Andy is second on the Renown Silverware State Trainers' Premiership courtesy of his 48 wins so far, and second on the Taylors Metropolitan Trainers' Premiership with 16 wins, one behind Emma Stewart.
Chris Alford is Australia's leading driver this season with 104 wins following a treble at Bendigo.
The Puppet's wins come from 464 2018-19 race starts and he's 16 wins clear of WA's Ryan Warwick on 88, with South Australia's Danielle Hill in third on 75.
Alford combined with leading trainer Stewart for two of his three winners here – Rocknroll Ronnie (Always A Virgin-Influential) in the Bendigo Bank Pace (2nd heat) and Pistol Abbey (Western Terror-Art Princess) in the PETstock Caribu Rug Pace, before he guided The Debater (Muscle Mass-Queens Rhapsody) home for Brent Lilley in the Great Ocean Road Real Estate Trot.
ELSEWHERE
It was Team Tritton on top again at Menangle on Saturday night with a winning double.
The most impressive was Muscle Factory (Roll With Joe-Malena), a cracking three-year-old colt, who poleaxed the clock in the Club Menangle Simpson Memorial (Group 2) with a 1:49.6 run to defeat Victorian Lochinvar Art for Laura Crossland and David Moran in second.
The runner-up was enormous also, never sighting the pegs from his visitor's draw. Both look certain to play major roles in this year's three-year-old features.
Afterdinnerspeaker (Well Said-Luckisaladytonight) was the Trittons' other winner.
So this happened last night....

Muscle Factory (#RollWithJoe - Malena) became the fastest ever 3yo in the Southern Hemisphere when he won the Group 2 Simpson Memorial in 1:49.6!

Congratulations to all connections including breeder @workoutjared! pic.twitter.com/ydiPzRKn1M

— Alabar Farms (@Alabarfarms) January 5, 2019
Chris Geary is one of many gun young drivers making their way up the trots ladder and he scored a double at Menangle.
Geary paired with Kevin Pizzuto to win the first race with Major League (Gotta Go Cullen-Candlestick) before backing it up with a second success in the fifth race on Bettermatch (Kenneth J-Livelymatch) for Tim Butt.
Bettermatch has won 14 out of 17 career starts and is unbeaten this time in, having won the Group 3 Christmas Gift Final last month. Look for him to potentially make a splash in Victoria over the upcoming TAB Summer of Glory carnival.
Emily Suvaljko is Western Australia's leading concession driver after picking up a winning double at Albany on Saturday night.
The 18-year-old Byford reinswoman has 13 wins to her name this season to be one clear of Madi Young and Corey Peterson.
Blake Jones is fifth on the NSW State Drivers' Premiership after combining with trainer David Kennedy for two winners at Temora on Saturday night.
SUNDAY
COBRAM
The rise and rise of Kima Frenning continued at Cobram on Sunday notching four winners from five drives.
The biggest of the successes undoubtedly was a six-year-old gelding she trains herself, Buster Brady (Real Desire-Kacie Marie), who continued his climb up the fast-class table with an all-the-way win in the Jim Phillips Memorial Cobram Pacing Cup.
Buster Brady has won four from six since arriving in Australia and is likely to target the $500,000 Del-Re National A.G. Hunter Cup during the TAB Sumer of Glory carnival.
Frenning also had success with Lunar Delight (Bettors Delight-Lughnasadh) in the Cec Berger Memorial 3YO Pace and Higherthananeagle (Mach Three-Three Eagles) in the Benstud Standardbreds Pace – both for trainer David Aiken, and Harrys Delight (Bettors Delight-Harrys Lass) in the Peter Ennals Caravans Pace for veteran horseman John McGuffie, who turns 79 in May.
BACK TO BACK FOR KIMA!! BUSTER BRADY makes it two in a row for @KimaFrenning . A NEW TRACK RECORD 1.55.6. He broke their hearts!! @TheTrotsComAu @AVHRC pic.twitter.com/gZTv8Ijoqi

— Cobram HRC (@cobramtrots) January 6, 2019
Gary Hoban is enjoying a strong season to date with two wins from five starters. Maxines Delight (Always A Virgin-Libbys First) took out the Empire Stallions Vicbred Platinum Mares Sprint Championship (sixth heat) at Bendigo, defeating Nats A Christian by a head in 1:57.2.
Destinee Jenilou (Singalo-Pirogue Jenilou) made it two cup wins on the bounce with victory in the CMCU Cobram Trotters Cup.
Trained by Anton Golino, driven by Jason Lee and raced by the Yabby Dam Farms operation, Destinee Jenilou also won the Maryborough Trotters Cup just prior to Christmas. She's racked up $35,510 in stake earnings this season to date.
DESTINEE JENILOU powers to victory in the 2018 Cobram Trotters Cup for @JLee_8 and @YabbyDamRacing. @TheTrotsComAu @AVHRC pic.twitter.com/e2jPdqHCJZ

— Cobram HRC (@cobramtrots) January 6, 2019
MONDAY
BOORT
I had to squeeze in the Paul Campbell Boort social media coverage yesterday, which included this interview with former VFL/AFL whiz Warwick Capper.
Enjoy.
Here he is @WarwickCapper39 @Boort_Trots https://t.co/T7vIRDb693

— Paul Campbell (@vege07) January 7, 2019