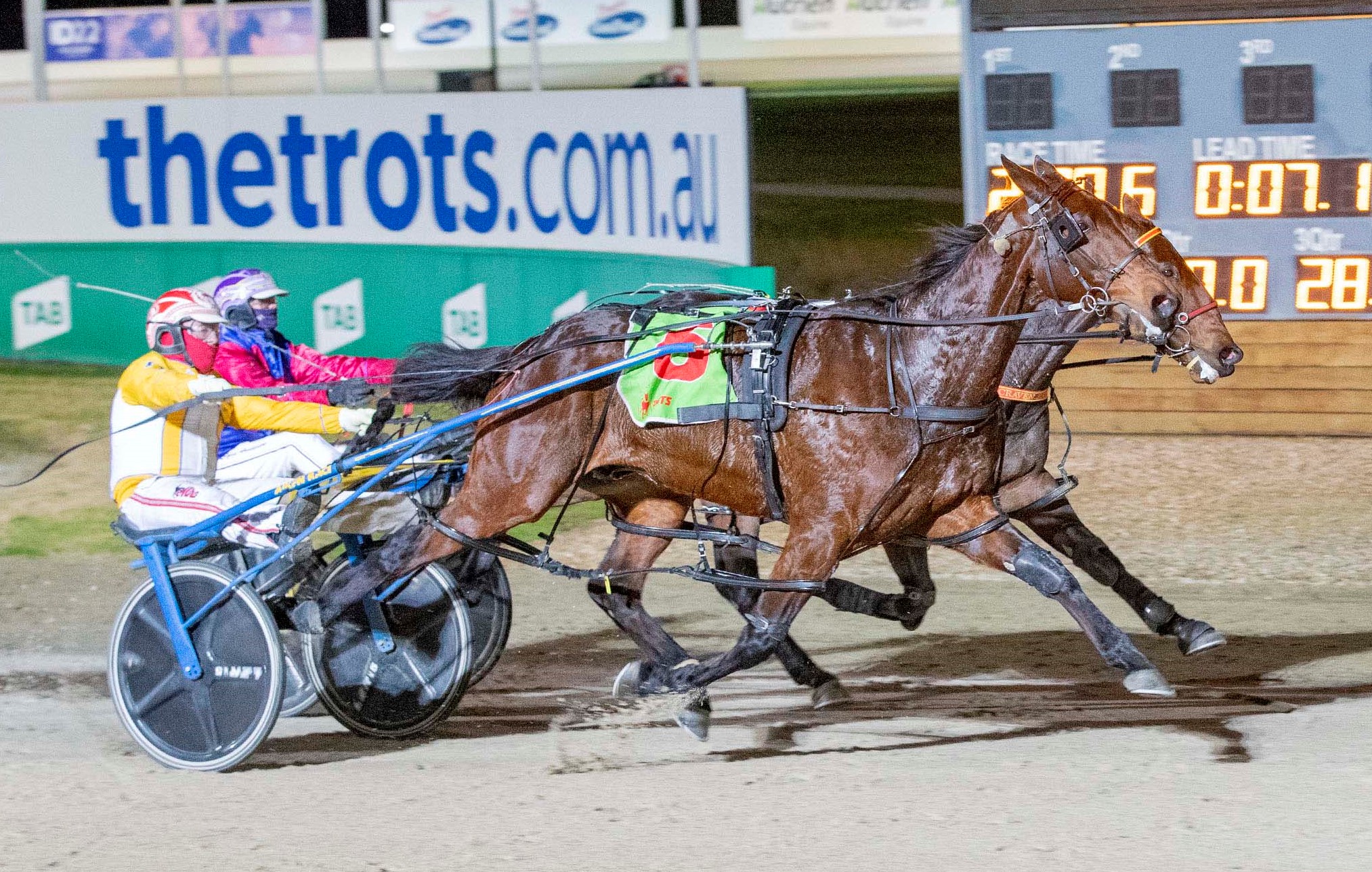 Max Delight has opened favourite for Saturday night's TAB Smoken Up Sprint as trainer David Aiken chases a fourth win in the race.
Aiken's charge has drawn barrier six for the $50,000 Group 2 feature, which headlines a stunning night of racing at Bendigo at the weekend.
The card includes three heats of the Lather Up Victoria Derby and two qualifiers for the Pryde's EasiFeed Victoria Oaks, as well as the Group 3 Aldebaran Park Chris Howe Trotters Free For All.
Max Delight, who will be driven by Chris Alford, opened $2.30 for the Smoken Up before drifting slightly to $2.70 in the early stages of betting. Among the horses to firm were Major Roll (Kasey Kent), who was $21 into $9.50, Torrid Saint (Julie Douglas) and Bulletproof Boy (Scott Ewen), who has come up with the inside front row draw.
Aiken, who has won the Smoken Up Sprint with Lennytheshark (2015 and 2017) and Wrappers Delight (2018), also has stablemates Sirletic (Greg Sugars) and Malcolms Rhythm (Josh Aiken) in the race.
Nathan Purdon-trained American Dealer has come up a short-priced favourite for the opening heat of the Derby, with the TAB marking the three-year-old a $1.40 chance to overcome his barrier 11 draw.
The Queensland Derby winner had his first run for Purdon at Kilmore last weekend and finished third behind Emma Stewart's Act Now, who was installed the $2.40 favourite for the third and final heat on Saturday night.
Act Now's stablemate Major Moth is fresh off a track record-equaling effort at Kilmore and opened the pronounced $1.25 elect to win the second qualifier.
After locking horns in a classic Shepparton Trotters Cup on September 17, Majestuoso (Andy Gath) and Pink Galahs (Matthew Craven) will go head-to-head once again in the Chris Howe Trotters Free For All.
At 2pm on Tuesday, the two horses shared favouritism at $2.60 apiece, with Sleepee (Alison Alford) a $5 chance on the next line of betting.
The Victoria Oaks heats help shape a wonderful 11-race card on Saturday night, with the Stewart camp dominating the key chances.
She has the first four horses in the market for heat one of the series and the first three in the second.
Those at the top of betting are Beach Music and Ladies In Red, who opened $1.60 and $1.10 respectively.
Horses competing in the Derby and Oaks heats on Saturday are looking to win their way through to lucrative Group 1 finals at Bendigo on October 9.
A supercharged TrotsVision line-up has been assembled, with Jason Bonnington and Kirsten Graham to headline the coverage alongside Gareth Hall and caller Dan Mielicki.
Friday night is also a big one at Ballarat's Bray Raceway, with heats of the Alabar Vicbred Platinum Home Grown Classic – for both the two-year-old fillies and two-year-old colts and geldings – filling half the 10-race card.
Horses will be chasing a place in $50,000 finals, to be run at Bendigo on October 9.
CLICK HERE FOR SATURDAY NIGHT'S BENDIGO FIELDS
CLICK HERE FOR SATURDAY NIGHT'S TAB MARKETS
CLICK HERE FOR TAB'S FUTURES MARKETS
THE WEEK AHEAD
TUESDAY
Tabcorp Park Melton (night)
Caller: Dan Mielicki
WEDNESDAY
Maryborough (day)
Caller: Luke Humphreys
Shepparton (night)
Caller: Dan Mielicki
THURSDAY
Kilmore (day)
Caller: Brendan Delaney
Swan Hill (night)
Caller: Luke Humphreys
FRIDAY
Ballarat (night)
Caller: Dan Mielicki
SATURDAY
Bendigo (night)
Caller: Dan Mielicki
SUNDAY
Cranbourne (day)
Caller: Rob Auber
MONDAY
Stawell (day)
Caller: Luke Humphreys