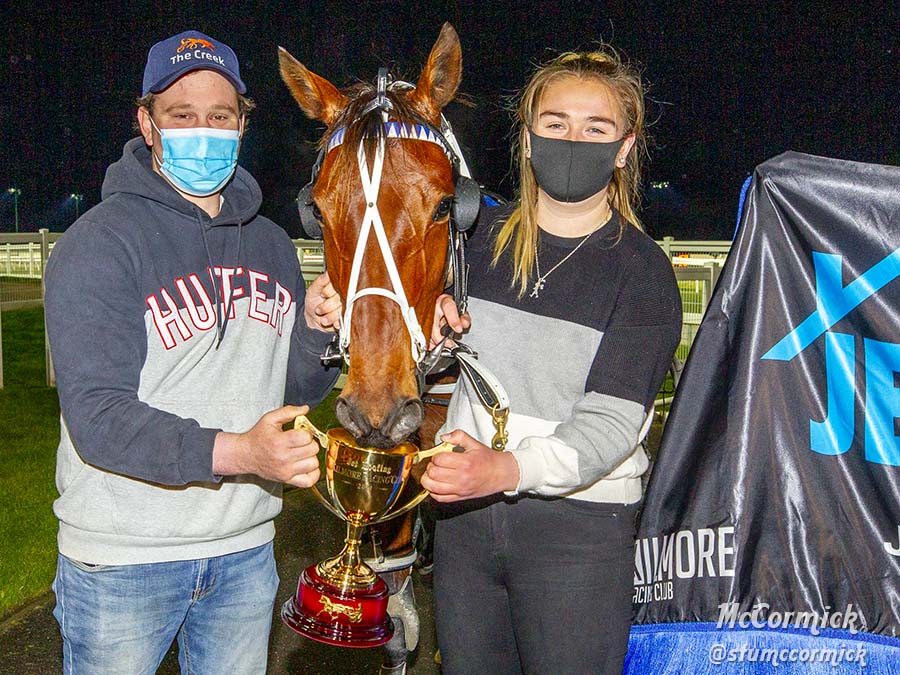 Nathan Purdon looks well placed to win his new local feature, with Amazing Dream drawing gate one for Saturday night's Flying Brick Cider Co. Geelong Pacing Cup.
The star ex-Kiwi, who is now trained by Purdon in Avalon, will be third-up in the Group 2 clash after a fourth placing in the Victoria Cup on October 9.
The multiple Group 1 winner will take on four rivals from that race – Torrid Saint (Julie Douglas), General Dodge (Mick Chircop), Mach Dan and Out To Play (Emma Stewart) – in the $60,000 event at Beckley Park.
Stewart has a team of four engaged in the Cup, with the progressive Abouttime and experienced open class stablemate Fourbigmen also in the field.
The King of Mildura, Bernie Winkle, is the other runner from the Douglas stable and has drawn in gate five, while Bettor Be The Bomb (Basil Dooley) and Bulletproof Boy (Scott Ewen) are also wide on the front line.
Tango Tara (Andy Gath) and I Cast No Shadow (Brent Lilley) make up the field of 12, with last weekend's impressive winner Supreme Dominator (Joe Pace) named emergency.
The TAB opened Amazing Dream - the only mare in the race - as $1.75 favourite, with Stewart's quartet occupying the next four lines of betting.
CLICK HERE FOR THE EARLY TAB MARKETS
The Geelong meeting is jam-packed full of feature races, with two divisions of the Nutrien Equine Tatlow Stakes - for the two-year-old fillies and colts and geldings - to be run at Group 2 level, and the Group 3 Angelique Club Pace serving as leg two of the Elizabeth Clarke Mares Triple Crown. Purdon-trained Spellbound won the opening race of the series at Ballarat last weekend and will have to do it again off the back row after coming up with barrier 10.
The Haras Des Trotteurs McNamara Memorial Trotters Cup is the sole squaregaiting event on the 10-race card, which will be broadcast live and free on TrotsVision. Jason Bonnington and Josh Jenkins will head-up the coverage alongside caller Dan Mielicki.
GEELONG CUP (2570m)
1 31s14 AMAZING DREAM NZ Nathan Purdon Anthony Butt
2 46626 TORRID SAINT Julie Douglas Glenn Douglas
3 11s11 ABOUTTIME Emma Stewart David Moran
4 3s429 MACH DAN Emma Stewart
5 22712 BERNIE WINKLE NZ Julie Douglas Ellen Tormey
6 15857 BETTOR BE THE BOMB Basil Dooley Anthony Butt
7 18159 BULLETPROOF BOY Scott Ewen Scott Ewen
------------------------------ Second Row ------------------------------
8 15411 SUPREME DOMINATOR NZ (Em 1) Joe Pace James Herbertson (C)
9 13732 TANGO TARA NZ Andy Gath Kate Gath
10 633s9 FOURBIGMEN Emma Stewart Leigh Sutton
11 1s208 GENERAL DODGE Mick Chircop Jason Lee
12 12094 I CAST NO SHADOW NZ Brent Lilley Chris Alford
13 s2355 OUT TO PLAY Emma Stewart Bailey McDonough (C)
CLICK HERE FOR THE FULL SATURDAY NIGHT FIELDS
THE WEEK AHEAD
TUESDAY
Geelong (night)
Caller: Luke Humphreys
WEDNESDAY
Tabcorp Park Melton (day)
Caller: Dan Mielicki
Echuca (night)
Caller: Lachlan McIntosh
THURSDAY
Horsham (day)
Caller: Luke Humphreys
Kilmore (night)
Caller: Lachlan McIntosh
FRIDAY
Mildura (night)
Caller: Luke Humphreys
SATURDAY
Geelong (night)
Caller: Dan Mielicki
SUNDAY
Maryborough (day)
Caller: Lachlan McIntosh
MONDAY
Cranbourne (day)
Caller: Luke Humphreys