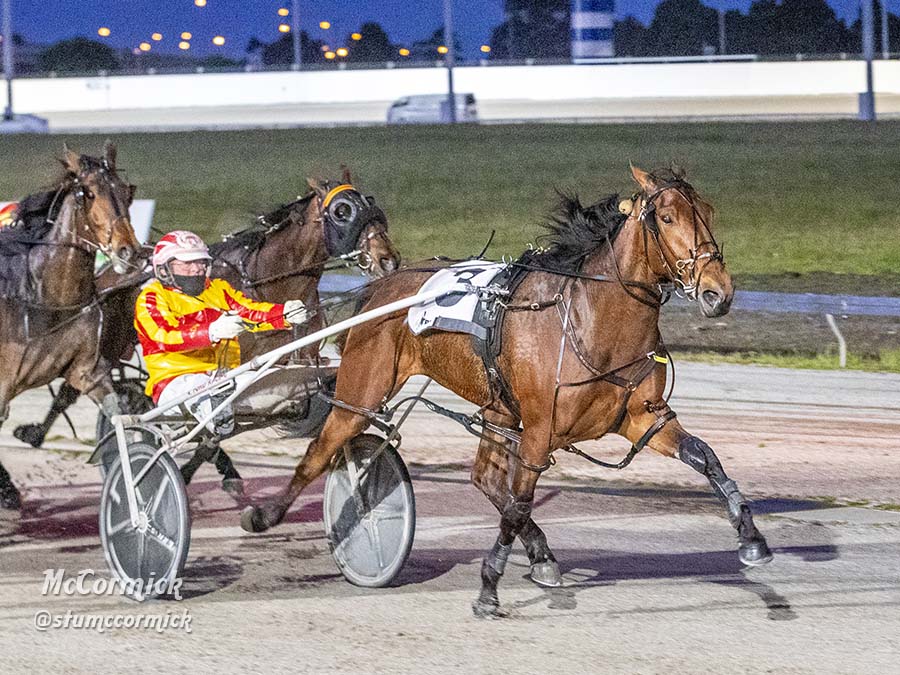 The Pantheist has drawn barrier one for this weekend's Group 1 Benstud Queen of the Pacific as she looks to maintain her lead and secure the Elizabeth Clarke Mares Triple Crown.
The $100,000 feature is the third and final leg of the series and also the headline act as Saturday night racing makes its long-awaited return to Tabcorp Park Melton.
After a runner-up placing in the Make Mine Cullen at Ballarat on October 16, the David Miles-trained mare won last weekend's Angelique Club Pace to climb to the top of the Triple Crown leaderboard.
Just three horses remain in contention for the $10,000 owner bonus, with The Pantheist on 13 points, Nathan Purdon's Spellbound on eight and Emma Stewart's Maajida on seven. Competitors get eight points for a victory, five for second and three, two and one points for third, fourth and fifth respectively.
Spellbound has drawn to trail The Pantheist in barrier eight this Saturday night, while Maajida has gate 10.
While just the three horses can claim the Triple Crown, there's many more chances in a wide-open elite level contest for the mares.
Spellbound's stablemate Amazing Dream is backing up after a second placing in the Geelong Pacing Cup and opened as a red-hot $1.45 favourite after landing barrier four, while Enchanted Stride (Miles) and Techys Angel (Stewart) are off the back row in 11 and 12. Final Peace, for David Murphy, is the emergency with barrier nine.
A quality field will also tackle the Catanach's Jewellers 4YO & 5YO Championship, with the Group 2 event to carry $75,000 in prizemoney.
Dean Braun's in-form pacer Willie Go West will leave from gate four as he looks to make it three wins in succession, while Victoria Cup champ Max Delight (David Aiken) lines up alongside Torrid Saint (Julie Douglas), Out To Play, Mach Dan (both Stewart) and Pacifico Dream (Andy Gath) after beating them in the Grand Circuit classic on October 9.
A huge week of Victorian racing includes the Group 3 3SH Swan Hill Pacing Cup on Friday night.
Trots Country Cups Championship leader Malcolms Rhythm (Aiken) and the second-placed Fourbigmen (Stewart) are part of the field, as is Sirletic (Aiken) and Douglas-trained pair Khaki Nui and Bernie Winkle.
On Sunday, the revved-up TrotsVision coverage will continue with the time-honoured Redwood carnival at Maryborough.
The highlights on an all-trotting card of racing include the Group 1 double – the Classic Connection @ Haras Des Trotteurs Victoria Trotters Derby Final and Aldebaran Park Redwood Classic.
MELTON, OCTOBER 30
BENSTUD QUEEN OF THE PACIFIC (GROUP 1)
1 s5621 THE PANTHEIST David Miles Chris Alford
2 96235 BELLADONNA GIRL Greg Norman Kerryn Manning
3 34583 ITZAMAJOR SURPRISE Matthew Craven Matthew Craven
4 1s142 AMAZING DREAM NZ Nathan Purdon Anthony Butt
5 33150 BLAME IT ON ME Douglas Nettlefold Lisa Miles
6 52147 UROC SKINNY JEANS Cameron Ross Josh Aiken
7 s3s14 ITS EBONYNIVORY John Yeomans Rebecca Bartley
8 32s19 SPELLBOUND NZ Nathan Purdon Stuart McDonald
9 12368 FINAL PEACE (Em 1) David Murphy
10 2s842 MAAJIDA Emma Stewart Greg Sugars
11 91338 ENCHANTED STRIDE David Miles David Miles
12 21s26 TECHYS ANGEL Emma Stewart Kate Gath
13 12234 MONA MIA Kari Males Michael Bellman
CATANACH'S JEWELLERS 4YO & 5YO CHAMPIONSHIP (GROUP 2)
1 6s612 OUR MILLIONAIRE Emma Stewart Jodi Quinlan
2 1187s HONOLUA BAY Emma Stewart David Moran
3 197s2 SANTA CASA BEACH Russell Jack Daryl Douglas
4 2s811 WILLIE GO WEST NZ Dean Braun Chris Alford
5 1017s IM NO OUTLAW NZ Julie Douglas Jack Laugher (C)
6 20949 I CAST NO SHADOW NZ (Em 1) Brent Lilley Chris Alford
7 41798 WESTERN SONADOR S J O'Donoghue/R K Bartley Rebecca Bartley
8 s5043 BOOTS ELECTRIC NZ Russell Jack Leigh Sutton
9 46626 TORRID SAINT Julie Douglas Glenn Douglas
10 23557 OUT TO PLAY Emma Stewart Bailey McDonough (C)
11 12s01 PACIFICO DREAM Andy Gath Kate Gath
12 s4290 MACH DAN Emma Stewart Greg Sugars
13 91141 MAX DELIGHT David Aiken Chris Alford
CLICK HERE FOR FULL MELTON FIELDS
SWAN HILL, OCTOBER 29
3SH SWAN HILL PACING CUP (GROUP 3)
1 14157 GILTY HANOVER Lachlan Prothero Neil McCallum
2 87336 SILENT MAJOR NZ Aaron Dunn Aaron Dunn
3 73331 KHAKI NUI NZ Julie Douglas Jack Laugher (C)
4 53621 CAULONIA TERROR Luke Watson Luke Watson
5 44244 MAJOR ROLL Kasey Kent David Moran
6 33s96 FOURBIGMEN Emma Stewart Greg Sugars
7 15171 SIRLETIC David Aiken Josh Aiken
8 236s5 SOMEWHERE SECRET Emma Stewart Kate Gath
9 s6500 PERFECT STRIDE NZ Russell Jack Leigh Sutton
10 138u0 MALCOLMS RHYTHM David Aiken Josh Aiken
11 27125 BERNIE WINKLE NZ Julie Douglas Glenn Douglas
CLICK HERE FOR FULL SWAN HILL FIELDS
THE WEEK AHEAD
TUESDAY
Bendigo (night)
Caller: Lachlan McIntosh
WEDNESDAY
Tabcorp Park Melton (day)
Caller: Dan Mielicki
Shepparton (night)
Caller: Dan Hibberd
THURSDAY
Ballarat (night)
Caller: Dan Mielicki
FRIDAY
Maryborough (day)
Caller: Lachlan McIntosh
Swan Hill (night)
Caller: Luke Humphreys
SATURDAY
Tabcorp Park Melton (night)
Caller: Dan Mielicki
SUNDAY
Maryborough (day)
Caller: Lachlan McIntosh