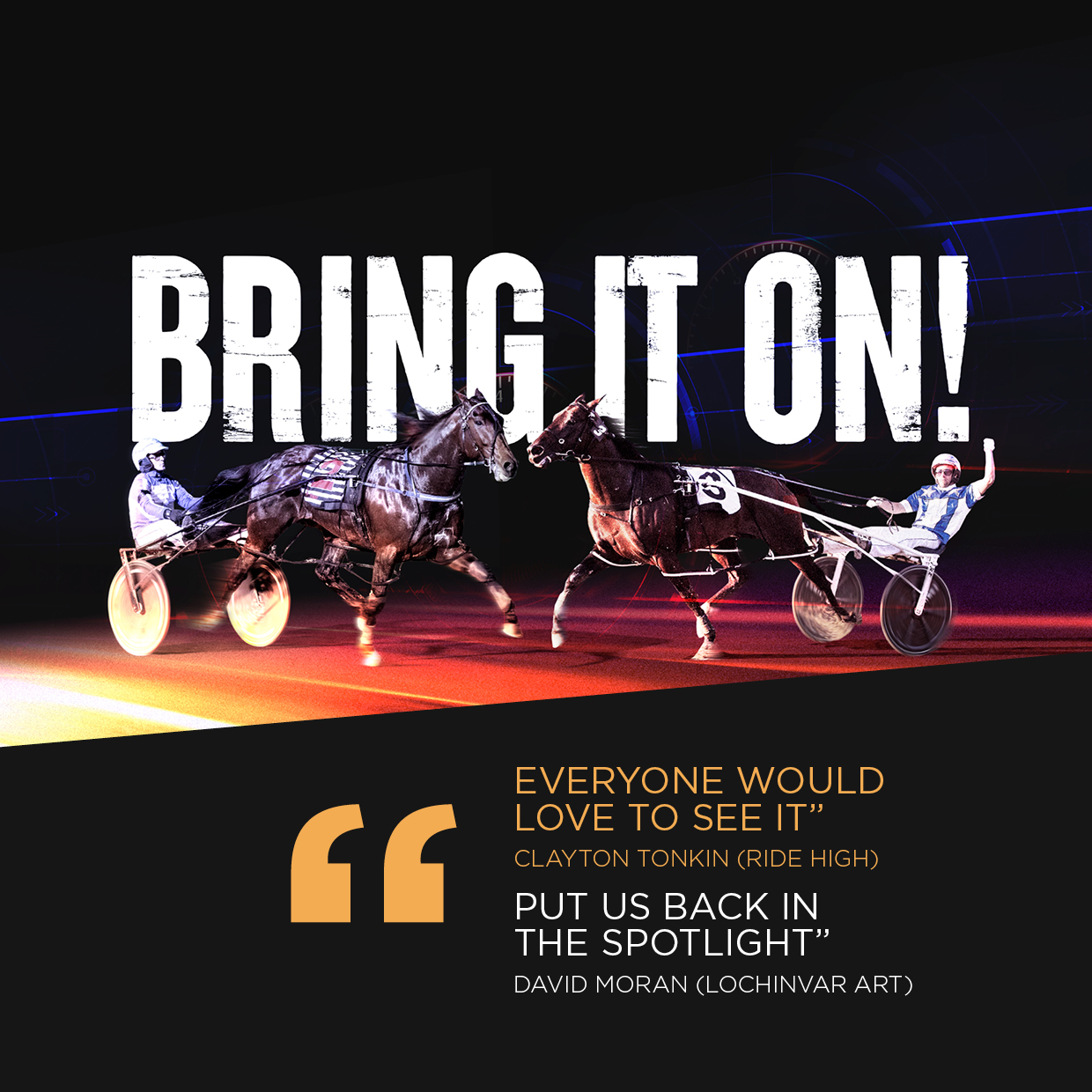 The battle lines are being drawn for a Ride High versus Lochinvar Art showdown as the Victorian speed machines ready to lock horns in a highly anticipated showdown.
The prospect of a match-race and future showdowns were tossed around this morning when Ride High's trainer Clayton Tonkin and Lochinvar Art's trainer-driver David Moran joined RSN Racing Pulse.
Tonkin was particularly ready to lock horns, with his stable star having impressed in all three of his hit-outs this winter, when Ride High has continually produced blistering last-half times.
"I reckon it would be cool," Tonkin said of a match-race between Ride High and Lochinvar Art. "I reckon everyone would love to see it.
"If they went head-to-head, then you know yourself there are no ifs and buts with barrier draws and all that sort of stuff. I reckon it would be exciting for the public."
While Ride High has three runs under his belt this campaign, Lochinvar Art is yet to kick off a new campaign but has been nominated for Saturday night's free-for-all at Shepparton.
Tonkin said Ride High would next race at Bendigo on August 1, so it may take a few weeks for the cobwebs to be cleared and a showdown declared. Regardless, Moran today signaled support for a match-race.
"I think it would be good," Moran said. "It would be great for the public. As much as they can't be on track and see it in person, I think it would be a great thing for the public and harness racing in general.
"(A match race) is something the sport hasn't seen for a long time. It's something that's going to put us back in the spotlight and give everyone something to look forward too."
That's certainly already the case with the rise and rise of Tonkin's pacer over recent weeks, including spreads on Ride High in leading daily newspapers and considerable radio coverage.
"Everyone's getting on the bandwagon with him at the minute, he's an exciting horse and it's one of those things where it's a thrill to have him," Tonkin said.
"I think he's got everything to get people drawn into it. He is an excitement machine with his blistering speed and he's got the looks and all that sort of stuff. I think the horse has got the x-factor."