Huntly, 10 kilometres to the north of Bendigo, once a small township, but now part of the urban reaches of Bendigo, was home to two important pioneering trotting stud farms that operated in the early 1900s.
From these two farms, situated just over two kilometres apart on the fertile flats beside the Bendigo Creek, came the ancestors of Australasian winners of Inter Dominions, Miracle Miles, New Zealand Trotting Cups, Hunter Cups, trotting and pacing Oaks and Derbies and countless country cups.
In a future piece we will feature the Belmont Stud, but today we examine the Adelaide Hill Stud.
Sidenote: The author Noel Ridge is among a recently announced nine-person panel, which will induct a new member into the Hall of Fame at an awards ceremony at Bendigo on November 8. Nominations close on Friday, October 4. For more details click here and to make a nomination click here.
Adelaide Hill Stud Farm
The Adelaide Hill property, at the corner of Wallanjoe and Adelaide Hill Roads Huntly on the northern banks of the Bendigo Creek, was originally settled by John Matchett, a native of Portadown in Northern Ireland.
John and his wife Maria arrived in Australia in 1852 aboard the Marco Polo. They soon moved to the Eaglehawk area of the Bendigo goldfield following the gold rush and then to Huntly, where they started a store to supply the growing township.
Gold was found on their property at Huntly and, during what became known as the Adelaide Hill Rush in 1880, Matchett allowed diggers to stake out claims, for which he charged a fee and a percentage of the gold that was found.
The Bendigo Advertiser of August 19, 1880 reported:
Adelaide Hill Rush
The rush for claims in Matchett's paddock continues. Up to a late hour in the afternoon more than 200 claims had been marked out, which means that Mr. Matchett has already received over £200 in cash, with a prospective £200 in view when the claims already taken up are bottomed. If the claim is then discovered to be gold bearing he has a lien of 10 per cent on any gold washed out.
The profits from the Adelaide Hill rush, and the sale of the store in Huntly enabled Matchett to build a large store on Hargreaves St, in the heart of Bendigo: J. Matchett & Co. Belfast Stores, Wholesale & Family Grocers & Produce Dealers.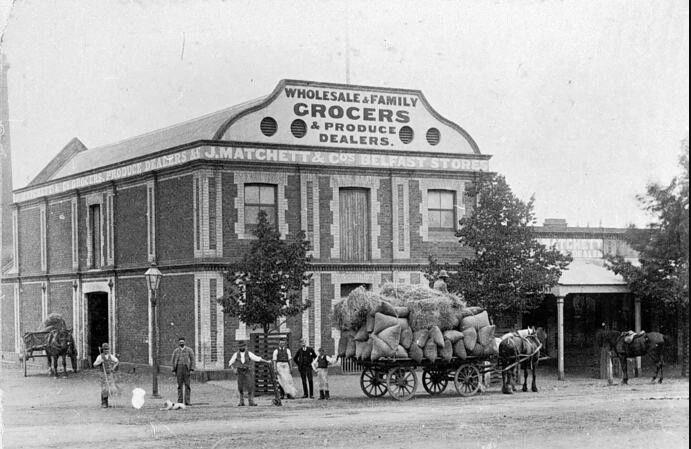 Pictured: The former Belfast Stores building still stands today and is a large coffee roaster and cafe.
John Matchett's wealth afforded him an impressive home that still stands in View Street Bendigo. His son, Robert, and his wife and their three children lived in an equally grand home, almost backing on to it, in Forest Street.
Robert Matchett, 23 at the time, took over his father's business in 1888 and continued to build on the various business enterprises of the Matchett family.
In the late nineteenth century there were more than 27 tracks across the central Victorian area that conducted trotting and pacing races. The installation of a one mile purpose-built trotting track in the middle of the Bendigo Jockey Club's Epsom Racecourse in 1886 and the building of a seven-furlong track behind the South Atlas Hotel on McIvor Road in 1891 (where Lord's Raceway is today) increased the opportunity for owners and trainers in central Victoria to race their pacers and trotters, under saddle or driven in sulkies.
In addition the pony and trotting races were promoted on the Richmond Racecourse, adjacent to the Yarra River on Bridge Road in Richmond. John Wren's purchase of the track and promotion of races, including the thousand-pound Richmond Thousand, increased the demand for faster trotting stock.
Robert Matchett seized on these opportunities and, on what had been his father's 300-acre property, developed brick stables, a half-mile training track, well pastured paddocks and launched a commercial trotting stud, naming it Adelaide Hill Stud. He also added another 250 acres at Kamarooka, further along the Bendigo Creek.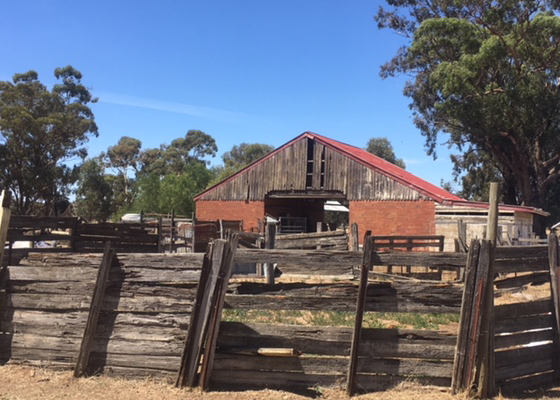 Picture: Adelaide Hill Stables and yards, still intact in 2019.
It seems that Matchett started the stud business in 1900 using a locally bred stallion, Young Osterley, the sire of just six winners. It was quickly moved on to the Kerang area.
On the advice of successful local trainer-driver Bob Crowe, Matchett looked overseas for his next venture.
Crowe, was appointed as the stud manager for Matchett's Adelaide Hill Stud and sailed to California in the USA on at least three occasions to purchase stallions as well as mares to form the foundation of the operation.
It appears that the first import was Rex Derby (IMP-USA) b.h. 1899 (P2 Exh.2:16) by Charles Derby from Essie Farley.
Rex Derby only sired eight winners but, remarkably as a two-year-old in 1901 when driven by Robert Matchett in a time trial at the Richmond track, Rex Derby paced a mile in the Australasian record time of 2:16.0. This time that was not surpassed until 1941. The records show that the time was not officially recognised as Matchett failed to weigh in.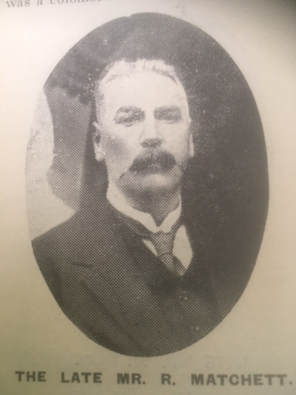 Victor McKInney USA, b.h.1901 by McKinney from Pinewood was imported. He was not a success, only siring six winners. One of his daughters was the fourth dam of the 1971 South Australian Trotters' Cup winner Super Ben.
In 1903, Crowe sailed to California, bringing back to Huntly a 1901 yearling, by Direct from the Charles Derby mare Electway. Later named Directway, the colt was educated by local school-teacher George Daniel and raced.
Directway (IMP USA) won four races, including at Boort, and a Richmond Handicap at the metropolitan Richmond track in 1909.
In addition, he was, like others at the time, shown at the Bendigo Agricultural Show and as the Trotting Annals of Bendigo and Environs by John Peck shows, competed in "time tests". These were used to establish a mile record for competing horses.
The Bendigo Showgrounds in Barnard St (now the Tom Flood Sports Centre) had a tiny 400-yard track. Four laps of the track enabled Directway to record 2:22.5 for one mile.
Directway was mixing racing and stud duties, and quickly proved that Crowe's judgment and Matchett's investment would pay dividends.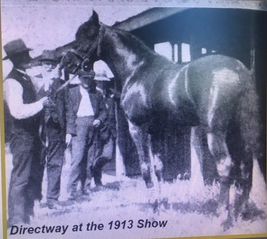 Picture: Directway at the 1913 show.
The bay horse proved himself one of the greatest sires in Australasia up until the advent of Globe Derby. He sired 193 winners, including the champion mare of Australasia and 1917 New Zealand Cup winner Adelaide Direct 2:06.4, a champion of West Australia Coora Direct 2:12, and Maffra 2:14.5, a New South Wales champion.

In addition Directway sired local champion Glide Away, the winner of 13 metropolitan races at Richmond, and Auckland's Otahuhu Cup and the Dunedin Cup while racing in New Zealand.
Hall of Fame driver Bill McKay launched his career with the top class Boort pacing mare Direct Home, a daughter of Directway.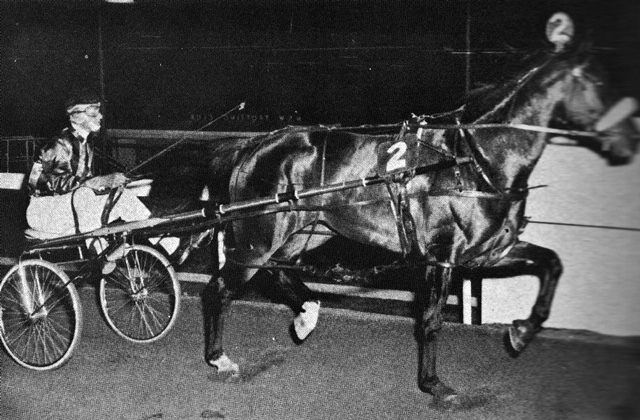 Directway sired mares that bred on, and his name appears in the pedigree of Inter Dominion winners including the first winner on points Evicus, the local great Gentleman John and South Australian sensation Minuteman.

Picture: 1964 Melbourne Inter Dominion winner Minuteman
The 1949 Inter Dominion winner Single Direct and the top class NSW pacer Master Dixie have Directway mares as their great grand-dams.
In addition to Directway, the farm stood All Style, selected for Matchett by Bob Crowe on a visit to the USA in 1913. All Style left 70 winners.
The Bendigo Advertiser sports writer of the day wrote glowingly of All Style:
All Style 2:10, a trotter, and what a great specimen of the trotting horse he is! A beautiful mahogany bay, about 16 hands high, he is built in proportion, with lovely curved neck, and the best of legs and feet. As a sire All Style is very successful and has sired, amongst others, Smart Set 2:18½, A La Mode 2:20, First Fashion (who lately has won two £300 trots in New Zealand, of two miles each, and has a record of 4:45 for two miles), Style 2:27½, Marion Style 2:18½ (in a two mile race) and Dagmar Style (a recent winner in Melbourne).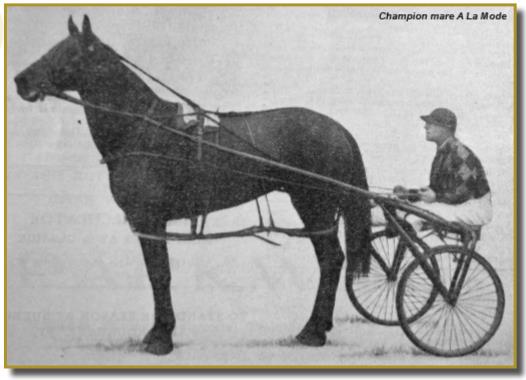 Picture: All Style's champion daughter A La Mode, Harry Toomer
Others imported were Direct Argot (sire of 27), Rex Derby (sire of eight from only one season at stud) and Tennessee Direct, who sired 39 winners.
Tennessee Direct, imported as a two-year-old in 1925, was trained before his stud career by young schoolteacher George Daniel, who raced and trained under the nom de plume of "D George".
Tennessee Direct was a very difficult horse to handle, but at stud sired 39 winners.
More importantly, when moved to the Dalton NSW stud of Les Martin of Walla Walla fame, left the grand-dam of the brilliant Miracle Mile, Bendigo Cup and later USA winner Adaptor, and the dam of the 1954 Adelaide Inter Dominion winner Tennessee Sky.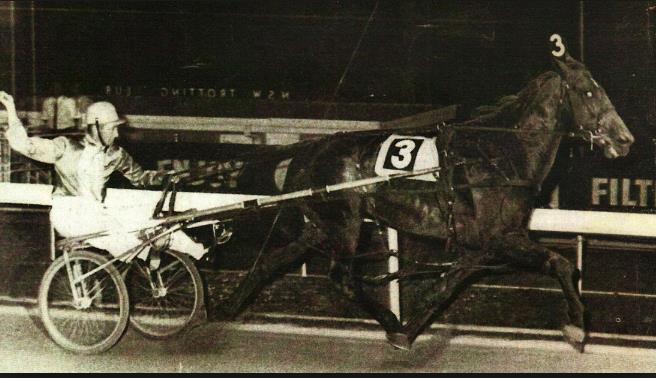 Picture: Adaptor, Jack Hargreaves wins the 1969 Miracle Mile
Robert Matchett died in 1928 and the property ceased to be a trotting stud, but the horse yards and stallion barn still stand on Adelaide Hill at Huntly 90 years later.
Did You Know?
Robert Matchett and Bob Crowe, in addition to the American stallions that stood at Adelaide Hill Stud, had a number of extremely well bred mares that they bred their stallions to.
Among them were Alice Taylor and Marie McKinney.
Alice Taylor, a 1908 daughter of the imported mare Sihamba (USA) by Charles Derby from Petronella, a member of the famed Minnehaha family, was procured around 1913 from John Robertson of the Truganina Stud Farm at Werribee.
Alice Taylor left seven winners and a family that is still breeding on, with the most recent winners Flying Moth 1:53.1 $123,355 and her half-sister Lively Moth 1:53.1, $232,585. Both are bred and raced by Len and Irene Parker of Maryborough. The two fillies are seven generations and 100 years removed from Alice Taylor.
Marie McKinney (USA) was an imported 1903 daughter of McKinney (sire of 213 USA winners). Her daughters bred on. One of them was Kinney Direct, by Matchett's stallion Directway, whose descendants include the prolific winner A La Mode (seven wins at the metropolitan track at Richmond), the 1960 NSW Oaks winner Negro Dancer, the Gloucester Park star Even Break and the 1981 Miracle Mile winner Friendly Footman.