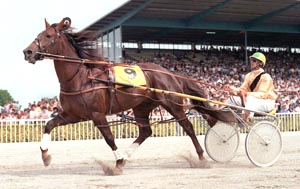 Bruce Clarke has delved into a "special horse" for the latest episode of Tooth Be Told, where the former Terang reinsman talks Gammalite with HRV podcast host Paul Campbell.
"Before he'd ever raced we used to take a couple of horses down to work with him," Clarke says.
"He was so strong that one horse would run part of the trial and the other horse would run the second part of it.
"I said to a cobber of mine that was helping me here with the horses, I said 'this horse will be as good as Pure Steel'. "He said, 'oh, baloney, baloney'. I said, 'I will write it down now and put it up behind a picture and open it up later on and you will see'. And that was before he had even raced. He showed those signs."
CLICK BELOW TO LISTEN TO THE LATEST TOOTH BE TOLD: